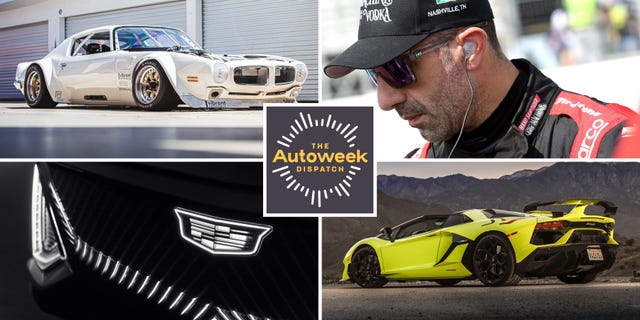 Lamborghini's chief tech officer explains his reasoning behind why the next-gen Aventador will stick with a normally aspirated V12. Here's what else is happening in the car world:
FROM THE EDITOR'S DESK
Talk to an automotive engineer and you quickly learn that they obsess over performance and performance numbers. Still, there are more than a few who realize the emotional resonance a truly great engine is capable of generating is a more important metric. That's certainly the case at Lamborghini, where chief technical officer Maurizio Reggiani is determined that the replacement for the long-serving Aventador — due next year — is sticking to both V12 power and natural aspiration. In a world of downsized capacities, reduced cylinder counts and turbocharging, that really is a remarkable technical achievement. To find out more, our man in Europe, Mike Duff, spoke to Reggiani and reported the following:
"Do I want Lamborghini to be the last brand in the world with a V12? Yes, if we can do that," Reggiani told Autoweek. "For a purist, for a lover of engineering, an engine with a regular firing order is perfection, and with a V12 you have for every 60 degrees a spark and everything is self balancing."
Something close to fervor drives Reggiani. "The voice, the sound, the emotion," Reggiani tells us, "the very soul of our car will be based on the naturally aspirated V12 engine."
Not that the next V12 will be able to work unaided. Getting through increasingly tough emissions standards means it will have hybrid assistance and a system that — as with the Ferrari SF90 — is capable of fully electric operation at low speeds.
But that means, when in use, the V12 will be able to continue to sing as its predecessors have done. To do that, Reggiani insists, requires the engine stick with natural aspiration. "A turbocharger is like a damper on the sound," he tells us. "It is filtered by the turbo and you end up trying to use artificial sound to reproduce what should be spontaneous and natural."
Reggiani has worked extensively with both self-breathing and turbocharged engines — one of his first jobs was developing the mighty quad-turbocharged V12 powering the Bugatti EB110. But he insists that natural aspiration will always be a purer engineering solution.
"It means nothing helps you," he tells us. "You must be able to suck as much air as possible and then, based only on this, put more fuel inside the combustion chamber to generate power."
Forced induction, while more effective, is less elegant: "With a big enough turbo you can produce almost any output."
While Reggiani's intent to keep the faith might be ideological, it could also turn out to be smart marketing. Why? Because the Aventador replacement is going to have an obvious point of distinction to equivalent models from Ferrari and McLaren. Further, the Lamborghini will also be selling at a substantial discount when compared to Gordon Murray's seven-figure GMA T.50 and the Aston Martin Valkyrie. Both of those are using normally aspirated Cosworth-designed V12s.
We can't wait to drive all three.
CAR NEWS AND NOTES
General Motors said it's upping its investments in EVs, and the company anticipates they'll be more profitable and more powerful as the second-gen Ultium project comes into play. GM also said it is accelerating its EV timeline and that by 2025 it plans to have 30 EVs around the world, two-thirds of them available in the U.S. The GMC Hummer EV and Cadillac Lyriq programs were both moved forward with the Lyriq coming to market in the first quarter 2022, nine months earlier than originally expected. All told, 12 programs have been sped up, including the Hummer and Lyriq, three other Cadillacs, four Chevys and three other GMC projects including an EV pickup truck. The company also said its second-generation Ultium vehicles are projected to deliver twice the energy density at half the cost of today's chemistry. Big stuff!
Speaking of big stuff, Tesla boss Elon Musk claims his upcoming electric semi is going have a 621-mile range per charge. Four electric motors — one for each wheel — power the truck, which has regenerative braking. Musk claims regen gives the truck "quasi-infinite brake life" and says range can get to 400 miles on a 30-minute charge using a Megacharger installed at the trucks' base locations.
RACING LINES
You've probably noticed Camping World is popping up in more autoweek.com stories. That's because the outdoor and RV company signed on as the NHRA's series sponsor in early October. It's sponsored NASCAR's Truck Series for almost 10 years. Check out our exclusive interview with chairman and CEO Marcus Lemonis and find out how the relationship is going and why he signed on with the NHRA even though he'd never even been to a drag race!
Tony Kanaan is going to be back in IndyCar next year after all, having inked a deal to race ovals for Chip Ganassi Racing in 2021. Kanaan, who turns 46 on Dec. 31, is the oldest and most experienced IndyCar racer on the grid with 290 career starts; the 2021 season will be Kanaan's 24th in major open-wheel racing in the United States. He's pairing with seven-time NASCAR Cup champion Jimmie Johnson in Ganassi's No. 48 car. Johnson is driving the 13 street and road circuits and Kanaan the four ovals on the schedule — including the Indy 500. The No. 48 will be fun to watch next year!
WHAT WE'RE DRIVING
The Mazda 3 AWD gets a turbocharger for 2021. The 2.5-liter turbo-four is shared with the CX-9 SUV and delivers 250 hp and 320 lb-ft of torque on premium fuel and 227 hp and 310 lb-ft on regular gas. Jake Lingeman spent some time behind the new Mazda's wheel. Is it a WRX killer? Find out what he thought.
LISTEN UP
In the latest Quick Spin, Robin Warner takes the 2020 Acura NSX and puts it through its paces. Warner gives an in-depth walk-around of the NSX that describes its features and details before taking you along for a live drive review. Warner also elaborates on those experiences with host Wesley Wren. Does the car's performance match its hot looks?!? Tune in here, on Spotify, Apple Podcasts, Stitcher or wherever podcasts are played.
QUOTE OF THE WEEK
"Yeah, so, it's a bit wider than stock. It's a single layer of Pontiac, the rest is all tube chassis. Everything but the paint and powder was done in the side yard of the house."
—Builder Riley Stair describing the crazy Pontiac Firebird he built, pretty much the coolest Firebird ever. In fact it's so cool it's about to become a Hot Wheel. And yes, Stair built the car at his parents' house, including the 18-gauge steel sheet fender flares!
WHAT'S AHEAD
That's it for this week. As always we're on the case this weekend, monitoring and reporting on automakers' and sanctioning bodies' latest happenings. We'll continually update the site, of course — you'll know what's happening when we do. Check back often!
Thanks for reading Autoweek and please stay safe.
Source: Read Full Article