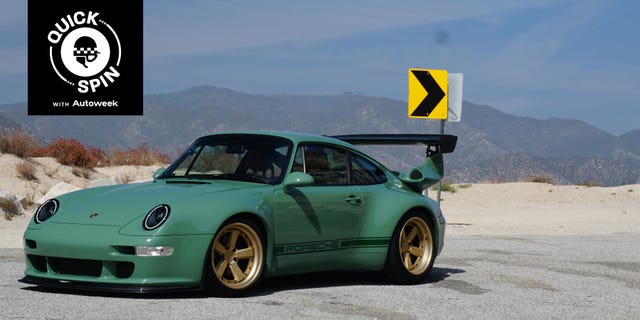 The 993-generation Porsche 911 was effectively the end of the road for Porsche's beloved air-cooled boxer engine—and the beginning of a whole industry devoted to building custom 993 restomods. Enter, the Gunther Werks and its own worked over Porsche. Built to your wants and needs, Gunther Werks will make your Porsche 911 into basically whatever you want, from a luxe-track machine or a cars-and-coffee stunner. With lots of carbon fiber and other high-end components, Gunther Werks takes the Porsche to a high level north of $500,000.
On this episode of Quick Spin, Autoweek's Mark Vaughn gives you a quick explainer of what goes into these Gunther Werks remastered cars during a walkaround of the car. This particular Gunther Werks Porsche leans more towards the track-focused variety. The 400+ hp naturally aspirated flat-six feeds power to a Getrag G50 transaxle. Power, of course, travels exclusively to the rear wheels. Vaughn also takes you along for a ride while he actively reviews the car. Between those segments, Vaughn talks about this 911 with host Wesley Wren.
Tune in below, on Apple Podcasts, Spotify, Stitcher, or wherever podcasts are played.
Source: Read Full Article