This is a very strong indication that the oil burning was partly due to worn bushes and piston rings.
BHPian Jeroen recently shared this with other enthusiasts.
Update on the Alfa Spider engine
This morning I drove down to Oosterhout to see Marc, who had already removed the engine from my Spider and was about to open it up.
They had in fact done some other jobs too. Notably, clean up the engine bay! I am very happy about that. If you have followed this thread you might remember I drove my Spider a while ago having forgotten to put back the oil cap. Oil was everywhere, and in all honesty, the engine bay was not too clean to start with, despite it having been "dry iced blasted" a few years ago. Part of the problem is the rustproofing that was done, almost twenty years ago. It has been extremely effective, but it means everything is also covered in this Dinitrol stuff, which prevents rust obviously but also catches all dirt and grime.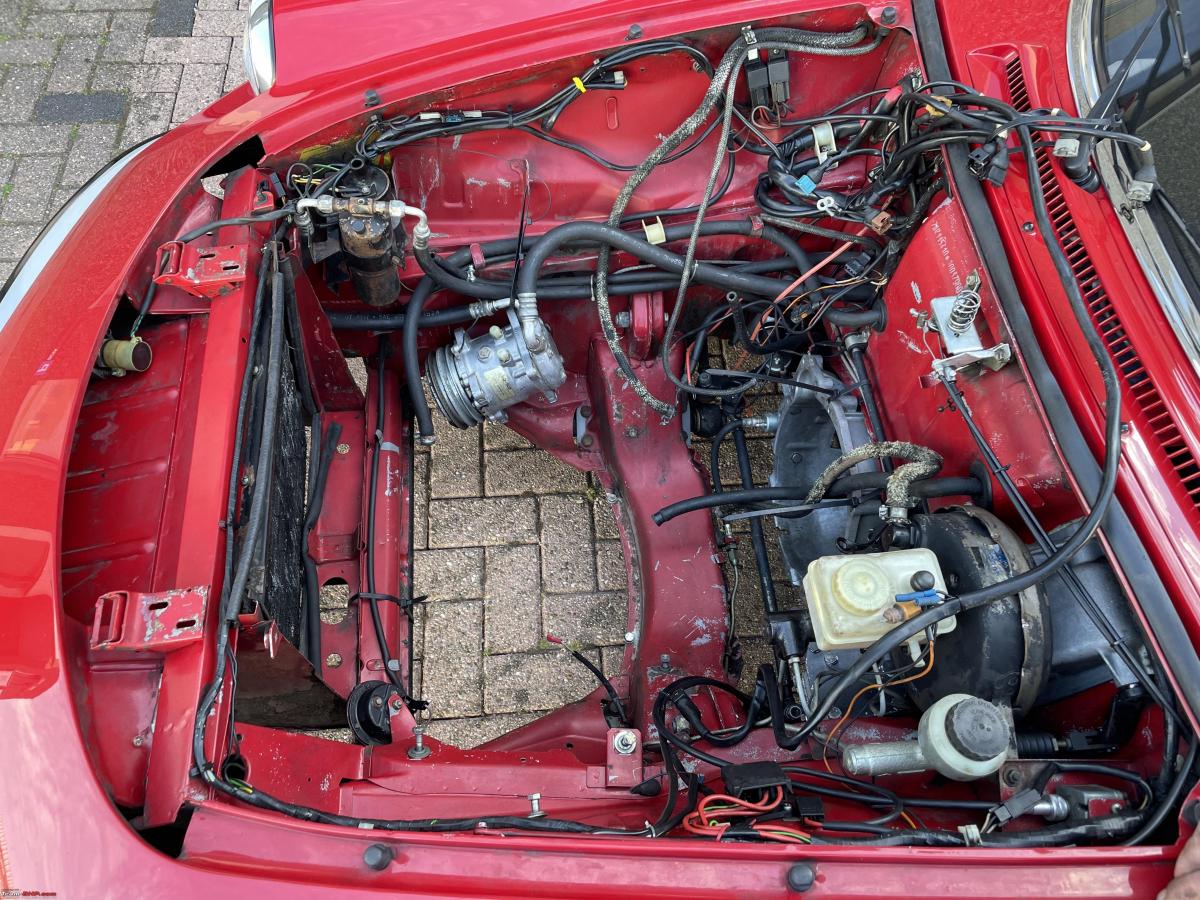 I am very pleased with this. I am getting more and more impressed with Marc and his team. They are extremely knowledgeable and thorough. Marc will replace all the electrical connectors as some of them have broken. Again, I know from first-hand experience what that can do to the engine.
Wonky electrical connector
When I walked into the workshop this is what was waiting for me: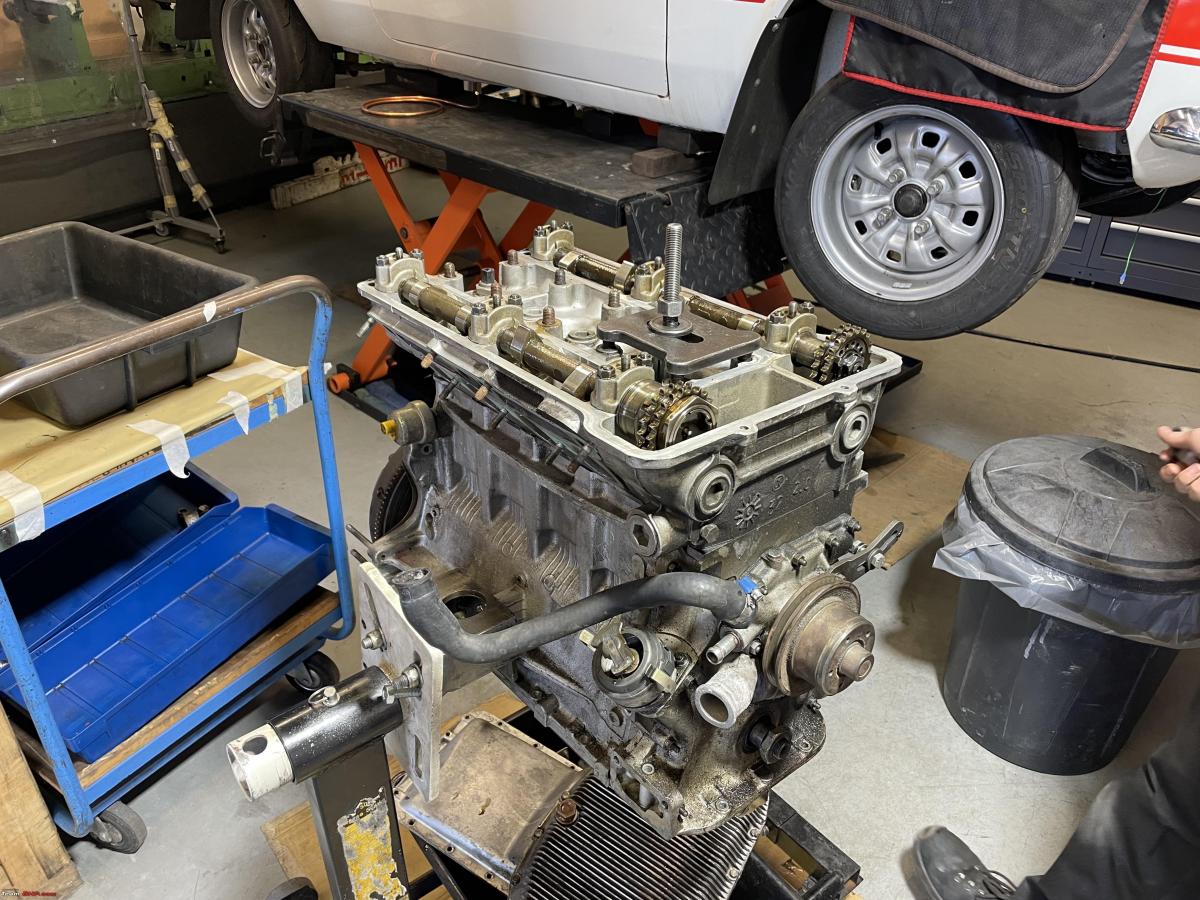 The sump had already been removed as various other parts as you see.
I watched how Marc and his crew removed the cylinder head. Interesting to see, they used a special tool to pull the head very gently from the main engine frame.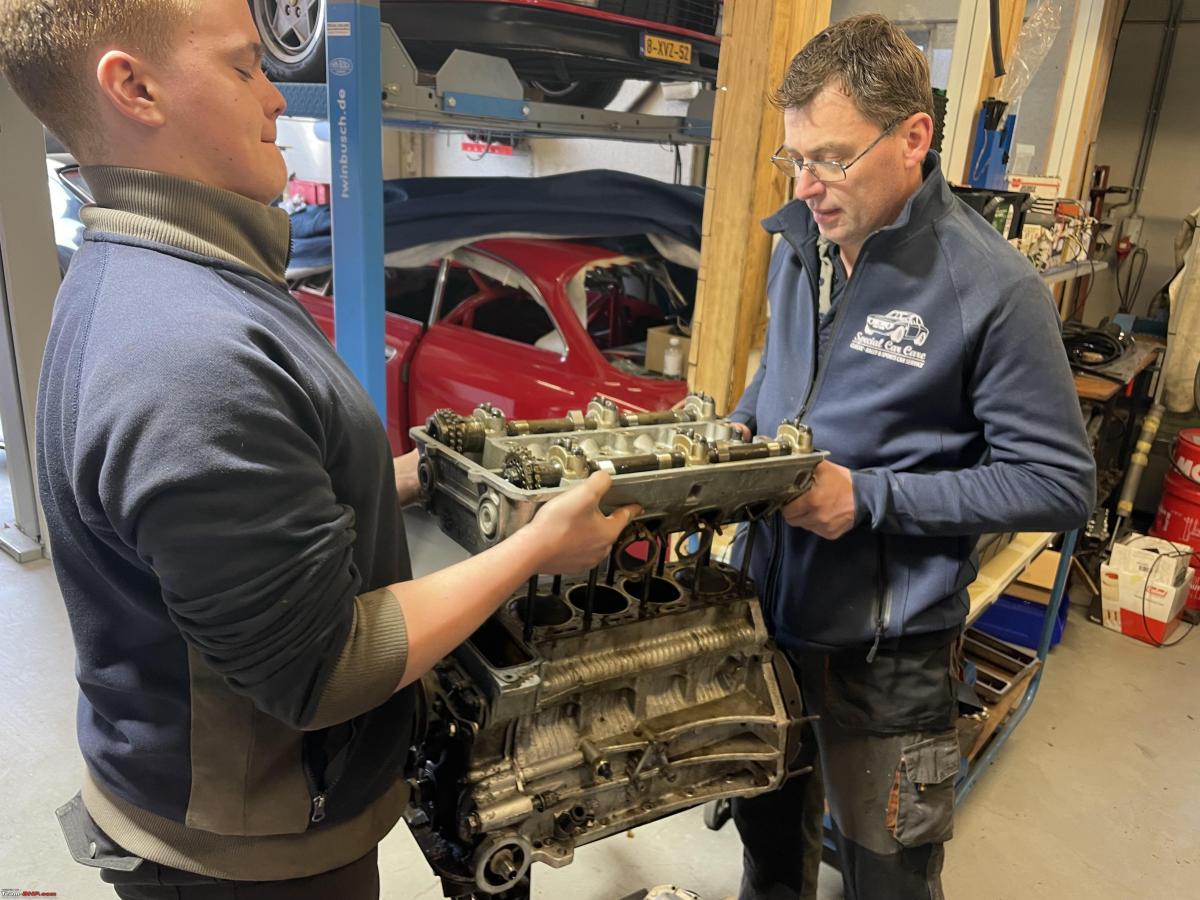 We had a quick look at the pistons and the general state of the cylinder bushes.
Here is the good news. We were probably just in time, as most likely the cylinder head gasket was about to crack. In fact, we could see clear evidence of some cooling liquid leaking in two of the cylinders.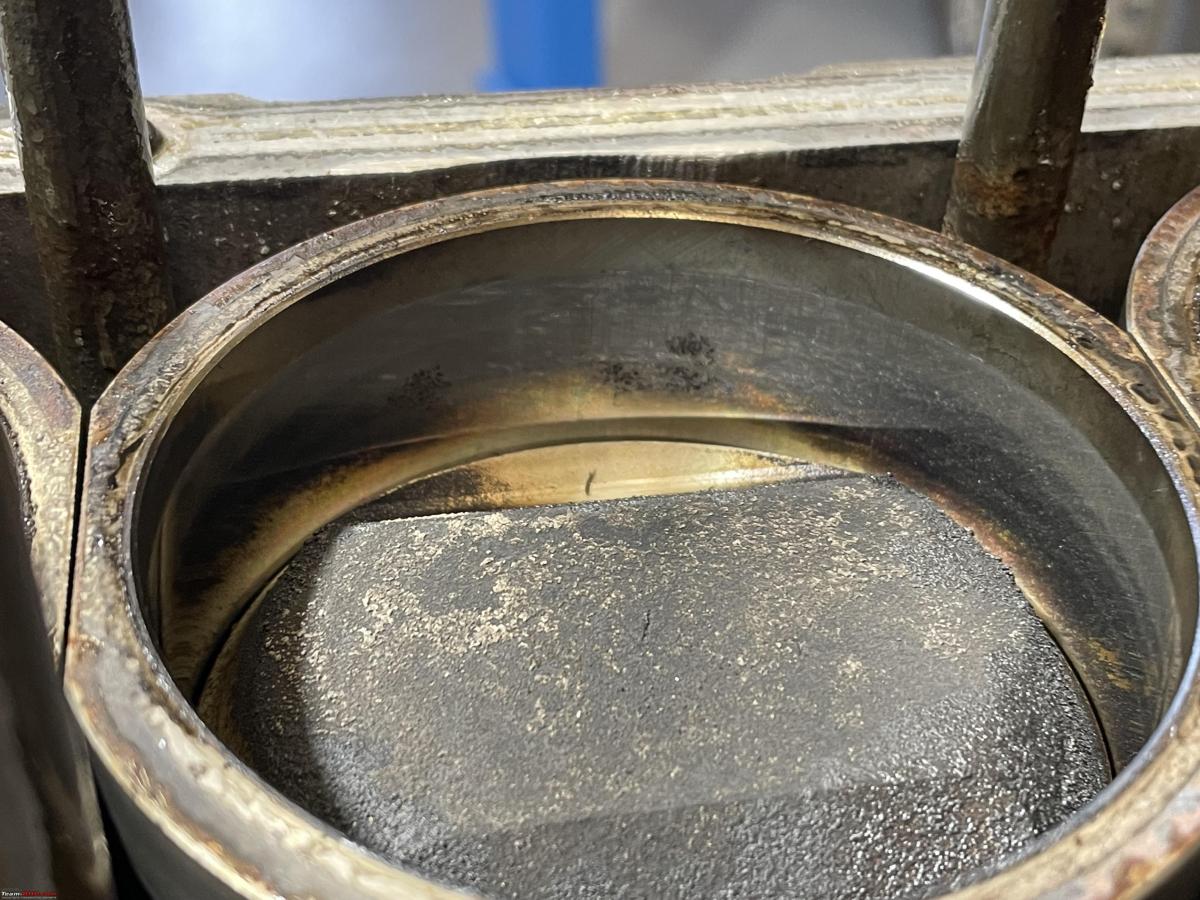 Marc showed me the deformation of the head gasket. Another telltale!
Also, the cylinder bushes are completely worn. They look almost polished, can't see the typical honing marks at all. So again, this is a very strong indication that the oil burning was partly due to worn bushes and piston rings.
Can't tell much about the state of the valves and the valve stem bushing. But Marc expects that the stem bushings are worn and need to be replaced. You can't really tell until they have removed the camshafts.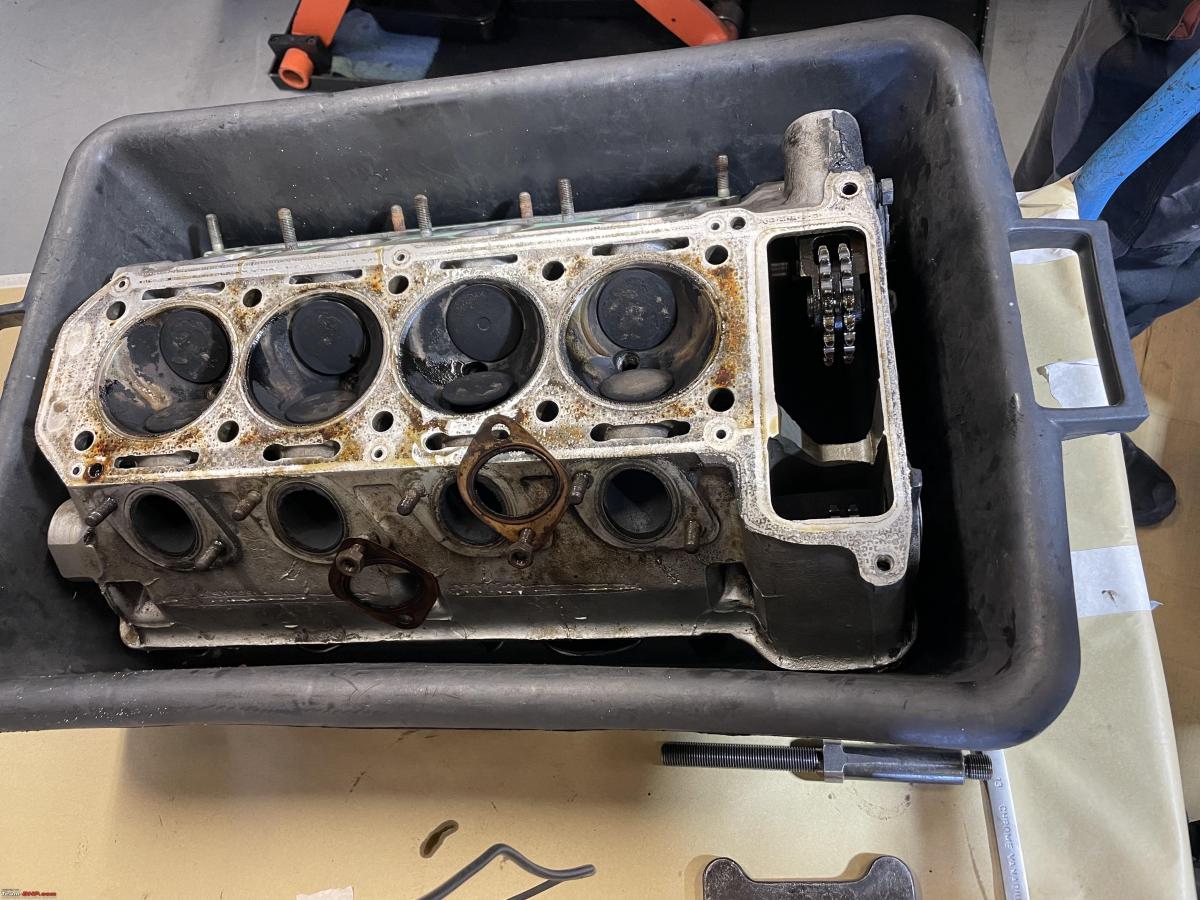 Marc is a true fountain of knowledge. I learn more from talking and listening to him for half an hour than from spanning by myself for a decade.
Apparently, I had no idea, my engine has been modified. These little bushings you see here are to restrict the oil flow to the cylinder head and keep more oil and pressure lower down in the system. They also hold the little O-rings in place. Never knew that.
Marc will remove every bolt and nut. Everything gets replaced if suspect, or it replacing it just makes sense because an engine out and overhaul is a big job. You don't want to have to redo it any time soon. We have already decided that the motor mounts are in a pretty poor state and those will be repaired.
Marc will take the front cover off as well, to inspect everything and replace both distribution chains. Also, a new water pump will be installed. I installed this water pump about 23 years ago. It is a huge pain, with the engine still in the car as the pump gets stuck behind the pulley.
Marc also showed me the debris in the bottom of the sump: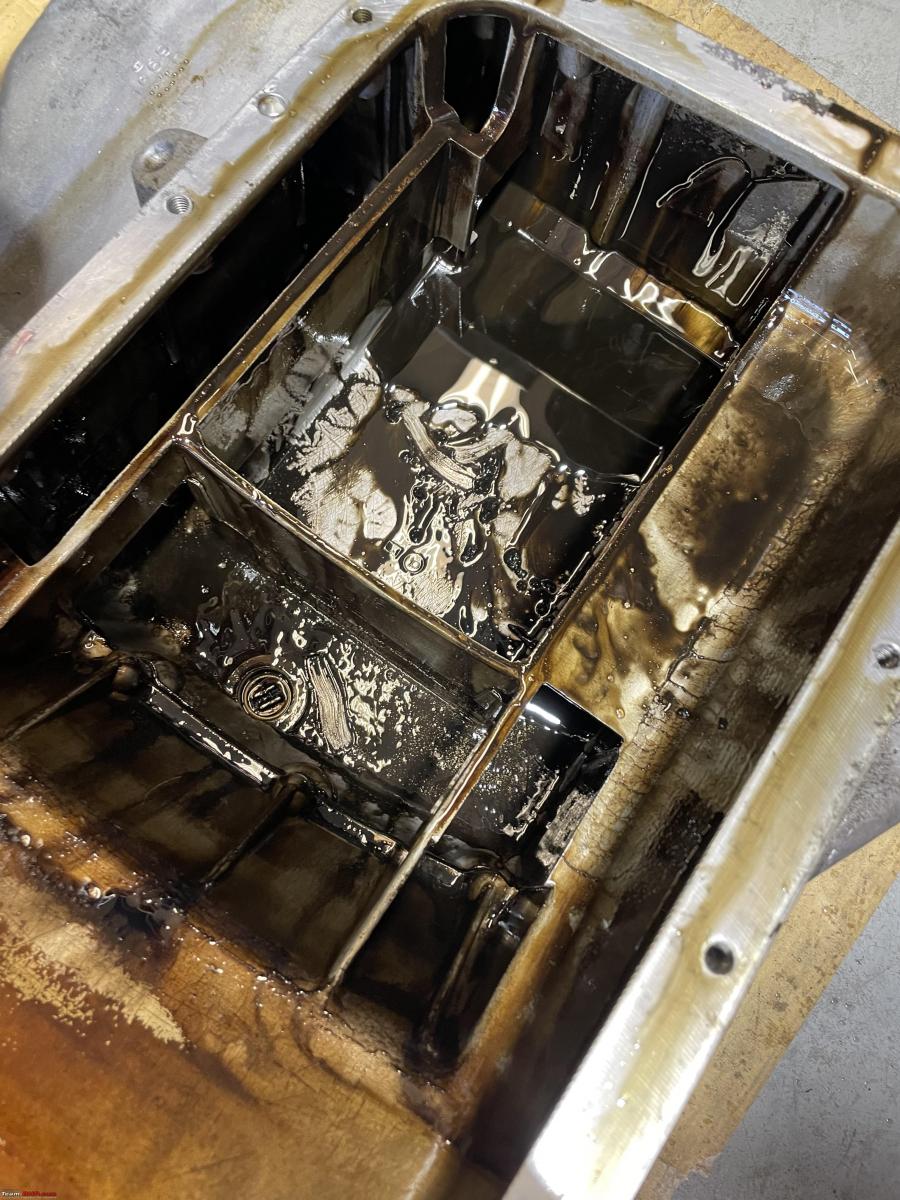 These were quite large particles and I had seen some on the oil pump suction filter too. He explained that the sump gasket was installed with some silicone grease. Over time that hardens and starts to crack and bits fall into the sump. A regular oil change won't get it out. You really have to flush the engine or take the sump off.
Here you see the oil filter on the bottom of the engine (the engine is upside down)
The problem with these silicone bits is they can clog up the oil pump suction filter, and or worse prevent the relief valve from working properly. Irrespective, Marc will always remove the oil pump and relief valve for inspection. Fingers crossed!
Marc is going to replace the piston, piston rings, cylinder liners and all the bearings in the engine block. These engine bearings don't have dowel pins, so you simply can not re-install a used bearing accurately. Better to replace them.
Marc always gets the cylinder head re-surfaced too. Again, I am very happy about that. You just can't tell if a cylinder head is slightly warped, might as well take a tiny bit off and you are 100% guaranteed a true flat surface.
Later this afternoon, Marc send me some more images. He had taken out the crankshaft. His initial thoughts were it needed quite a bit of work, grinding.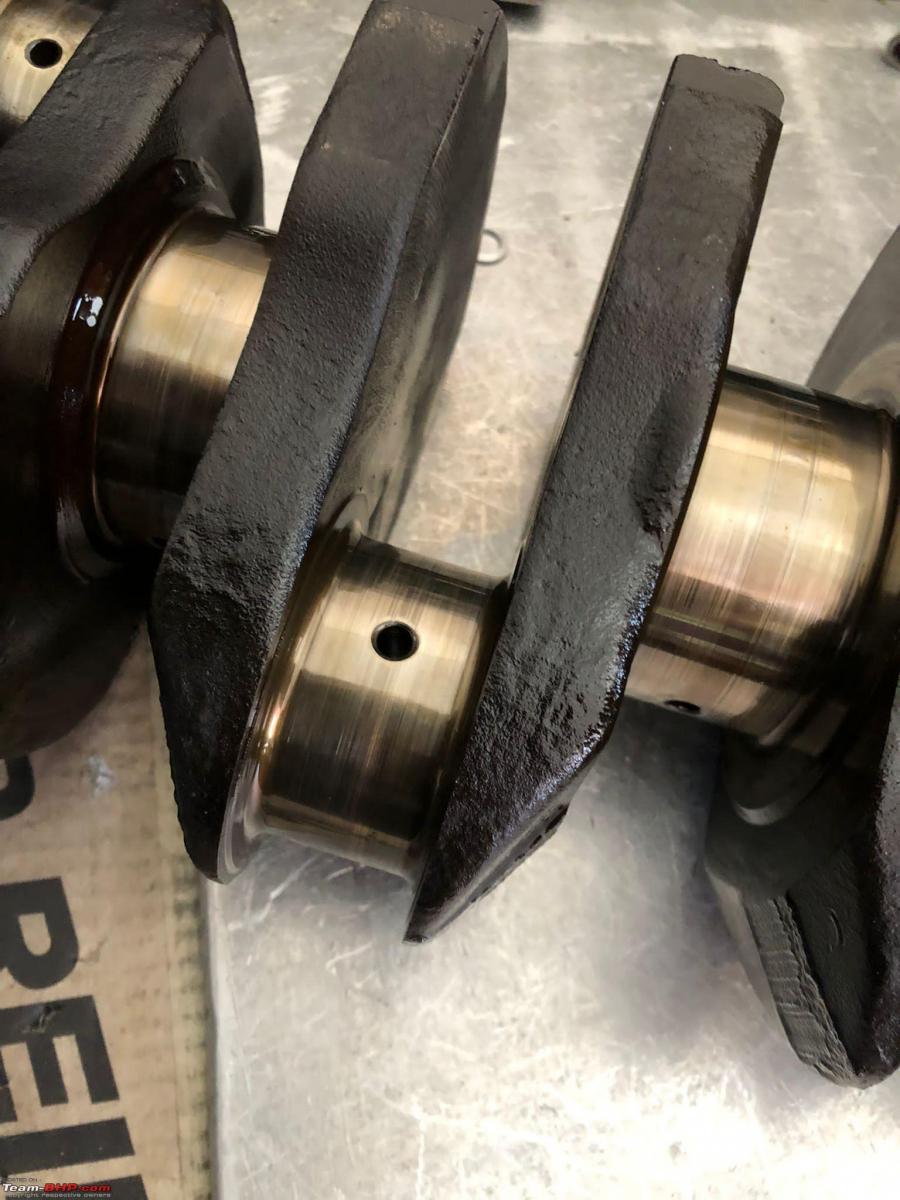 However, after carefully measuring it Marc concluded that the crankshaft is still within original tolerances, so it will just be polished.
Very happy to see all this progress and the high degree of attention to detail and know-how being poured into my Spider!
I will pop round this Friday as Marc expects to have started re-assembly of my engine by then.
Check out BHPian comments for more insights and information.
Source: Read Full Article