The seating position as expected seemed comfortable. Seat also seemed cushioned just right.
BHPian Rajeevraj recently shared this with other enthusiasts.
Headed down to Tusker Harley in Bangalore-Lavelle Road to see the X440 in flesh. No test drives yet, so had to be content on looking at it and sitting on it. Based on this some initial thoughts and pictures.
The Showroom:
Tusker Harley seems to be the only one in Bangalore with a display bike, none of the Premium Hero dealerships authorized to sell this have got one yet. The dealer I had booked with had said, first part of August, but no information yet.
People familiar with Tusker will know, a premium small showroom located at an old school prime location in Bangalore.
My favorite pet peeve, no parking even for 2 wheelers in front of the showroom. Being a strict enforcement area, best option is to look for a paid parking slot on Lavelle Road(which surprisingly I got) or park in UB City and walk over.
With these semi mass market bikes, the premium dealers need to think through on the showroom experience also.
Once you enter, the X440 is displayed right up front. It is a fairly low lighted showroom- As seen from the pictures.
I went on a Saturday evening, on an average around 10 people were around to check out the bike through out the time I was there. Fairly good crowd.
The SA was welcoming. A pleasant person who was always near the bike, encouraging people to sit on it, answering questions, promoting the bike and Harley. Unlike Triumph, did not first ask-'Have you booked it'?
My 19 year old niece was with me and she is a bike lover and just started riding since a few months. She was hesitant to sit on it with a 'what would they think' worry. The SA encouraged her, asked her to switch it on. She is a Harley convert now. These small things contributed to a good first experience.
Bookings are closed as already communicated. No offline booking being taken and no visibility to when bookings would reopen.
Only 1 display bike. SA said it is a pre-production unit.
Test Drives to start only September first week, deliveries to start by first half of October.
Expect communication from Harley latest by 25th on the next steps.
The Bike:
One look at it and really liked it. Looks much better in person than in pictures. This was the top end S variant. My niece who was like, why are you even looking at the Harley instead of the Triumph was wowed by it. She is a convert now.
It does look and feel like a fairly large bike, especially with respect to length.
I liked the all metal approach. Gives it a nice retro look.
The build, fit and finish looked all fine to me. Did not see any major issues. Of course, I did not look in detail due to the crowd and the fact that the showroom was not very well lit up. Also, I personally don't have a fine eye for detail, so pls take this comment in that context.
Loved the Alloys with the detailing on it.
The seating position as expected seemed comfortable. Seat also seemed cushioned just right.
My daughter and niece took turns in the pillion and again, seemed comfortable.
The big gap between the wheel and the seat in the rear did not look too bad in person. Once you sit on it, the gap reduces further. This part of the bike I did not like in the pictures. Looks fine in flesh.
The thump was fairly good. Sounds much better in person than in the videos. Definitely distinctive.
Liked the cluster and the connected features. Again, looks bright and crisp up close.
Headlamp with that distinctive Harley Logo looks nice.
The wires from the handlebar could have been concealed better. Looks ugly.
Definitely feel the weight. Not a light bike. Reviews indicate that it will still be ok in the city, but definitely will not be as comfortable as the Triumph. So I think it won't be as friendly or forgiving as the Triumph.
The On Road I heard the SA say for the top end is ~3.69L. So definitely a good bit more expensive than the Triumph.
Pictures: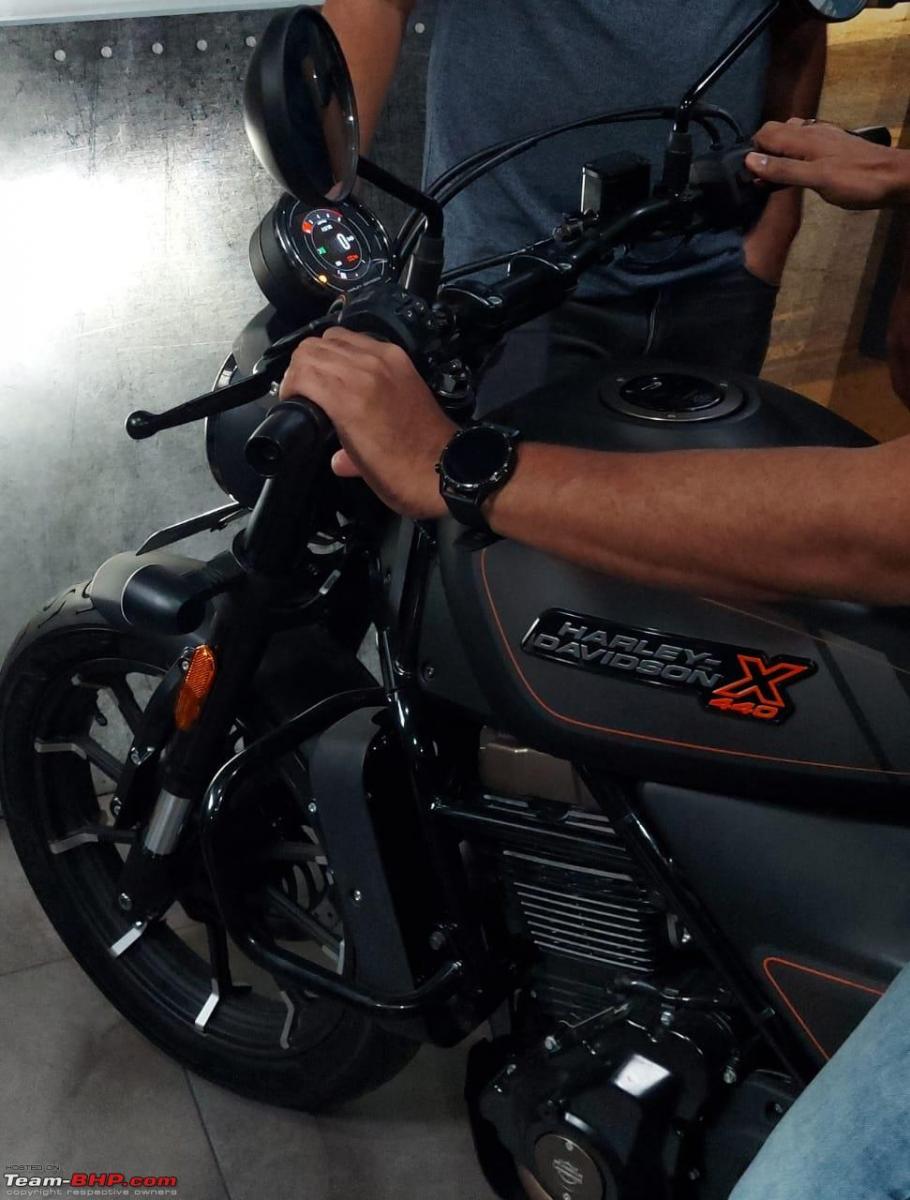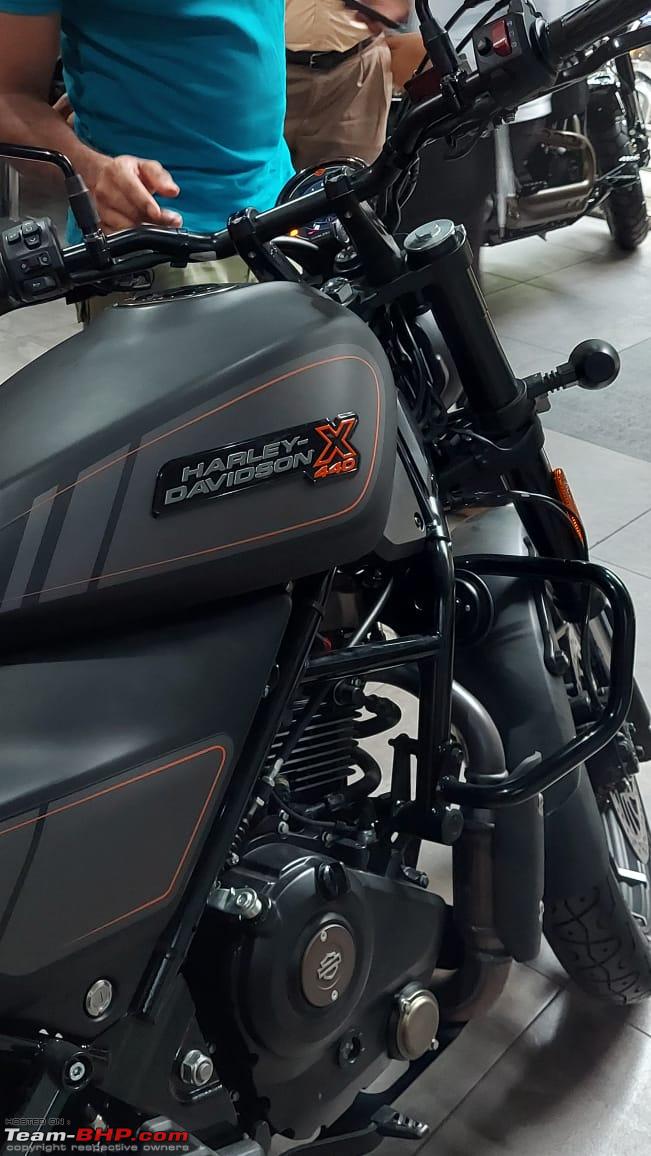 A combo pic: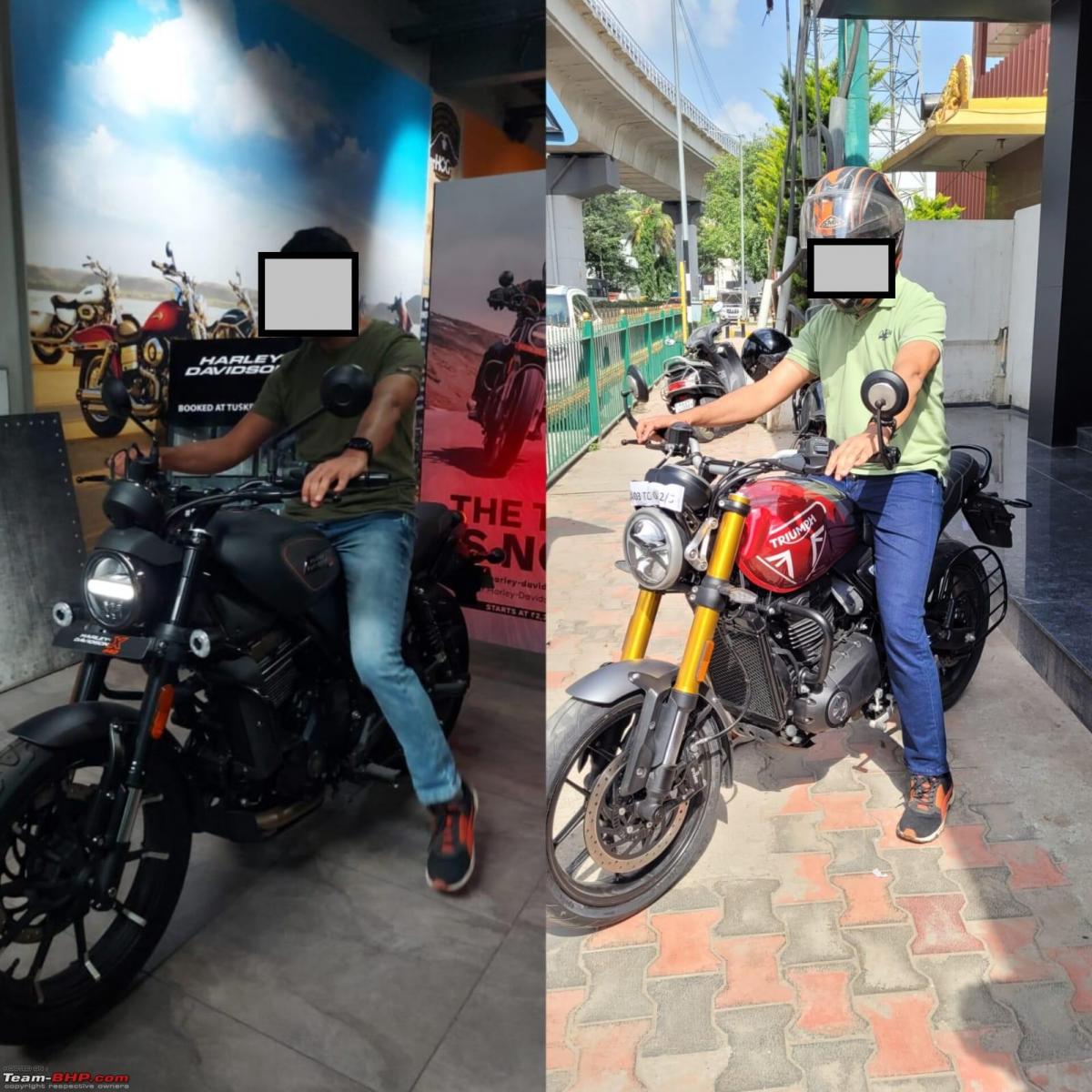 Overall Summary:
Of course, the test ride is a key part, but I connected better with the X440 than I did with the Triumph 400. It felt that this would be a right upgrade for me. One thing that all reviews had indicated was that if you can get past the looks and fit and finish issues as opposed to Triumph and start riding , it is a very competent motorcycle. Well, I personally loved the looks, did not see a deal breaker fit and finish issue. It is clear it will not be as comfortable and friendly as the Speed 400, but I am ok with that.
Still hoping that I will be able to do a proper test ride before the decision point on my Speed 400 booking comes up but even if not, I think I have seen enough to try to push the Speed 400 commitment till I do a test ride of this.
Check out BHPian comments for more insights and information.
Source: Read Full Article