Everyone knows that there are plenty of hard plastic inside but no one complains just because they have been brilliantly designed, textured and laid out.
BHPian Wanderer recently shared this with other enthusiasts.
We brought home Hyundai New i20 in June-23 and happy to share my experience so far.
Prior to owning New i20, we owned two cars 3.2 Ford Endeavour 4X4 AT (still own it) and Grand i10, both diesel. Grand i10 was purchased in 2014 and Endeavour in 2017. While both cars were doing the fine job, thanks to stupid 10 year diesel car rule in NCR, which made us think about replacing at least one or more of our cars as problem was further compounded by GRAP (Graded Action Response Plan by NGT) norms to control pollutions in NCR, which basically means both cars cannot be seen on road most of the time during winter (GRAP II & III takes off all EURO III Petrol & EURO IV Diesel Cars from NCR Road. Oct to March time frame)
We considered following options.
1. Sell both diesel cars and buy a mid size SUV which both me & my wife can drive.
2. Replace Grand i10 by a petrol hatchback (more straight forward & logical option)
3. Keep Grand i10 till 10th year and replace Endeavour with another SUV as we were not getting good price for Grand i10 but Endeavour was a fetching a decent price.
4. Change Job instead of car (too many problem in NCR and we do not want to be contributing to any of these )
5. Do nothing and wait for more drama (Every year new rule, what if they ban petrol cars in coming years)
On wishful thinking narrowed down to 1&2 option and accordingly following cars were thought of
For Option 1
1. Skoda Kushaq 1.5 DSG (Montecarlo edition)
2. Toyota Hyryder/ Grand Vitara Hybrid
3. BMW X3 30i
4. BMW X1 18d/18i (after X3 30i was discontinued and we really liked X1)
5. Volvo XC60
For Option 2
1. Maruti Baleno AGS
2. Hyundai New i20 iVT
3. Hyundai New i20 Turbo DCT
4. Hyundai Venue DCT
Started test driving cars for option 1 and while I liked them while driving, on returning to my Endeavour they felt like a compromise except X3 30i and Volvo XC60. We found XC60 too wide for Delhi/Gurgaon and X3 looked just ok but it was discontinued without notice. Had sales advisor hinted about it we could have made our decision in Mar-23 but in beginning itself we had communicated to dealers than plan is to own car by June-July only and probably that made dealer less interested in us. Still in love with BMW, changed dealer and started looking for X1. While it satisfied most of our requirement, we did not feel like spending 55 lakhs for such puny engine.
So we moved to option 2 and planned to continue with Endeavour till we get good match.
For Option 2, it was basically Hyundai Vs Maruti. Past experience are hard to go and that ruled out Tata cars. I must admit Baleno drives better than i20 iVT but for the AGS shifts are not smooth and very evident during quick acceleration. It was also value for money as for same price of i20 iVT Sportz, we were getting Zeta version which had 6 airbags as against 2 in Sportz. But AGS was a big no. Also Maruti kept on increasing prices since last December and cost benefit of AGS over previously offered CVT no longer exist. Baleno on road price was increased by 35000 as against 18000 for i20. That made us look for i20 DCT as well as Venue DCT. Venue was ruled out as it would have been another SUV genre car. Also i20 is more spacious and drives like a car as against Venue which due to higher GC did throw us around at corners.
In i20 range itself, we were totally confused as we kept trying upward trims all the way up to N line, finally took a decision to spend less on this secondary car and save for bigger one later.
However looking back, I must admit that i20 IVT in Asta(O) trim would have been better as for additional 2 lakhs, we would have got everything including 6 airbags.
All said, we finally we got our New i20 iVT 1.2 Kappa in Sportz trim.
Booking process
While we test drove i20 through another dealer, which is one of the oldest in NCR, we realized that new dealers offer better service and promises than established one, who take things for granted and talk as if they really obliged us by selling us a car. This is specifically true of Hyundai and Mahindra. Maruti's are still much better inspite of waiting time and almost nil discounts on some of its models.
As expected the dealer and salesman did a wonderful job arranging the car and the waiting period was clearly displayed on screen with a promise to deliver earlier than that. Also the booking form clearly mentioned that accessories, Insurances and other add-ons are optional and one has no obligation to buy from them. Full marks to dealer and sales man. While the white color was available immediately we chose red color and hence had to wait for almost 4 weeks.
Ex-Showroom Price: Rs 9,14,900/-
Road Tax: Rs 76,542/-
Insurance (Zero Dep, unlimited claim, no Engine protector but consumables included): Rs 27,500/- from New India
FasTag: Rs 600
Discount Scheme: Rs 20,000/-
Freebies: Car Freshener & Deity
Dealer Name; Karma Hyundai, Noida Sector 49
The car arrived in dealers stockyard on night of June 8th. Did PDI on 9th morning. The car was made/inspected on 25-May and fresh from oven with absolutely nothing adverse to report. We were pleasantly surprise to receive Sportz trim with automatic climate control (Hyundai call them FATC) as due to shortage of FATC, Hyundai's are dispatching Sportz trim FATC as well as non-FATC (giving a notional benefit of Rs 3500/- incase you get or decide to take the non-FATC model) This is beyond dealers control and you are left to the wills & fancies of a dominant car manufacturer like Hyundai (e.g. for Tucson, Creta, Venue, i20, Grand i10 Neos) or Mahindras (e.g. for XUV700, Thar)
God bless you if we decide to buy one such model, you may face frustration and helplessness as we really felt it once we decided to own i20 IVT Sportz, which is perhaps the only hatchback available in non-AMT (EDIT: Tata Altroz DCA exist but we did not consider) for close to Rs 10 Lakhs. Can't imagine spending Rs 10 lakhs just to own a decent automatic as a secondary car for local commute. Not long ago we could buy a luxury sedan for same money.
Necessity is the new luxury in today's car market. Welcome to the new era of Supplier's (car manufacturers) powers. Looks like we have gone 30 years back when we had to use all our contacts to get Maruti 800. Things are no different except that we have more Marutis and very soon we will be left with only few Marutis as I genuinely feel that more shops would get closed like Ford & GM.
Sorry for deviating from car booking & delivery process but really felt strongly about todays new car market.
The car paperwork was done in no time and we decided to take the delivery in evening. The delivery event was well organized as I said before the new dealers are better at it.
The usual hand-over ceremony. There was cake cutting stuff as well but away from car in the showroom area.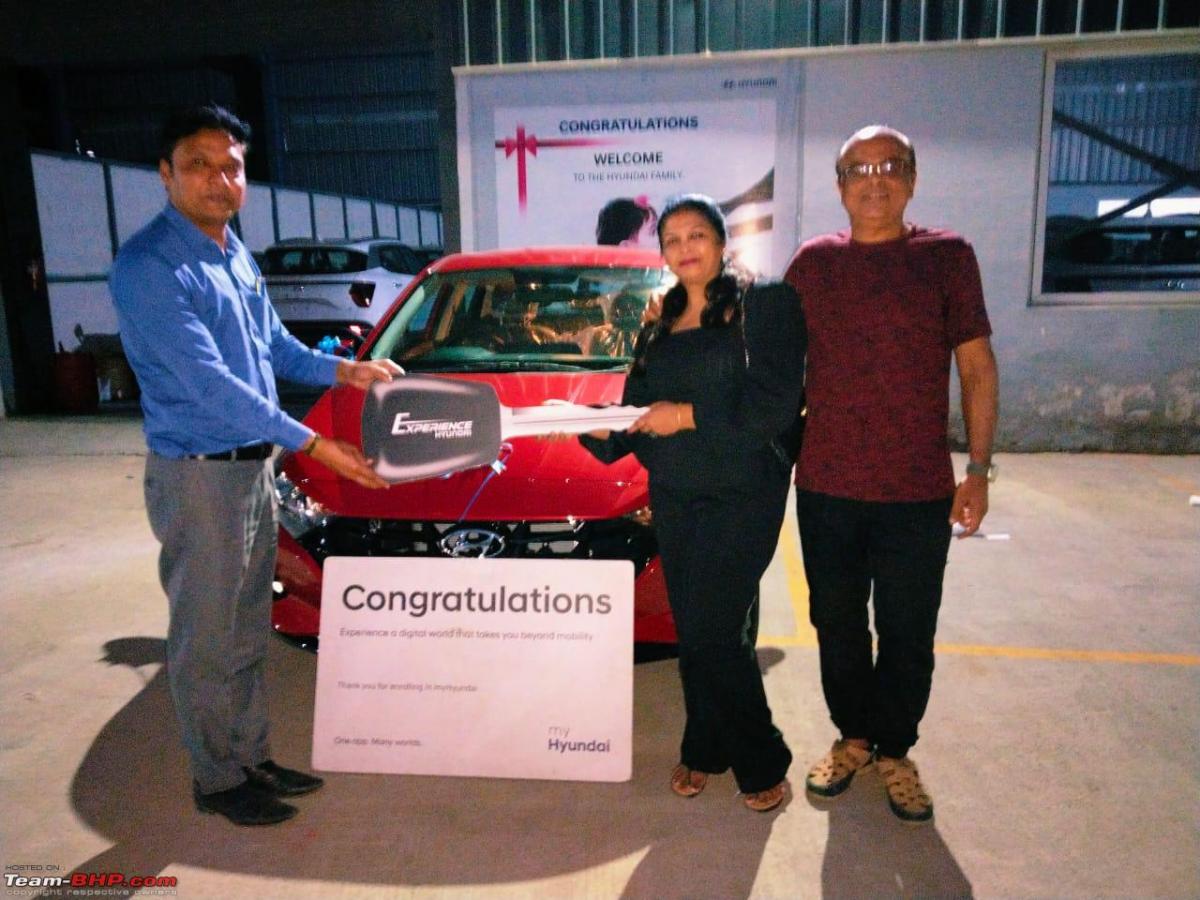 Drove the car as gently and slowly as possible all the way to Temple, fuel station and home. Have heard many horror stories on delivery of new car. God is kind.
Hyundai New i20 iVT Sportz Fiery Red
What I like about the car
Design- both inside as well as outside. The black front grill looks stunning with zero chrome. The black skid plates & skirting on sides looks great. Moving to the rear, I really like the tail-lights and I must admit that all my hatch-backs (Zen, Swift, Grand i10) had admirable rear looks and probably that's what it should be when you call it a hatch-back . In interior, dashboard is designed very nicely with well integrated ICE & ACC and I liked it better than Venue or even newly launched Verna.
Black interiors- Everyone knows that there are plenty of hard plastic inside but no one complains just because they have been brilliantly designed, textured and laid out.
Steering Wheel- I like 4 spoke steering of normal i20 better than the 3 spoke in N line version. Looks great with those aluminum inserts.
Music System- Even the non-Bose (likely Arkamys as the name no longer shown in setting) sounds good (7/10) except that bass is limited (no Woofer in Sportz trim)
Auto Climatic Control (FATC)- Looks very premium and well put together and very easy to operate.
8″ Touchscreen with wireless car play & Android auto- The wireless CarPlay connects in no time and there is no disconnection. You can customize home screen and map & music will take you directly to CarPlay recently used respective app. If you do not want to use CarPlay but only listen to music, you can control the app on home screen itself.
Rear Legroom- Space is better than some of the sedans in our market.
Auto folding ORVMs- No need to bother about folding them when you park your car and they open as soon as you open the car.
What I dislike about the car
Width to length ratio- While European version with some extra mm in length looks well proportionate in side view, this car is too short or too wide (either way) for its size. Need to be mindful that this is a hatchback with sedan consideration to be taken while driving.
Old dated Engine- 1.2L petrol engine from Hyundai is very old and Hyundai could have offered some better or upgraded engine in this 10+ lakhs plus car. Yes we do have Turbo option but there is scope for improvement in this NA Engine including fuel efficiency which need improvement (Competition Tata & Maruti offer more fuel efficient & fun to drive engines)
Hyundai CVT is not the same as Honda CVT (that was my expectation) The CVT or iVT which Hyundai call do not behave same every time and more close to AMT than a CVT except for shift jerk in AMTs. One needs to be careful on ramp and also in reverse wherein it accelerate fast.
Mediocre Horn- Thought of changing it but decide against it for time being (not trying to cut any wire for now, after market coupler do not work for long due to high current flow)
Missing Safety features in mid trims- Competition provide 6 airbags in mid trims (Baleno) while Hyundai only provide 6 airbags & traction control in top of the top (only in Asta option) variant only. New Exter will come with 6 airbags in all the trims.
Big Premium for Automatic gear-box- Post April 2023, there is hardly any difference between Sportz and Magna trim as Magna has been upgraded with digital instrument cluster & 8″ touch screen found in Sportz and Sportz has been almost downgraded by removing automatic air conditioning. So except for rear LED lights, designed steel wheels, turn indicator on ORVM & side glass chrome linings there are no visible difference between Magna & Sportz. Automatic is only available in Sportz & Asta (Option) so you pay a big premium (close to 2 lakhs) for an automatic version.
No auto day night IRVM in any of the trims. Hyundai can do all sorts of customization to add 3 buttons buttons (SOS, bluelink & roadside assistance in IRVM) but cannot provide auto day-night mode although the housing can accommodate & has electrical point available to cater to auto dimming feature.
Non illuminated power window switches in all the trims (except driver's window switch) Also the quality of switches are very bad. First generation of i20 had better switches
Non-reclining and no 40:60 rear seat spilt at rear- Considering less boot space & this being a premium hatch-back, Hyundai should have given these.
No boot lamp in Sportz trim, also the cargo self continues to shade the boot area even after you open the tailgate so the boot does not gets the cabin light, which is pretty good as such.
Only one foldable remote key, the other spare key is basic key. I do not miss the push button but would have felt better with at least two remote/foldable keys.
The fuel tank capacity is only 37 litres (less than my outgoing Grand i10- 40 litres) add to this mediocre fuel efficiency and you don't get more than 450 km range in city traffic. This is really very bad.
Interiors
The all black dashboard- love or hate it. No soft touch material here but can't complain as quality & texture makes the difference.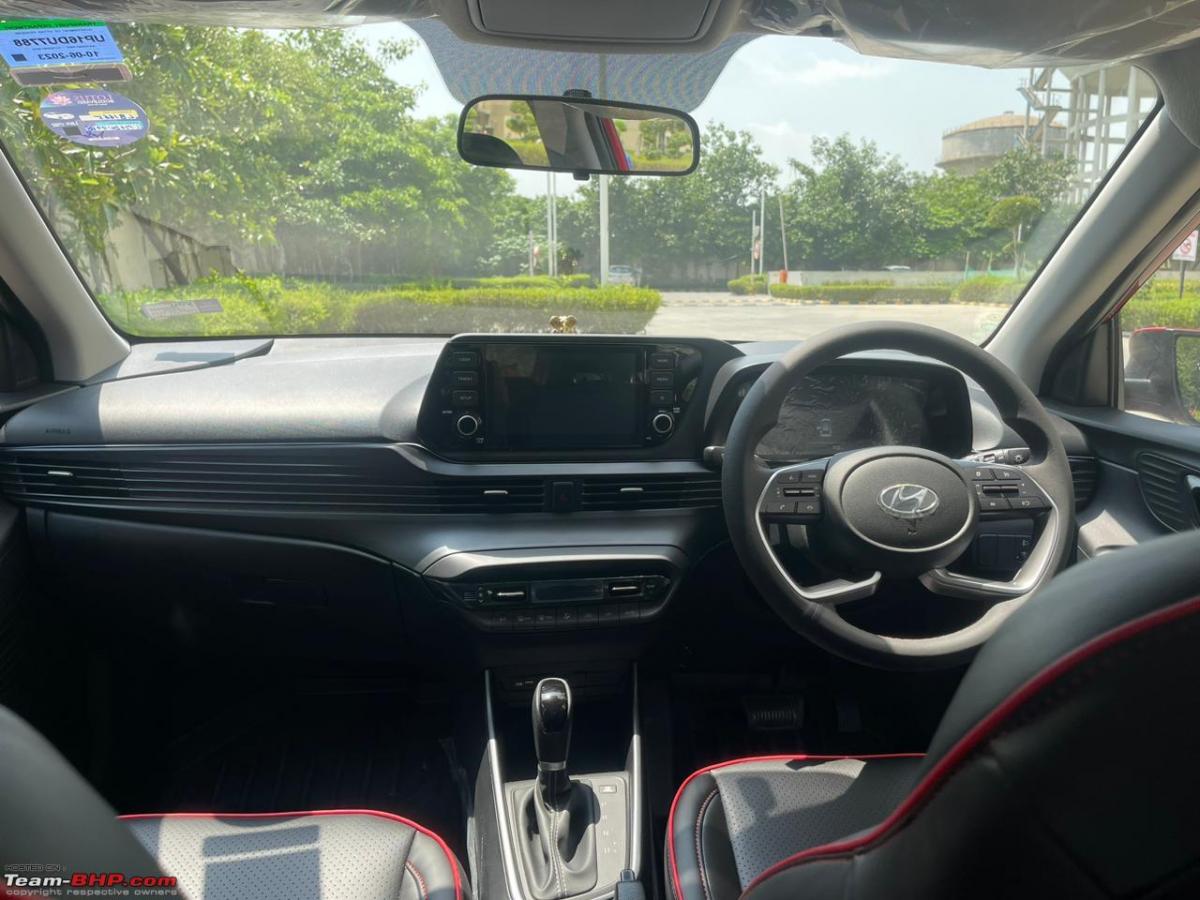 I love black and red combination (after market seats)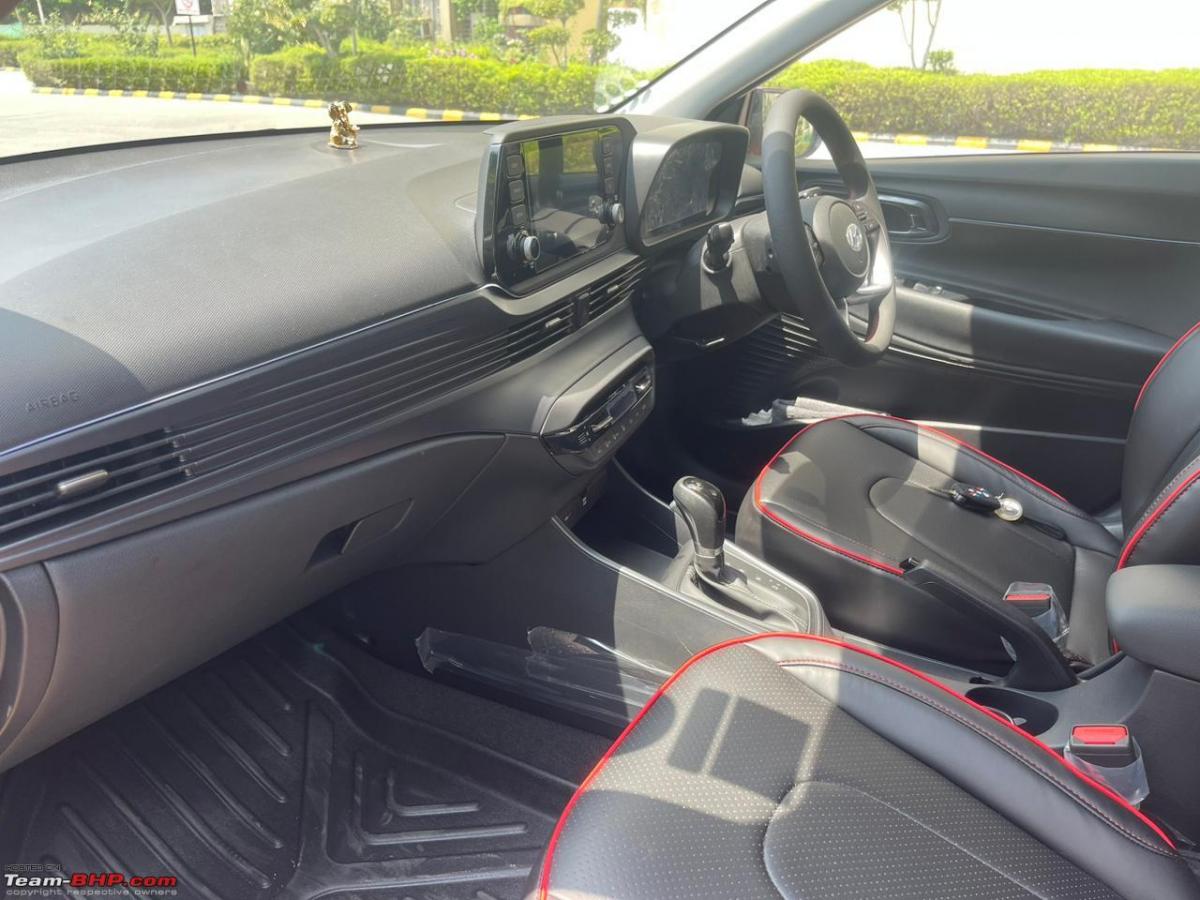 Nice 4 spoke steering with both tilt & telescopic adjustment function. Left side controls for music & phone while right side for MID & cruise control. One thing to note about cruise control, you can activate it by single press unlike other cars wherein you need to press cruse control and then speed +/-. Need to be careful to avoid pressing it accidently.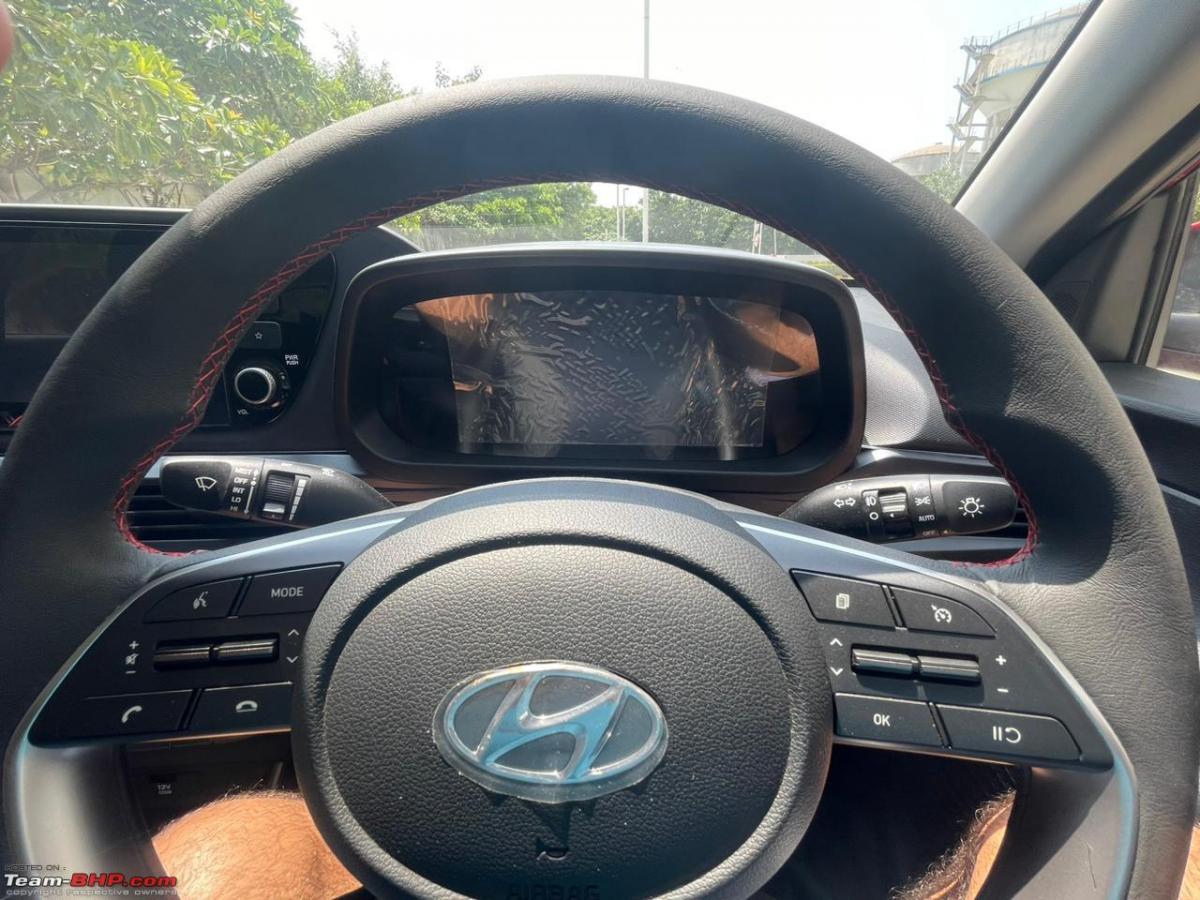 All digital instrument cluster. I would like to say about digital instrument cluster that manufacturer decide to give them but never spend time designing them to make good use of digital space. Be it BMW, Jeep or Hyundai (I only have seen these) they have no clue what to consider when going all digital. Its like you getting an entire football field to play and do not know how to make good use of it. Hyundai is no different, you get two sets- speedo & tachometer info on screen, while we would have loved additional details showing in a better way and without any scrolling or toggle.
Other thing I find that manufacturer shifting to digital screen is not exactly for giving premium feature but they turn out to be cheaper than analog ones. Same thing can be said for ICE. Physical buttons do cost more. So BMW all digital cockpit as an upgrade, I don't think so.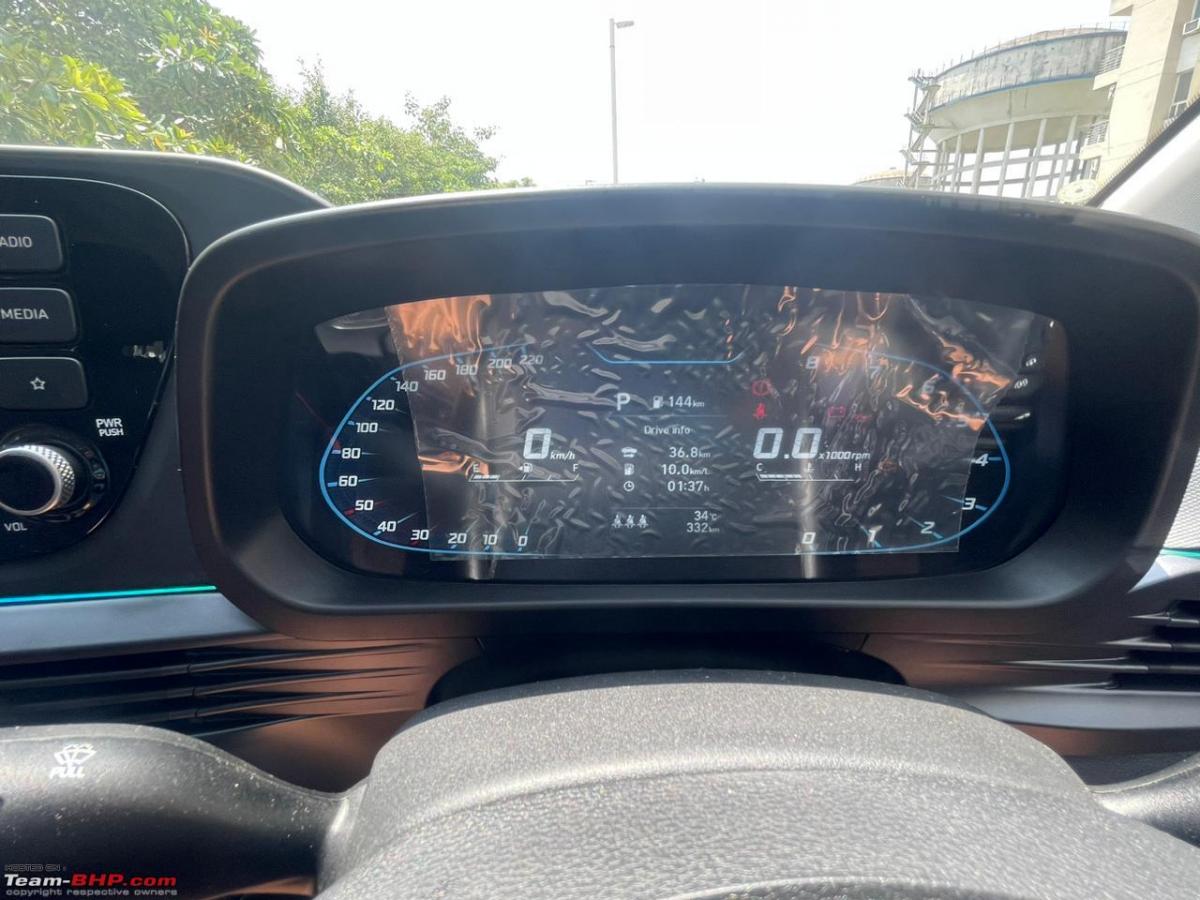 8″ touch screen with wireless Android auto and CarPlay. Connection is seamless and instantaneous.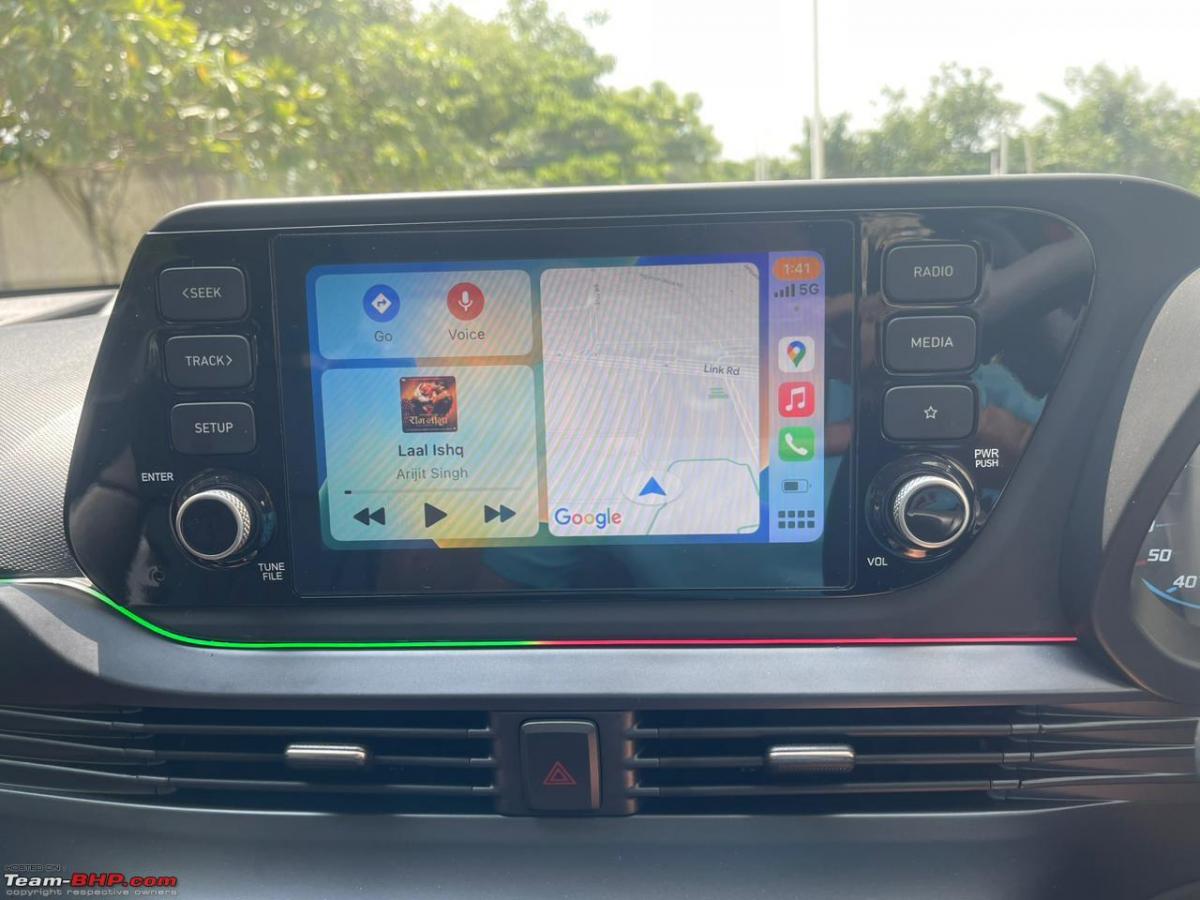 Entertainment system without CarPlay connected looks like this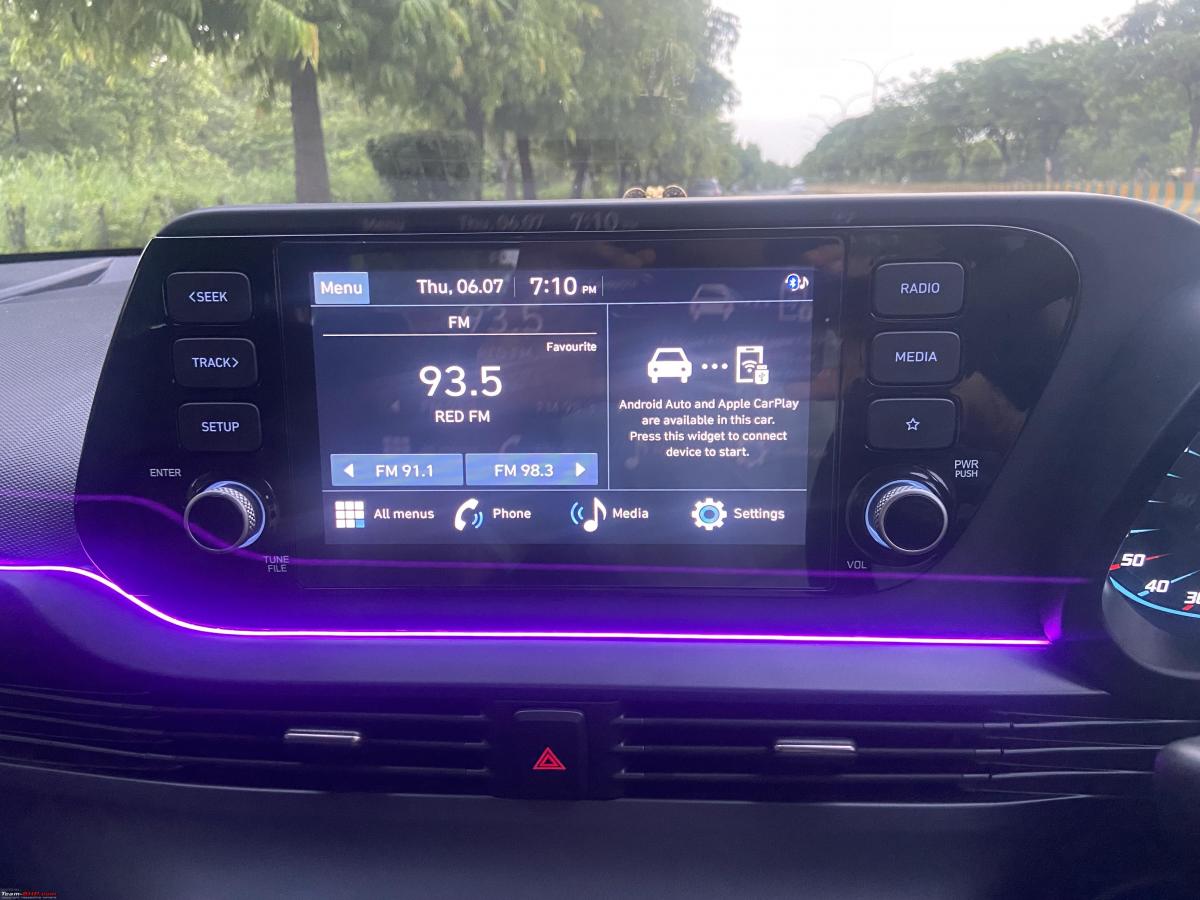 Well designed & easy to use automatic climate control (Hyundai calls it FATC- Fully automatic temperature control) note that center facia is tilted toward driver.
The gear lever looks premium unlike AMTs. The gear markings are well illuminated with "R" in red color. Only problem that you can shift from Neutral to Drive "D" even without releasing the lock and/or without pressing the brakes. So if you have stopped in "N" and someone (kids) moves the lever, you have a problem. Ideally this should not happen while converse "D" to "N" should be possible (no problem there)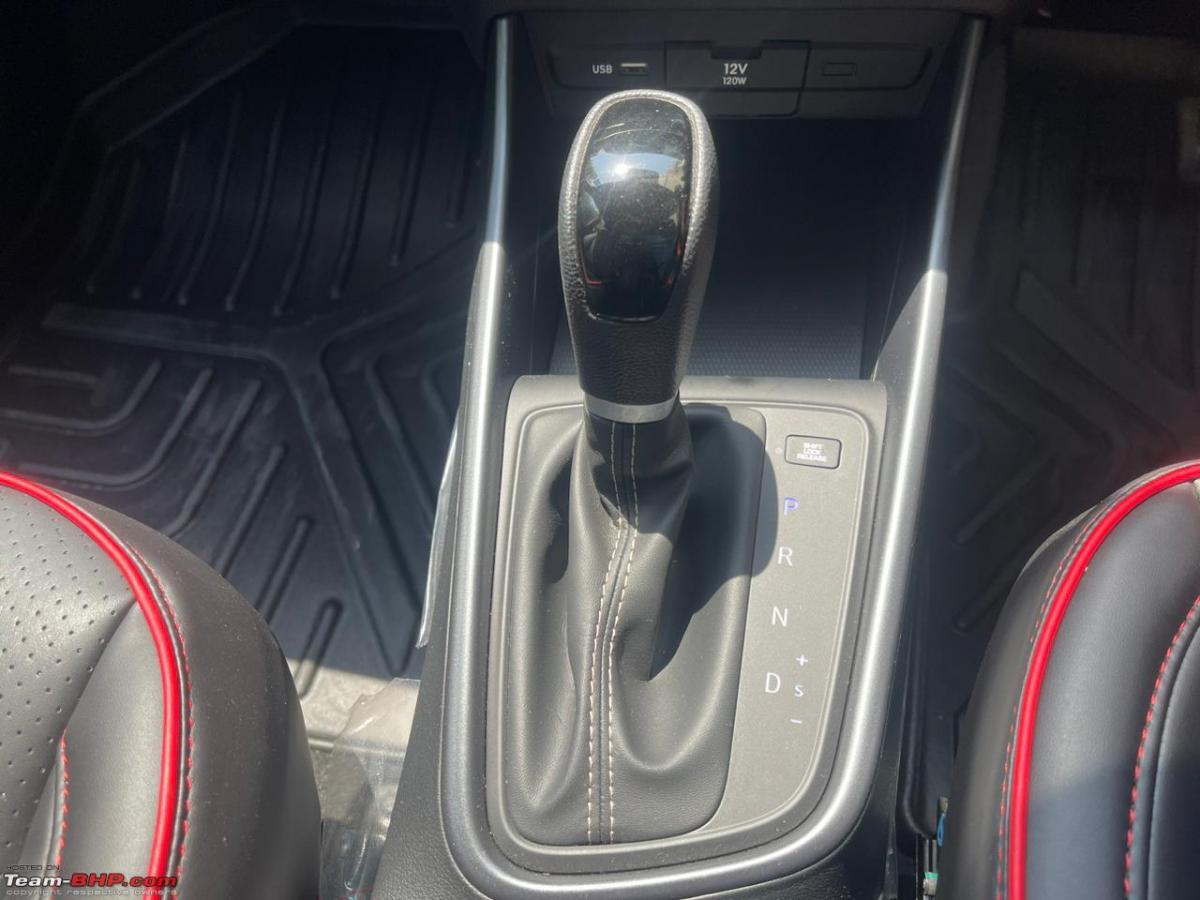 Centre armrest with storage bin is pretty small and armrest is fixed type in Sportz trim.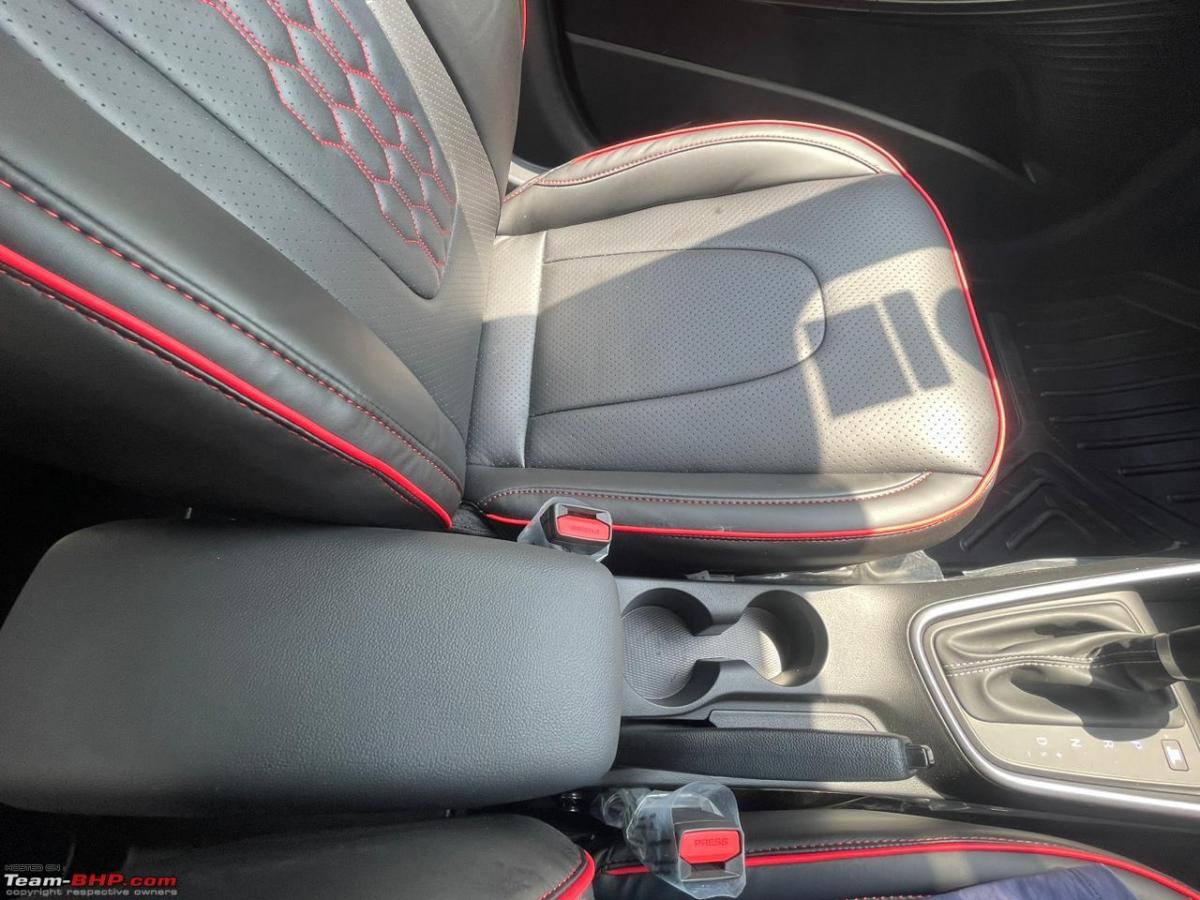 No auto dimming IRVM (not present in any of the trims) rear visibility is not great as such. Need to make use of rear camera while reversing. Rear camera is good with adoptive guidelines.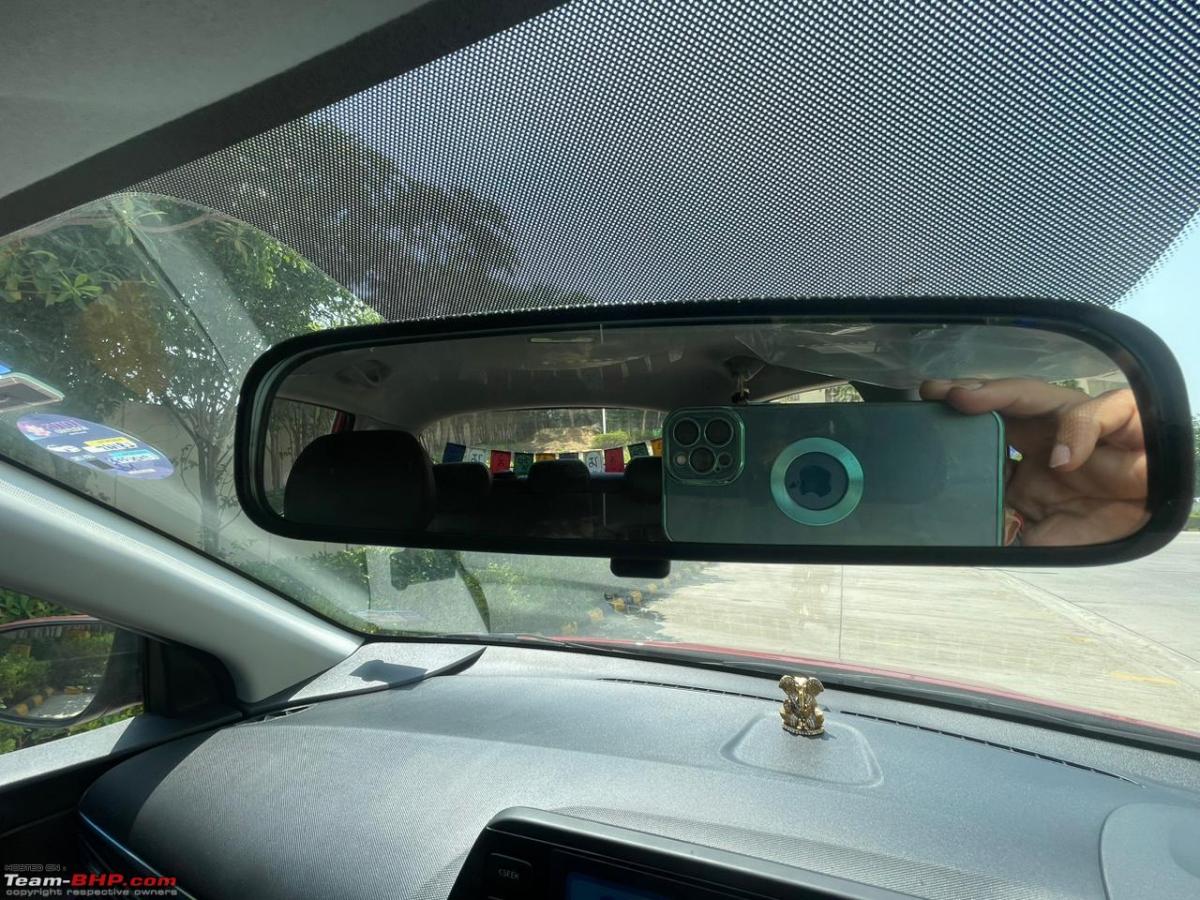 Roof lamps with Sun-glass holder. There is another cabin light in center of the roof for entire cabin, these are map reading lights.
Continue reading BHPian Wanderer's report on his i20 IVT for more insights and information.
Source: Read Full Article