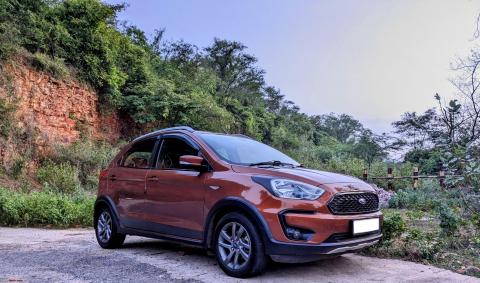 Personally, I feel the car feels more aggressive with that cladding being slapped on all around the body,
BHPian sriniadk recently shared this with other enthusiasts.
Meet my sleek ride – Ford Freestyle: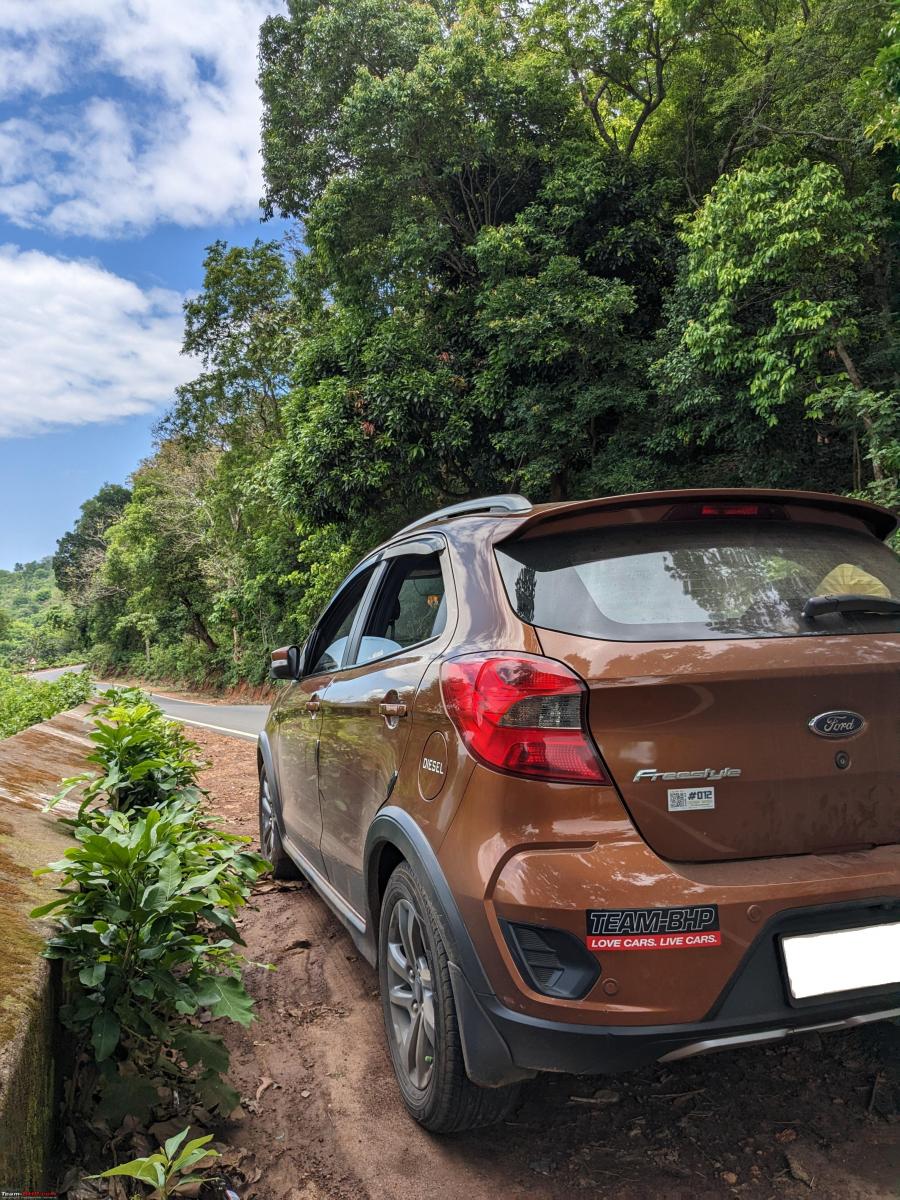 What I Love:
The punchy diesel engine performance is coupled with excellent efficiency.
The NVH level of this diesel engine is pretty much good (not like the Hyundai's though) better than the VW's, Honda and the 1.3L Multijet engine.
Steering feedback and handling are crafted in an enthusiast way even though it is an Electric power steering (carrying on with Ford's charisma).
More Practical with a 190 mm ground clearance setup.
Excellent suspension setup – if you hit the curves it will boost your confidence to hit more speeds.
The subtle cosmetic changes over Figo with that body cladding give it a bolder look along with the classy alloy wheels.
Nifty features like auto IRVM, auto headlamps, auto wipers and Sync system – simply the best in its segment.
Better interior space management especially rear legroom when compared to Polo.
The Titanium+ variant gets necessary safety features like 6 airbags, ESP, ARP & HSA.
What could have been better:
The major setback of this car is the degradation of build quality when compared to the 1st gen Figo and other Ford cars.
Interior plastic quality is not top-notch and attracts scratches easily.
Harder suspension comes at the cost of a bumpy ride at low speeds in bad patches of road.
The Headlamps are a mere equivalent to a candle and nothing else.
Boot space of 257L is much less when compared to competitors.
Cost cutting like not providing keyless entry even after giving button start, non-illuminated power window switches.
To start off with a huge thanks to the Moderators for accepting my membership request. I am really delighted that after 8 years of being just a spectator of the Team-BHP website, I have got an opportunity to pen down my thoughts in this forum. Please bear with me if I make any mistakes as this is my first thread on Team-BHP and all suggestions would be considered in a healthy way.
I have divided the entire ownership into different parts, starting off with a small preface of my car journey.
Index:
Introduction about my car journey
Why only Ford again?
Exterior
Interior
Heart of any Ford – Engine, Handling
The Smaller yet Significant Things
Personal Verdict
I came to know about Team-BHP in my 12th standard when I was searching car for our home in 12th standard. The first review which I read was of the 2014 Alto K10 and the journey started from there. While the Team-BHP craze started for me 8 years ago, the craze for cars and automobiles dates back to my childhood when I used to roam around my home with all toy cars. The main influencer in my conscious was the Maruthi Omni garage which was situated in front of our home in my native place. I used to wait for my summer holidays so that I could go to that garage and sit all day long in that sun. I have changed Stepney, cut windshield glasses, removed battery and the list goes on.
I grew up and I entered that driving age. It was exactly on my 18th birthday when my friend's gate-crashed into my home at night 12 o'clock as a surprise(the best birthday till now). I had already got 2-3 driving lessons from my friend(I consider him my guru in all aspects )in their Xylo car. So we went out for a drive in the streets of my locality. I still remember my friends howling from behind "Bhai ussae gaadi le le nahi toh,aaj birthday mae maut hojayega" . While I was not driving fast nevertheless I also forgot the existence of brake, coupled with the body roll of Xylo they felt it that way.
Many things in my life changed once I completed my 12th grade. After a year of study, I had to leave the college I had been enrolled in since I had been accepted to a superior institution in a different state. Because of this, I used to get only holidays between the Semesters. But that embarked my journey of driving to the next level, as it was a routine to go on a trip every six months along with my friends. In our gang, we were a trio of drivers (with me being the amateur). We 3 never worried about the destination because driving was the main reason for our trips. Over the course of six years, we transitioned from travelling in one car at first to two cars as time went on. We have used a range of vehicles for our journeys, including the Xylo, i20, OG Innova, City (petrol), Innova Crysta, Duster, and Ciaz. But the one major participant for most of the trips was the one and only Alto 800. Alto 800 was simply a legend it never gave up. It has ferried us to most of the destinations, be it the plains of Kanyakumari, the twisting roads of Kolli hills or the Steep roads of Idukki (except for one time when we had to push it from behind as power was not enough to climb that narrow steep upslope with 5 people ). We have covered all the tourist destinations of Tamil Nadu, Kerala and a part of south Karnataka.
Time passed and I got into my job in Gujarat and it was the Covid times going on. My aim to buy a car was slowly growing inside me much more, but Covid really played a spoilsport. Then finally towards the end of 2021, I started looking for my first car. I knew my budget was restricted, so started searching accordingly and was also aware of the fact that I would not be holding on to this car for a long time due to my professional constriction. The various cars that I considered were:
Toyota Etios Liva diesel
Fiat Linea / Punto 1.3 Multijet
1st gen Swift diesel
Renault Scala (D) / Nissan Sunny (D)
3rd gen Honda City iVTEC
One thing which you can find as common in all these cars would be DIESEL. Yes, I am inclined towards that Diesel grunt. It's impossible to put into words the rush of excitement you experience when you floor a diesel car and the way it pins you into the seat when the turbo spools. The other car which I have always admired is the Honda City iVTEC. My curiosity for City mainly started off after reading GTO's post about the iVTEC engine. The way he exclaims about the Vtec Kicking and hitting the rev limiter made me more curious. Luckily a close friend of mine bought the 4th gen City in a petrol version. When I got a chance to drive the same, I understood the excitement of GTO and others. My god what an engine that is; I once floored it in second gear and the car pulled like a beast all the way to 7100 RPM and I could see the speedometer cross 100 kilometers per hour. This engine has a mix of both calmness and enthusiasm in it. It will respond to your driving style exactly as you expect.
I spent an entire month, roaming around in the 2nd hand car dealer area, just to get fooled. Every time I get close to a car deal and check its service record, either the meter would have been tampered, or the car was in a haphazard state. That's when I thought why can't I just ask these showroom guys if they have any car that they had got in as an exchange car. Finally, things started falling into place when I went to the Ford showroom. There I found a gentleman (Mukesh), who seemed to be genuine and assured me of getting a car. I found a 2012 Toyota Etios Liva (D) with low run kilometres and asked him to get it to my place for a test drive. So before reaching my place, he gave me a call stating that he also has a 2012 Ford Figo Diesel in pristine condition with a full-service record which has clocked around one and a half lakhs kilometres. I refused him, not to get that car as it has high mileage in its ODO. But still, he insisted me to just drive and see. My initial impressions of driving the Toyota Etios Liva was very bad. The vehicle was constantly pulling towards the left and the suspension definitely needed an overhaul. With a sense of disappointment inside me, I got into the Ford Figo.
The initial impressions were very good, the dashboard felt refreshing and it didn't look like a car that has put on so many kms under its belt. Checked the entire car with my check-off list and surprisingly it ticked most of the boxes. Few niggles which I found in the car were:
Rusting on 3-4 places
The bumper was repainted which was evident (Mukesh accepted the same) and the body had scratches in many places.
The Headlamps fail to switch to High beam.
Took the car out for a drive and I felt that the car was way ahead of the Etios which I had driven before. In that rough patch of road, the suspension neither gave any squeaky sounds nor it bottomed out. When I drove it on the Highway, the car pulled off cleanly and even at speeds of above 100 Kmph, the car was very sturdy, balanced and gave great assurance to the driver. After the drive, I informed Mukesh that I would contact him in a few days with a firm decision. Came back to my room and started doing the background research about this car. Then I realised, how I missed this car in my wanted list(mainly because I felt that the 1.4 TDCi was underpowered with the power figures on paper). The only hiccup that was there in my mind was the high mileage on ODO. But my friends gave me assurance that since it is properly company serviced there shouldn't be any problem. So without further delay, I made the decision to purchase the car. I named my Ford Figo as Ironhide( inspired from Transformers ).
Ironhide sighted on the first day: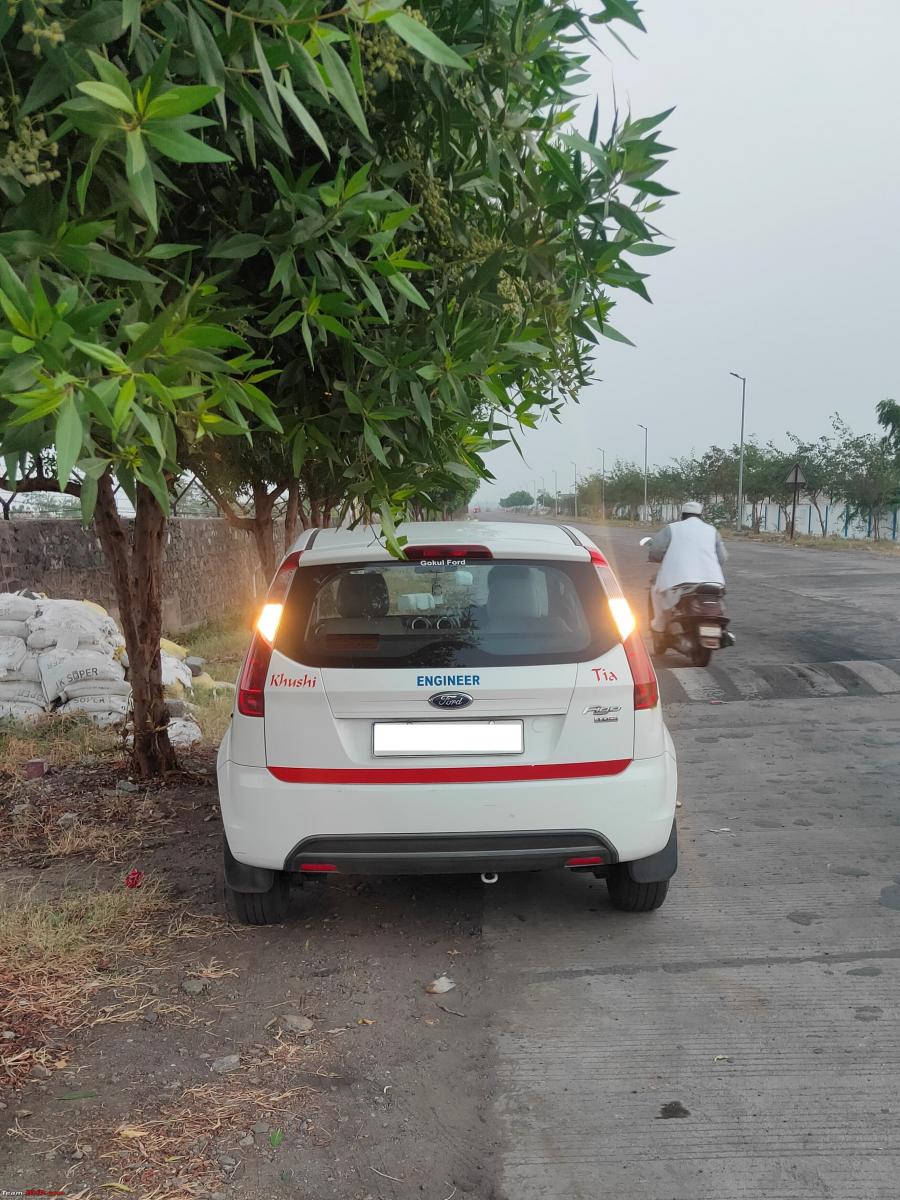 Finally in my garage:
Simple and classic interiors:
As soon as I got the car, the first thing which I did was to convert it into a Mustang:
And I also tattooed my Ironhide with the signature stickers: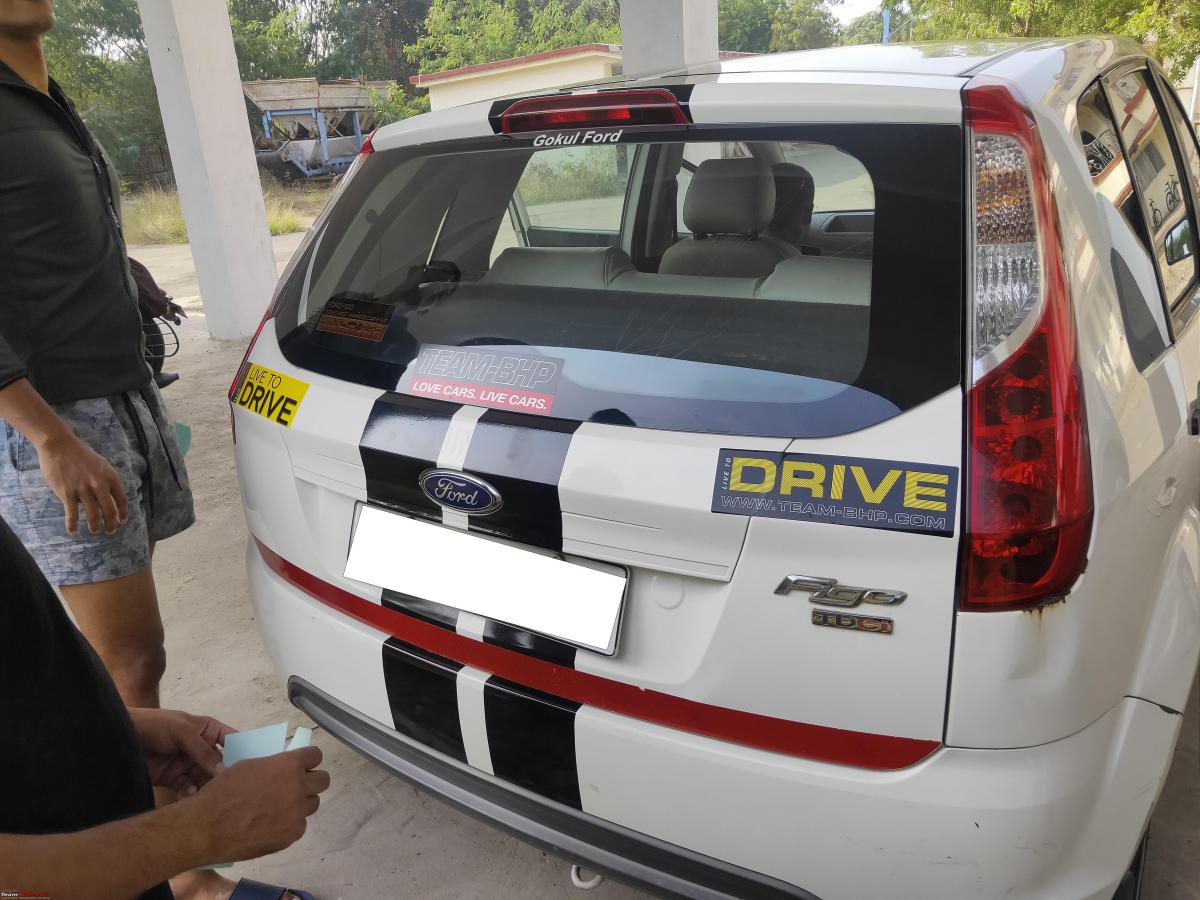 Continue reading on BHPian sriniadk's Ford Freestyle for BHPian comments, insights and more information.
Source: Read Full Article