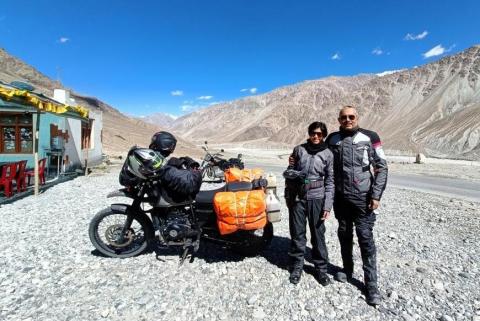 At Leh, we were joined by a colleague who rode with us up to the Siachen Base Camp on his Interceptor 650.
BHPian aviator1101 recently shared this with other enthusiasts.
Ladakh Bike Trip : September 2023
Part 1
Introduction
This bike trip with my daughter was long pending, in fact since 2017. Because of various professional commitments, it somehow could not materialize until this September.
Planning and preparation for the trip started almost two months back. We did not want to go to Ladakh in the proper tourist season and hence chose mid to end September when the weather starts becoming chilly to cold and the so-called tourist rush reduces considerably. Leave from work was planned, flight tickets booked and accommodations booked as early as mid-July.
I knew one thing from my past visits to this area : September has its own pros and cons. The weather starts becoming unpredictable, especially at the higher reaches, but traffic and tourists both are equally less.
The Itinerary
15 Sep : Arrival Leh and rest
16 Sep: Rent the bike, visit to local market and rest
17 Sep : Local sightseeing : Patthar Sahib, Magnetic Hill, Sangam, Leh Palace, Shanti Stupa, Thiksey Monastery, Shey Palace.
18 Sep : Leh – Hemis Monastery & back.
19 Sep : Leh – Khardungla – Khalsar – Hunder – Pratappur.
20 Sep : Pratappur – Turtuk & back.
21 Sep : Pratappur – Siachen Base Camp – Khalsar
22 Sep : Khalsar – Agham – Shyok – Tangtse – Pangong Tso – Merak.
23 Sep : Merak – Kaksang La – Mahe – Nyoma – Hanle.
24 Sep : Hanle – Umlingla & back.
25 Sep : Hanle – Mahe – Karzok – Tso Moriri
26 Sep : Tso Moriri – Chumathang – Kiari – Upshi – Karu – Leh
27 Sep : flight to Guwahati
The Journey
Day (-) 1
14 September :
We moved ahead to Guwahati in the evening since we had an early morning flight to catch the next day. Drove from Tezpur to Guwahati in our favourite Brownie.
Day 1
15 September :
We had an early morning flight from Guwahati to Delhi at 5:30am. The flight departed Guwahati in time and we arrived at Delhi at 8:20 am. The connecting flight to Leh was at 11:10 am from T3 terminal where we checked in early and thereafter had a hearty breakfast at the food court.
The flight from Delhi to Leh was delayed by around an hour. It departed at around 12:10 pm and we arrived at Leh at around 1:30 pm.
First glimpse of the mountain ranges from the aircraft window.
After collecting our luggage, we went straight to our motel which was just around 2 kms from the Market. We chose to stay a little far from the main market.
This day was meant specifically for rest and acclimatisation which is very important as we had gained altitude from sea level to 10,300 feet in just a couple of hours. We had planned to carry out proper acclimatisation for 4 days to obviate any altitude-related issues cropping up at later stages of the ride. At Leh, we were joined by a colleague Mr Rana who rode with us upto Siachen Base Camp on his Interceptor 650.
Day 2
16 September :
This being the second day at Leh as well as our second day of acclimatisation, the program was restricted to hiring a bike for the ride, lunch at Tibetan Kitchen, one of the best places to eat at Leh and rest for the remaining day.
We rented a BS6 RE Himalayan which in my opinion is the best bike for this terrain.
Lunch at The Tibetan Kitchen comprising Thukpa and Momos.
Day 3
17 September :
We started with local rides ex Leh aiming to cover all the so-called touristy places in and around Leh City including the Monasteries.
This was a Sunday and what better way to start the ride than seeking the blessings of the Waheguru at the Gurudwara Patthar Sahib. We started early at around 7 am and headed straight for Gurudwara Patthar Sahib.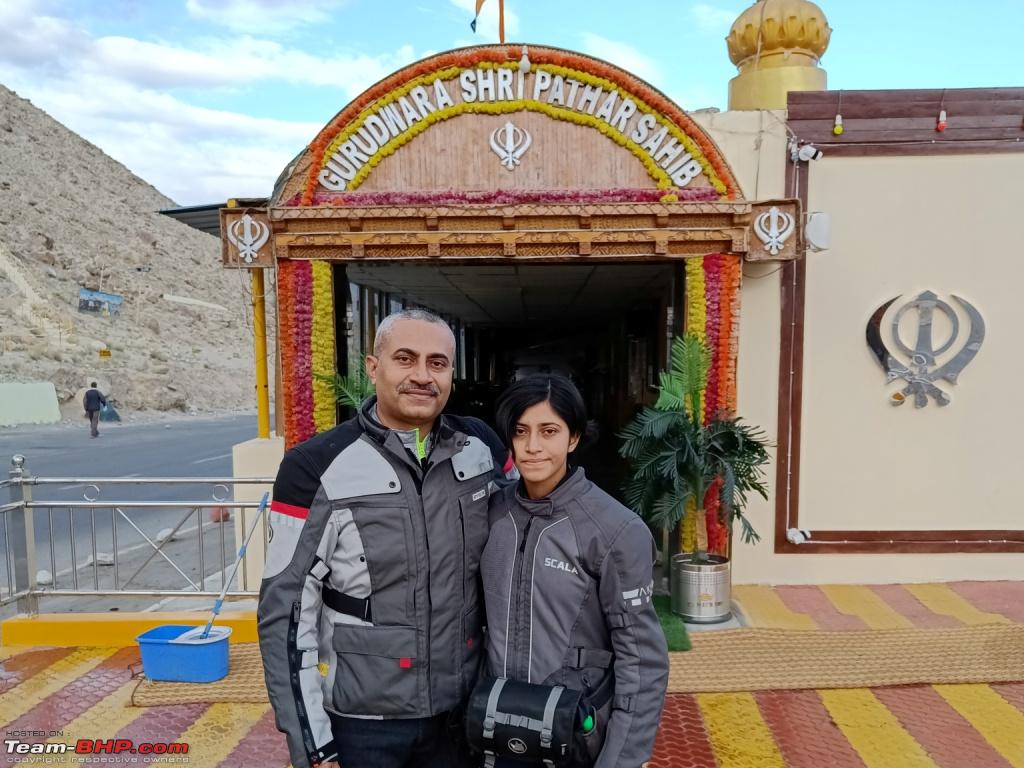 After offering prayers and having the Kada Prasad followed by tea and biscuits at the Gurudwara premises, we set course for the next destination – Magnetic Hill.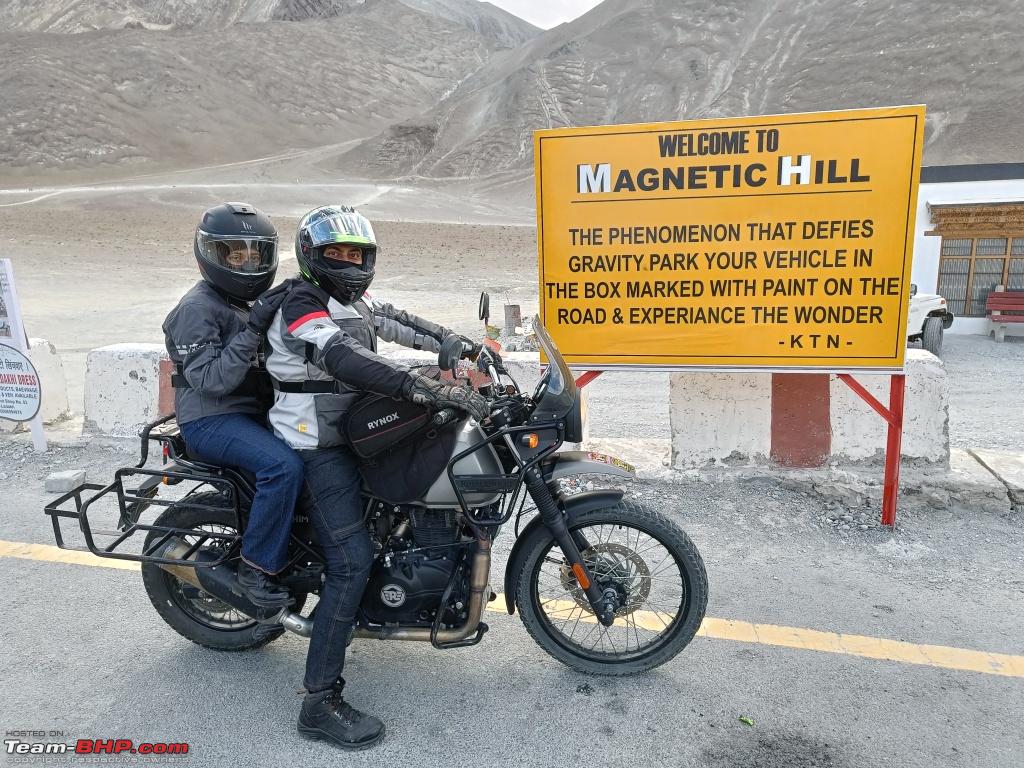 The phenomenon that defies gravity.
Next stop was Sangam, the confluence of Zanskar and Indus rivers.
The two rivers can be separately seen meeting at this point. While the Indus River appears shiny blue, the Zanskar River appears muddy green. It is a spectacular site to witness.
One has to go down the road to the Sangam Cafe and the rafting point, which is claimed to be the world's highest. Unfortunately, that early, not a soul was present either at the cafe or the rafting point.
We went further down the road to the Zanskar Valley Bridge which is also called the gateway to Zanskar.
From Sangam, we came back to Leh City for breakfast and thereafter headed for Thiksey Monastery.
Thiksey Monastery is the largest monastery in Central Ladakh and is noted for its resemblance to the Potala Palace in Lhasa, Tibet. It is a twelve-storey complex and houses many items of Buddhist art such as stupas, statues, thangkas etc.
The Maitreya Temple with the 15 metres high statue of Maitreya, the largest such statue in Ladakh, covering two stories of the building is a major attraction of this monastery.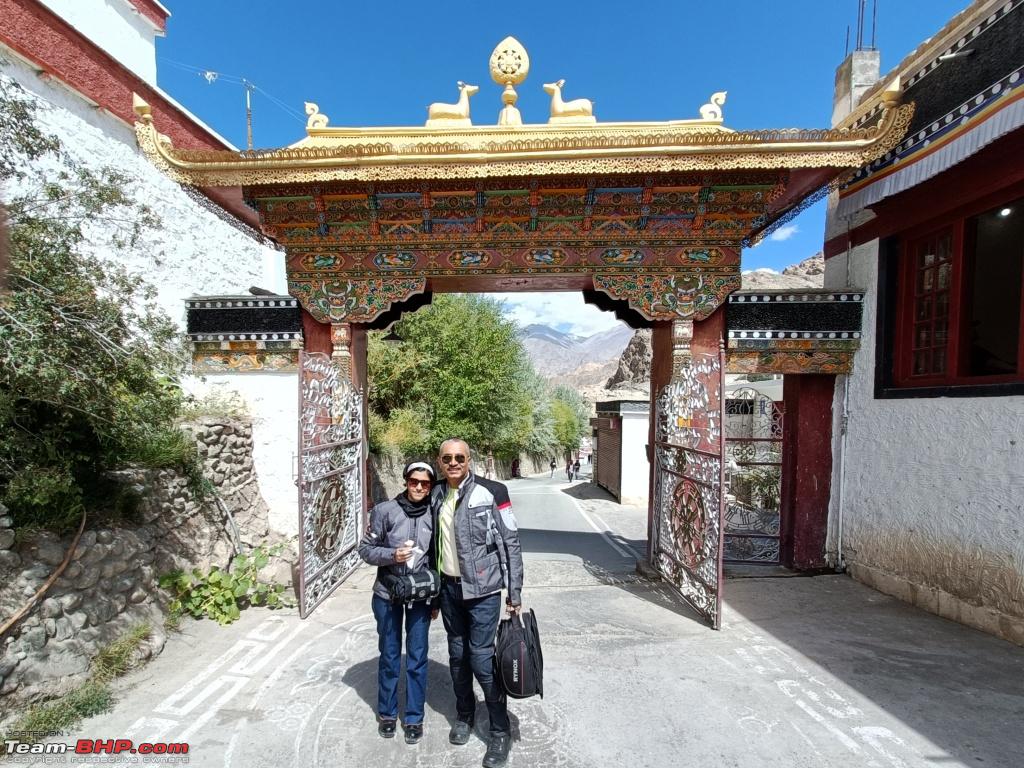 Next we visited the Rancho Cafe and Rancho School.
Chatur pose : thankfully there were no kids to throw bulbs and electrify me
The 3 idiots fame stool.
Next stop was the Shey Palace.
Post lunch we decided to visit the Shanti Stupa. It was built in 1991 by Japanese Buddhist Bhikshu, Gyomyo Nakamura. The Shanti Stupa holds the relics of the Buddha at its base, enshrined by the 14th Dalai Lama.
The Stupa provides excellent panoramic views of the surrounding landscape.
Since there were still around 1.5 hours left before sunset, we decided to visit the Leh Palace. This is an actual palatial building with 9 storeys, out of which 8 are open to visitors.
One of the storeys of the palace also houses a mini museum which holds a rich collection of jewellery, ornaments, ceremonial dresses and crowns, Tibetan thangka or paintings, which are more than 450 years old. It was indeed a wonderful experience for us.
The view from the terrace of the Leh Palace is simply spectacular, especially in the evenings.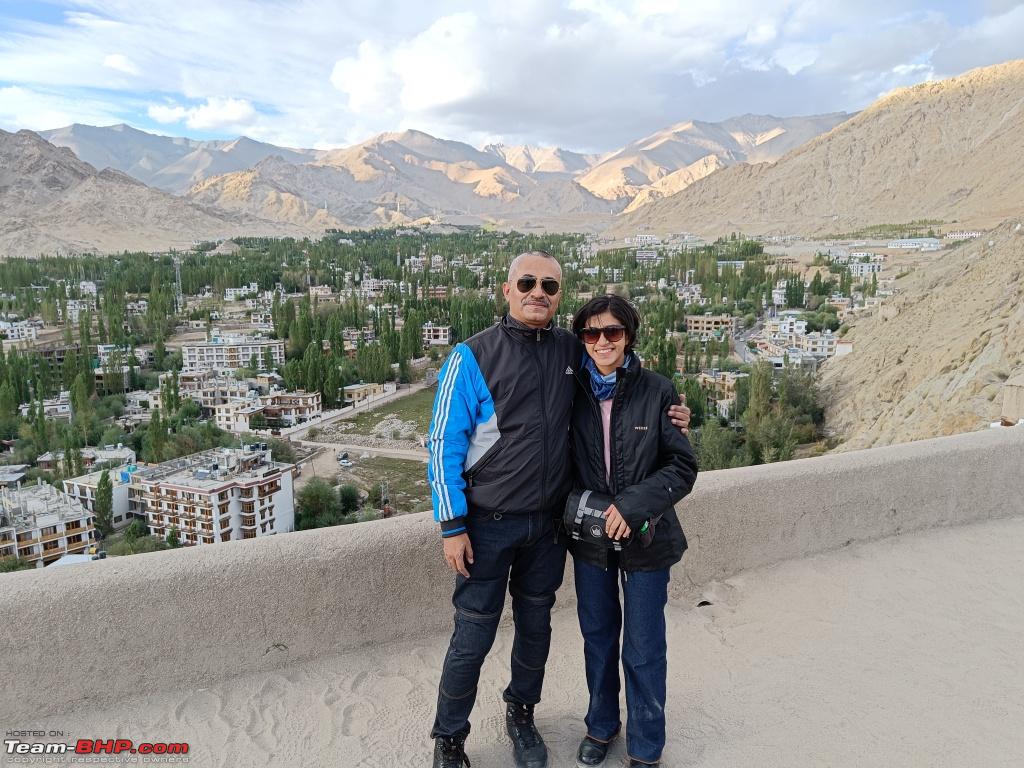 The last stop for the day was the Tsemo Maitreya Temple which is close to the Leh Palace.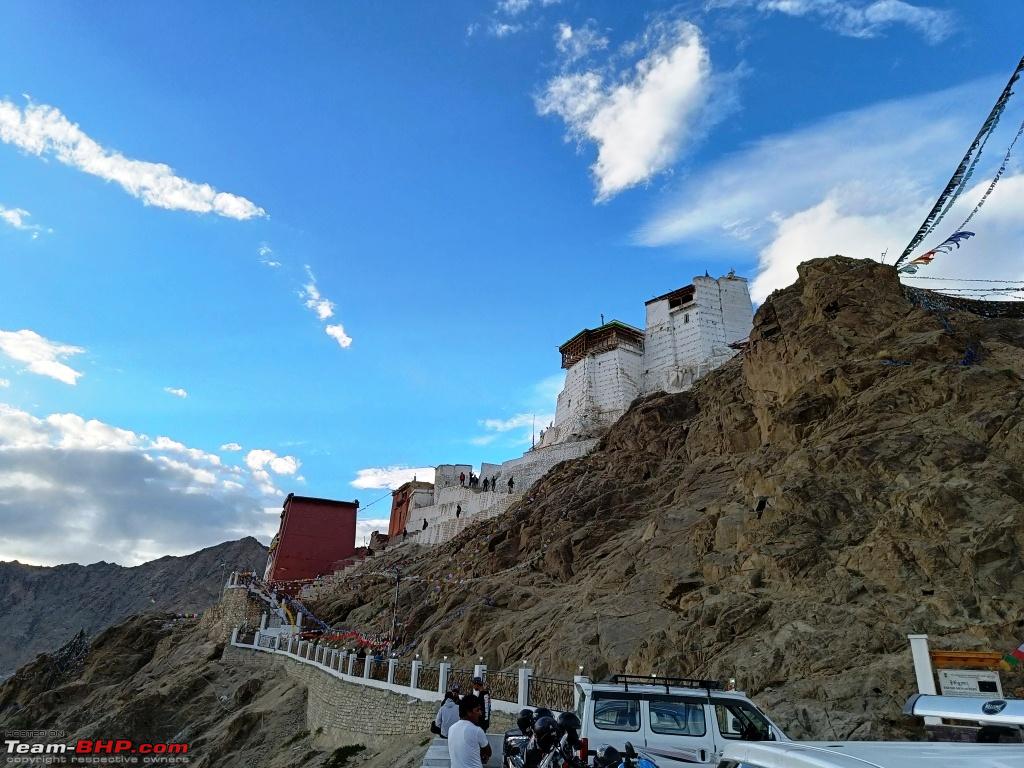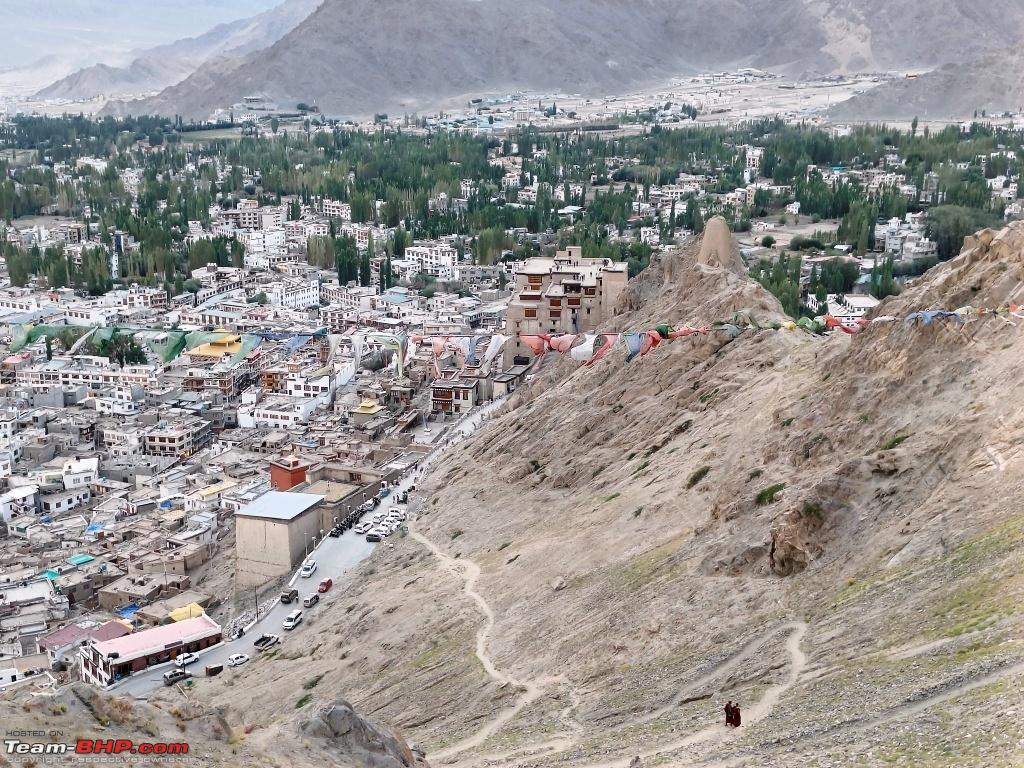 View of Leh Palace from Tsemo Maitreya Temple
Leh City in the backdrop of a setting sun.
Continue reading about aviator1101's road trip experience for BHPian comments, insights and more information.
Source: Read Full Article