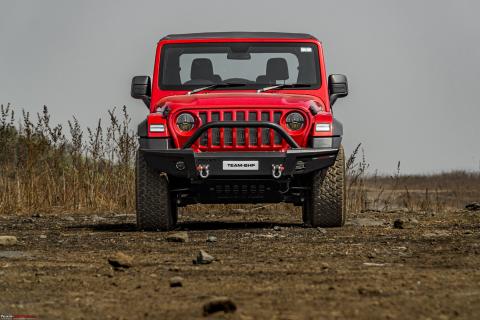 I understand these are all small issues when viewed individually and that mechanically, the car has no problems. But viewed collectively, these niggles are too frequent for 10 months of ownership.
GTO recently shared this with other enthusiasts.
We're loving the Thar & its driving pleasure is unmatched! The engine & transmission are also A+.
But the car sure is a niggle factory
Yesterday, post a drive, I parked the Thar and pushed the driver door shut. Instead, I heard a loud clank! The driver's door lock is jammed and the door won't shut. Will be going to the workshop today.
About 1 month back, there was excessive petrol smell in the cabin whenever the engine was running. After 15 – 20 days, it disappeared by itself.
As I'd reported before, in June, the engine mysteriously went into limp mode and wouldn't revv over 2000 rpm. Pulled over & restarted the engine. Been okay since.
Android Auto still has severe disconnection issues. I connect my phone via Bluetooth only.
And of course, there was the reversing camera niggle on delivery – camera would activate just 50% of the time "R" gear was engaged. That was fixed via a software update at the 1st checkup service.
5 niggles in <5000 km is a bit too much in today's day & age. I understand these are all small issues when viewed individually and that mechanically, the car has no problems. But viewed collectively, these niggles are too frequent for 10 months of ownership.
Here's what BHPian vigsom had to say on the matter:
Niggles in new cars in today's age seem to have become the new normal; I relate your experiences to this observation of mine. I wonder if auto manufacturers can't even get basics right. Such episodes aren't trust inspiring.

On the fuel smell issue that you reported, was the tank at full or full++ then?
Here's what BHPian BoneCollector had to say on the matter:
This could be due to the inner mechanicals getting stuck but it shouldn't be happening on a 5 month old car.

My 12 year old Wagon R is showing something similar. If the door is opened from outside, the latch gets stuck in open position and when you sit inside and close the door, it would not close and a clank can be heard. Then you need to manually push the latch to normal position and it works. Have sprayed WD40 and now it is not getting stuck.
Here's what BHPian sgmuser had to say on the matter:
This is the problem with Mahindra and Tata. So far no major issues (Touching the wood) in my Feb 2023 D AT HT except that scare at 350 kms I had. There was a smoke billowing from engine compartment and it was fixed by ASC. Sleeve was wrongly fixed which got loosened and leaked smoke thus affecting the exhaust recirculation etc. After that it is smooth sailing.

I suggest to update the software of the Infotainment unit. I had an erratic reverse camera and once the software was updated which took 2-4 hours and two trips, then it just works fine now. No delay in switching the camera now. But the screen and video stream quality is worse than Nokia 1 series phone. Wish I had a proper reverse camera and a proper good quality screen.

One irritant I have is the jerky and unrefined gear change lever when going from P to D or D to P etc. The sound is not smooth. Feels like a manual gear lever being slotted as if depressing half clutch. Complete lack of refinement and typical of Mahindra.

Brakes are not refined enough (spoilt by X1 though) even though it just stops satisfactorily.

Lastly, the AVO suspension upgrade I did, started to show its issues especially in bad patches, pot holes and rumble stripes. It is very hard hitting and noisy, so feels uncomfortable. The OEM suspension on the other hand was very soft but less noisy and less hard hitting on bad roads and pot holes so that handling the bad and patchy off road terrain of Chennai ROADS was actually manageable. AVO controls the body roll well though. I need a combination of AVO and OEM suspension.

Just crossed 10k in 8 months and my other drive X1 just crossing 9k in one and half years. So this tells the story that Thar is the preferred vehicle for all the daily runs.

Did anyone notice the small kids always look at Thars and point them to their parents while in traffic. There is something with this Thar that attracts people even the little one! Feels special! This happened many times and show this is still a solid head turner even for people who are on 5 times costlier cars!
Read BHPian comments for more insights and information.
Source: Read Full Article