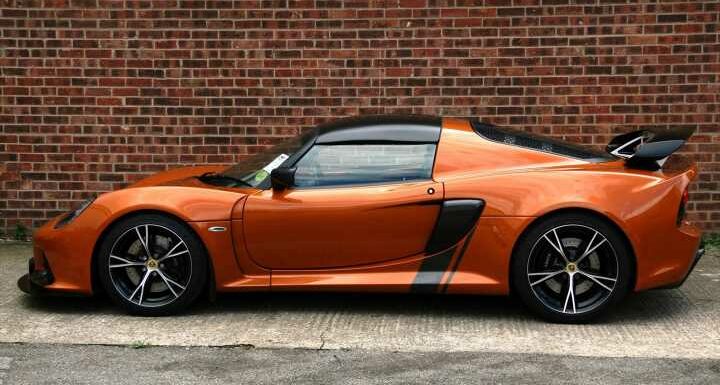 Brilliant on street or circuit, here are half a dozen heroes for pure driving fun
By Matt Bird / Saturday, 14 October 2023 / Loading comments
Lotus Exige V6 S, 2012, 9k, £39,995
No doubt there will be some calling for even more focused track cars in this list. Notably everything here has a roof and air-con to make them usable on road as well as thrilling on track. But £40k does, of course, buy a heck of a lot of Caterham for those that way inclined. We're kicking off this Six of the Best with one of the earliest V6 Exige S3s; more powerful and circuit focused models followed from this car, but the standard 350hp model was fantastic out of the box. Though heavier than the four-cylinders, it still weighed only 1,100kg; advances in chassis electronics made it exploitable for all abilities, too. This Exige is especially interesting as one of the original launch models, which has recently been overhauled by a Lotus employee. To get a car that looks this good, drives this well and sounds this superb for £40k looks a great deal from here.
TVR T350C, 2004, 24k, £38,500
Perhaps the T350 wouldn't be traditionally considered a road racer, but thrills are going to be here in abundance. It's a lightweight, straight six, rear-drive manual sports car, after all, from that later period in TVR's history when it produced some of its best drivers cars. This example also benefits from a big brake upgrade on the front, a roll cage (trimmed in maroon leather) as well as Nitron dampers and Suplex springs; the seller describes the ride and handling as 'exemplary', which is high praise indeed from a TVR specialist. If you like your sports cars raw, unapologetic and demanding – which, given this is PH, you may well do – then a T350 surely fits the bill. Perhaps the spec is a little modest by TVR standards, with Iced Titanium paint contrasted with the dark red inside, but the history is good, the condition lovely and the mileage low. Perfect weekend warrior.
Alpina B3 GT3, 2012, 105k, £43,990
Yes, sure, it's an automatic BMW 3 Series. With a lot of miles in this company, too. Don't be deceived, however, as there is far more to the Alpina B3 GT3 than meets the eye. It produces more than 400hp from a turbo straight six, with an Akrapovic titanium exhaust as standard; power reaches the road via a Drexler limited-slip differential; behind those stunning forged aluminium wheels (less than 10kg each) sit bigger brakes, 380mm at the front with six-piston calipers. Then there's the GT3's piece de resistance: manually adjustable coilovers, with 12 settings for compression and 18 for rebound at each corner. Camber could be tweaked, too. Back in 2012, Alpina made just 99 to celebrate the success of its B6 in GT racing. Autocar suggested it might be the best handling 3 Series of its generation. Yeah, seriously. And rarer than an M3 GTS. So hopefully we'll be excused going a bit over budget…
Renault Megane R26.R, 2009, 37k, £34,000
Proof that road racers come in all shapes and sizes, the R26.R really was a hot hatch like no other when it launched in 2008. It was so stripped out, so extreme, and so specialist for what was ostensibly a Renaultsport Megane. More than 120kg was removed, along with a chunk of its everyday usability, but the transformation made for one of the most engaging two-seaters available for less than £50k – even if it did resemble a humble hot hatch. Sadly, buyers weren't entirely sold on the R26.R ethos (launching in a financial crisis won't have helped), and a lot of the UK allocation went to other markets. Where many of them have stayed. Which makes one like this really significant; number 53 of the 230 is right-hand drive, one of just 19 in Lunar Grey and comes with the must-have options of air-con and a radio. Front drive comes no more fun.
Subaru Impreza S204, 2006, 35k, £39,995
Special even by the standards of silly Imprezas, the S204 was launched in 2006. Over a standard WRX STI, it boasted a larger twin-scroll turbo, an upgraded intercooler and new ECU for 320hp. But that wasn't the big news, really. It's said that Petter Solberg had a hand in the '204's handling, the last of the Imprezas to be made in a 555-unit production run. While it's always sensible to take these claims with a pinch of salt (think Senna and NSX), the hardware was certainly there to make an even better Impreza: the steering rack was faster, the anti-roll bars uprated, the ride height lower and the dampers developed with Yamaha. With an 8,000rpm EJ20 and the classic saloon aesthetic – no wonder these things are such hot property now. This S204 is said to be one of just 49 in grey mica and comes with the desirable option of the gorgeous carbon seats.
Porsche Cayman R, 2012, 51k, £39,995
Perhaps hard to believe given the furore around the 981 and 718 flagships, but special Caymans did exist before the GT4. The R wasn't as extreme (or as raw as some said it should be with that badge), though that shouldn't detract from one of the great modern mid-engined Porsches. The R was just a little faster and just a little sharper than a Cayman S, which made for an absorbing sports car. With, of course, hydraulic steering, a naturally aspirated flat six and a manual gearbox. What more, really, could you want from a Porsche sports car? A lairy colour scheme? We can do that, this 2012 car in the launch paint of Peridot Metallic. Believed to be one of just 100 the UK ever received, this R benefits from a sports exhaust, racier seats and a recent service. Get that rear wiper off and you're good to go…
---
Every new Porsche 911 – ranked!
Best car of the last 25 years? We call it
Latest Six Of The Best articles
£40k road racers | Six of the Best
Real-life Bond cars | Six of the Best 
Fast for £12k | Six of the Best
All-American muscle | Six of the Best
Class of 1998 | Six of the Best
Source: Read Full Article