On twisty roads, the Himalayan isn't the most agile, but the handling is pretty decent. It is very composed on both good an bad roads and you don't feel like you would tip over or stall.
BHPian WhiskeyTangoFox recently shared this with other enthusiasts.
Hello all,
Let me introduce to you all, Uno! My 2022 Royal Enfield Himalayan BS6. I've had it for just about 3 weeks and I have covered only a measly 75 kms on the ODO at this point in time owing to some complications (I'll get to it later). However, the 75 kms that the bike has covered is a combination of every type of road imaginable (in Bangalore city atleast) and thereby, would give you an idea of how the bike performs. Onward to the selection process!
The requirements were:
Excellent seating position and comfort.
Decent fuel economy for 20-25km city use everyday.
Good service network.
Spare parts availability (OEM or third party).
Good reliability.
The bikes considered were:
Bajaj Dominar 400 UG: Excellent bike, absolutely stunning to look at and loaded to the gills with features. However, one look at the reviews of all the Bajaj dealerships within 10 – 15 km of my residence made me stay away.
Yezdi Adventure: Seemed like a solid competitor to the Himalayan, however, glaring quality control issues, lack of a large service network, horrible dealer reviews and yet to be proven reliability kept me away again.
Royal Enfield Himalayan: Test rode a friend's 2021 BS6 Himalayan before going to the dealership. Fell in love with the ride comfort and the low end tractability. Shortlisted.
Royal Enfield Scram: Checked it out at the dealership, but it didn't really appeal to me and felt like a cut down Himalayan. Don't get me wrong, It is a very good bike but I figured I might as well go all out and get the Himalayan instead.
Hero Xpulse 200 4V: Although the it is a capable motorcycle, the design didn't resonate with me as much hence I did not shortlist it.
Dealership experience (TD, booking and purchase):
I went to the Royal Enfield Electronic City Motors dealership for two reasons:
My friend who owned the 2021 Himalayan, bought it from the Koramangala dealership and he told me that it was the worst purchase experience that he had faced till date. So bad in fact that he had to escalate it to RE's head office. So stayed away from there.
A quick search on Google showed abysmal reviews of the RE Bommasandra Dealership. Stayed away from there as well.
I also knew there was a company owned store in Jayanagar I could go to with excellent reviews, but I figured I'll try the Ecity showroom first because they did have fairly decent reviews and I could always shift to a different dealership if I didn't like it. I also knew that RE Himalayan didn't have the best reputation in the motorcycle world because of the issues that plagued the initial BS3 models. However, RE has ironed out most of the kinks in the BS6 but one which I'll get into later.
We went to the dealership on the 16th of May 2022. I didn't have high expectations from RE's sales team and I was proven right. The sales personnel seemed very laid back (although they did explain all the features of the vehicle). I asked for a TD of the Himalayan, to which they readily agreed and I was taken outside to a White 2021 Himalayan that honestly looked like it had seen better days. I took it for a spin and the gearbox on that particular vehicle was the worst I have used in my life. It took a gargantuan effort to shift it from N to 1st and would constantly have false neutrals while shifting into 2nd. However, because I had test ridden my friend's bike just the day before, I knew the gearbox is actually pretty decent so I let this go. The bike did well both on and off the road, was pretty composed and I liked it. I was told that the delivery time is anywhere between 30 – 45 Days. We got a proforma invoice from them and went back home.
I thought about it for a couple of hours and finally decided to go with my heart and make the booking. The booking amount was Rs 10,000 and could be done at home with the MiY Portal on Royal Enfield's website. I sent the booking confirmation screenshot to my SA. I constantly followed up with him after that, and around 3 weeks in, I got a call from him saying the bike is ready and I can begin the payment process. Since we paid via cheque, it took 2-3 days to process and the bike was ready for delivery on the 10th of June. This is where my experience turned a little sour. I was asked to come to the dealership at 5:30 p.m, which I confirmed 15 mins before leaving my house as well. Reached the dealership and the SA told us to wait for 15 mins and then the bike would be ready. We agreed and finished all the remaining paperwork. 15 mins became 1 hour and my SA was nowhere to be seen. I asked another employee who said he would follow up and the bike was brought out around 20 mins later. We took the photo and they gave us the user manual and complimentary helmet and a run through of the controls of the bike. Towards the end, while checking the VIN, we realized that this wasn't my bike! In a hurry, they took it back and we had to wait another 30 mins while they brought out the correct bike. I felt bad for the sole service technician who had to clean both bikes because of a dealer error. Anyway, I rode the bike back home and have had it for 30 days exactly as of writing this post.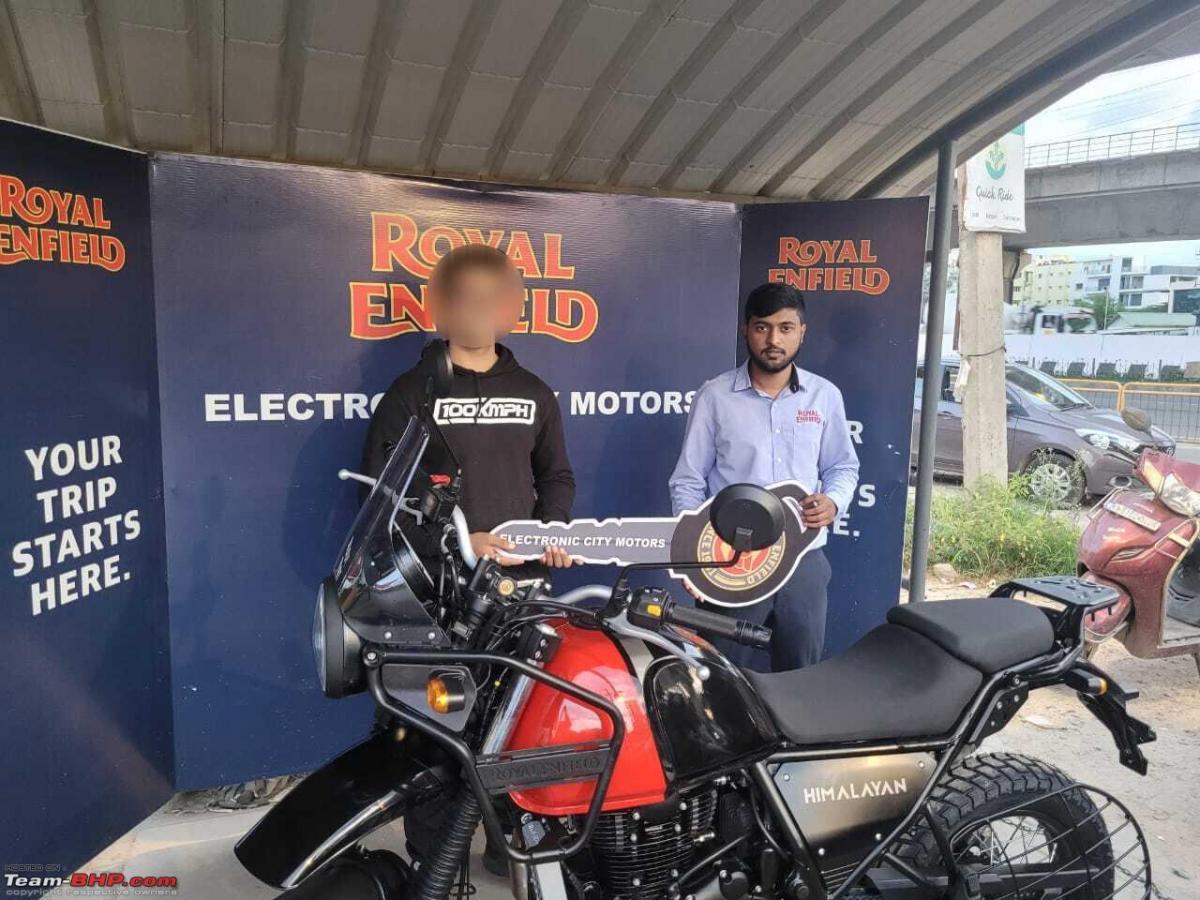 I was also not given a temporary registration number and had to wait 20 days for the HSRP. This too, the dealership managed to mess up. I confirmed with the SA the night before and 15 mins before leaving and he told me that the dealership doesn't have a drilling machine. I was infuriated and I asked him how he'll affix the plate. He put me on hold for 5 mins and then told me that I could come. As of now, the plate hasn't been drilled through and the frame has been riveted into the bike. The plate has just been placed inside the frame and closed. I will probable end up super-gluing it to the frame or I'll have to find some other alternative because I doubt the frame will hold it in place forever.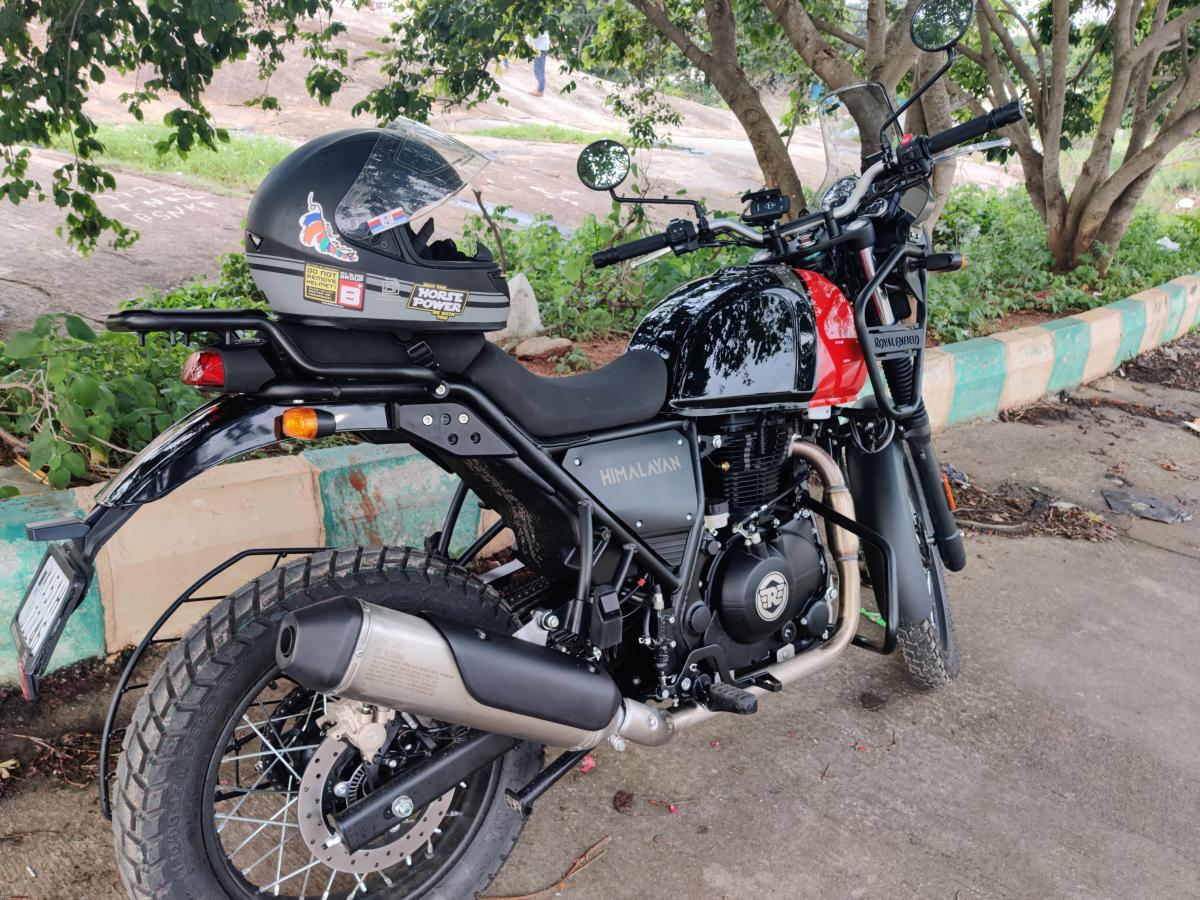 Rear three quarters.
Side view.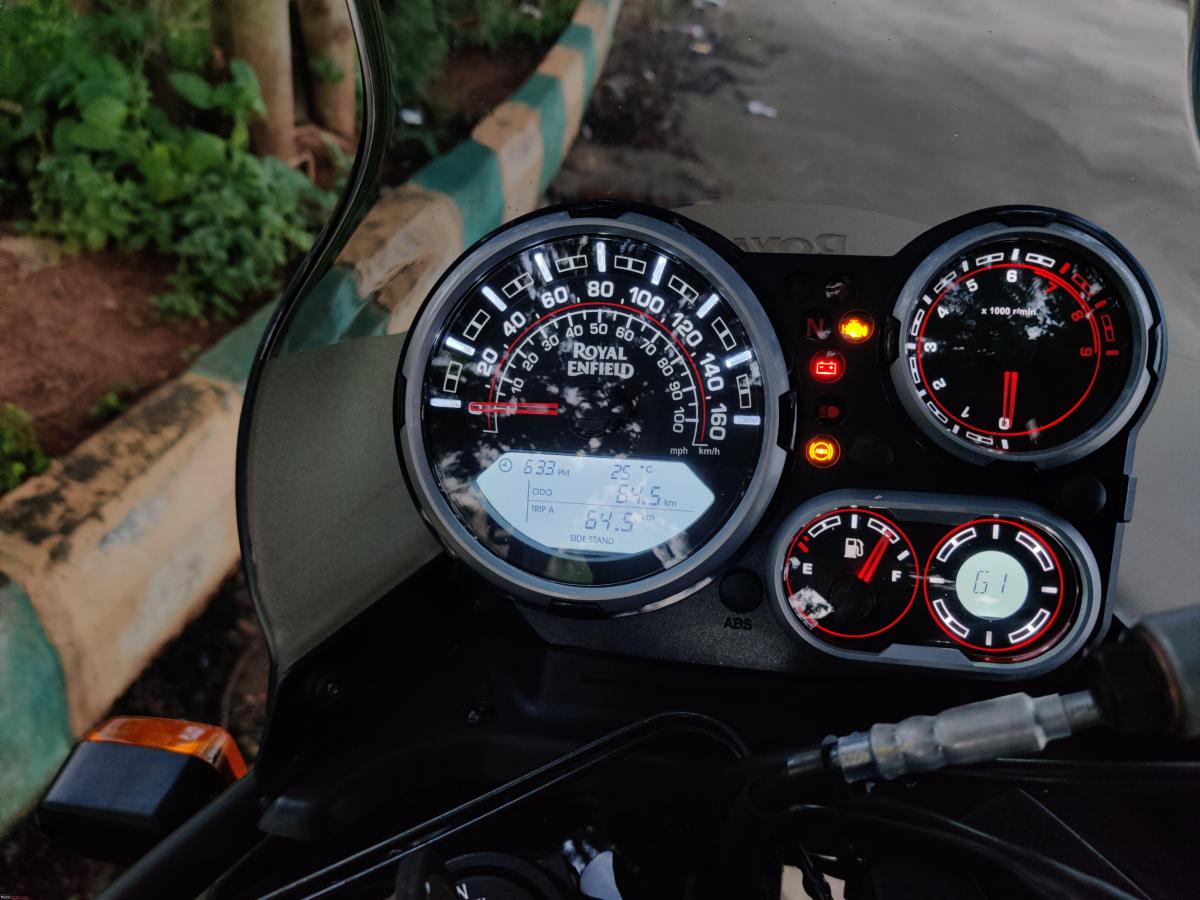 The console of the vehicle, has the peedo, acho, gearshift indicator, tell tail kights, fuel gauge and the trip display.
LHS controls: Beam toggle switches for the high and low beam, pass switch, Indicators and horn.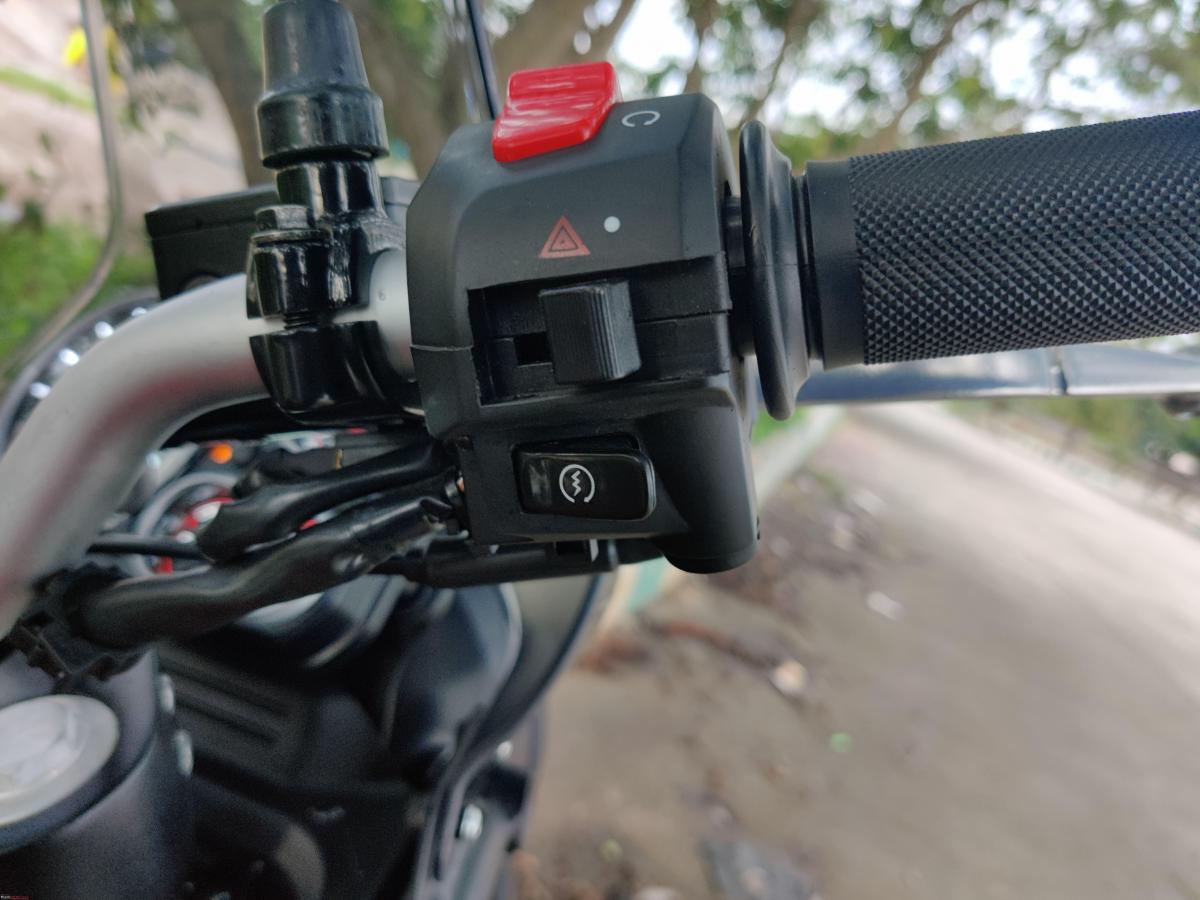 RHS controls: Kill switch, hazard lights Switch and ignition.
Pricing:
Ex showroom price (Including booking amount): Rs. 2,18,339/-
Insurance (External from Acko): Rs. 18,648/- for 2.1L IDV.
Road tax and registration charges: Rs. 51,668/-
Accessories from dealer (Large Engine Guard, Oil Cooler Guard, Number Plate Frame): Rs. 3,300/-
Additional accessories from third party:
– Raida Rainpro Raincover – Rs. 889/-
– Bobo Mobile Holder – Rs. 1,199/-
– Rynox Bungee Cord – Rs. 250/-
– Gear Sock – Rs. 160/-
Total Cost: Rs. 2,94,553/-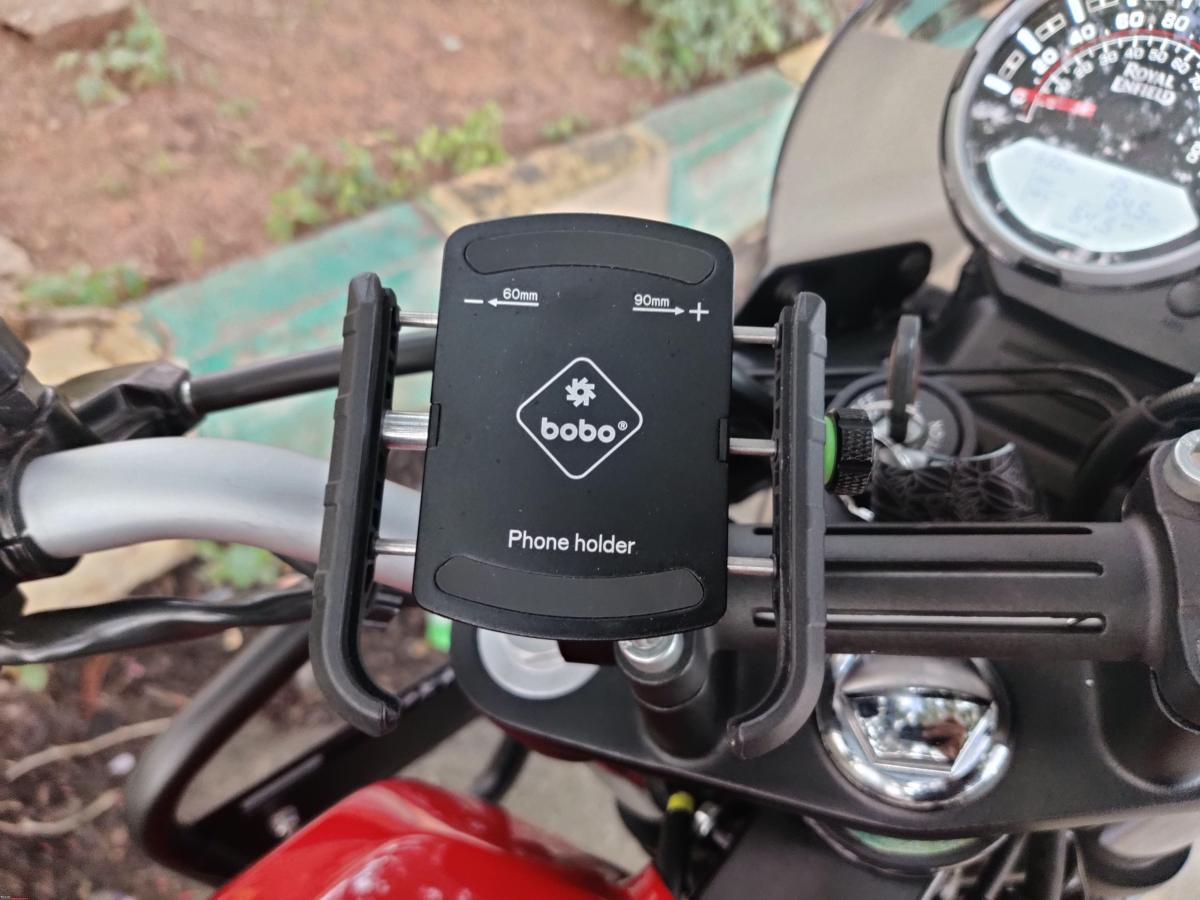 Bobo mobile holder from Amazon. Excellent and VFM.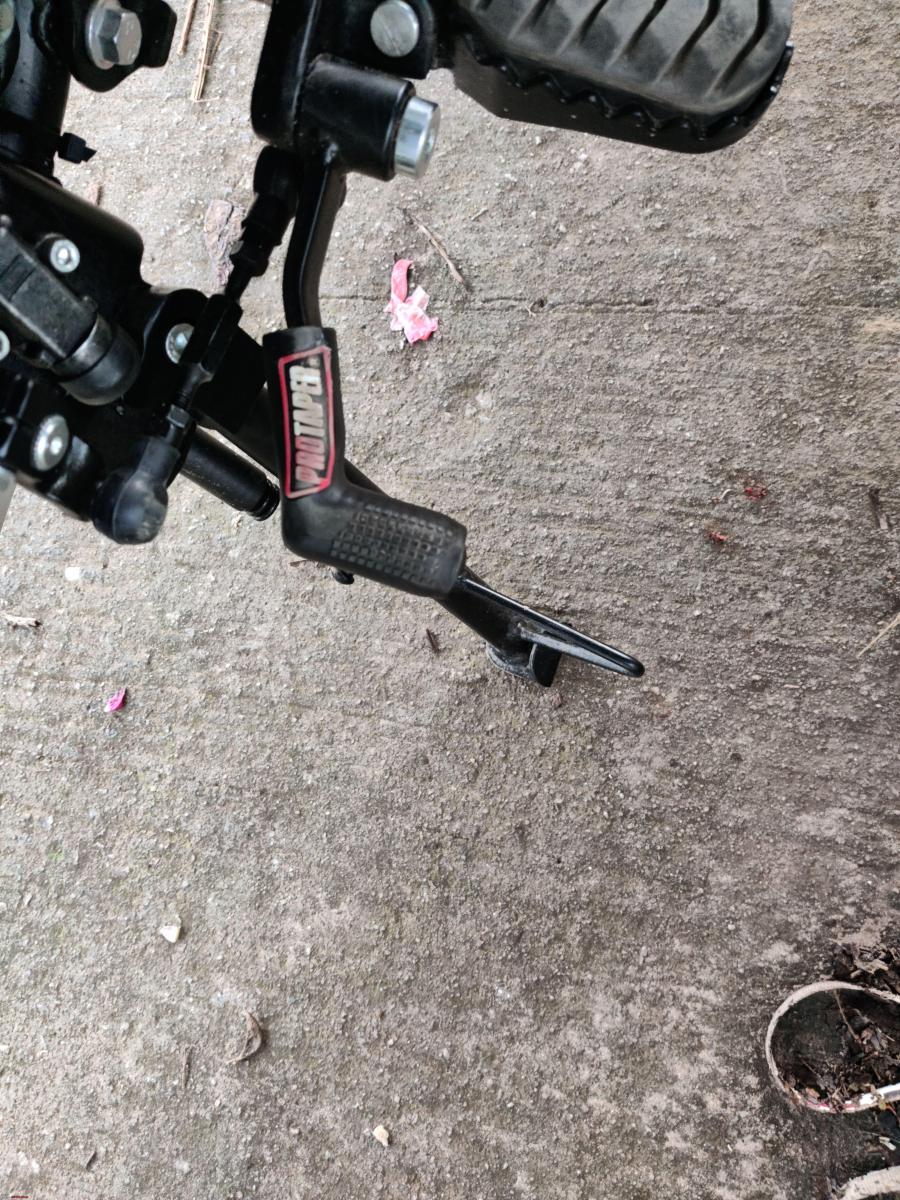 "Protaper" Gear Sock from Amazon. Protects shoes from damage.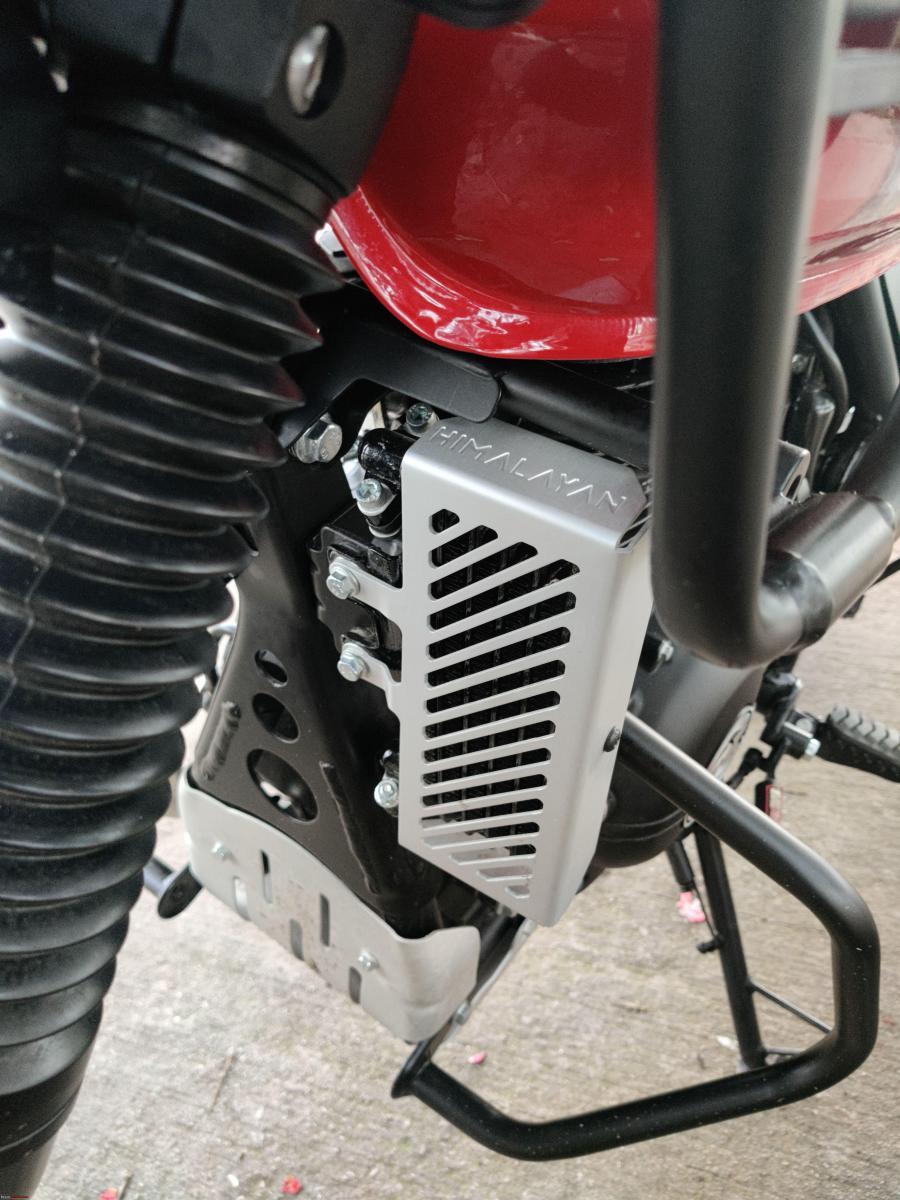 Oil cooler guard from RE.
Likes:
Supreme comfort, certainly is built for all roads and no roads.
Low end torque.
Good engine refinement.
Decent cruising speed (80 – 100 kmph).
Good mileage (Around 30kmpl in the city with moderate traffic and from what I've been told, 40 – 45kmpl on the highway).
Dislikes:
Slightly clunky gearbox. It is smooth but isn't as butter smooth as a Yamaha or Honda.
Slightly heavy clutch, but it is manageable.
A pain to clean if it gets very dirty.
RE hasn't resolved the cone set issue yet. However, Art of Motorcycles sells an inexpensive nylon cap which completely solves the issue which I will get Installed soon.
Weight. The Achilles heel of the Himalayan. It isn't an issue while riding it but is a major pain while trying to move it by pushing it or while trying to prop it onto the main stand.
Tubed tyres. I really think there should've been an option of alloys of some sort.
Decently adequate headlamps. horrible high beam, decent low beam.

The Ride:
The ride is one of the best qualities of this motorcycle. It can take on good roads and bad roads with ease, and I have ridden it into the worst of potholes and still haven't had an issue. On twisty roads, the bike isn't the most agile but the handling is pretty decent. The motorcycle is very composed on both good an bad roads and you don't feel like you would tip over or stall. For my height (177 cms, around 5 9'), the windshield is good. I don't really miss the tripper which was omitted in the 22 model. The phone mount serves the purpose.
Just like any other higher capacity engine, the bike does tend to heat up a bit, maybe more so before the first service, but it hasn't been very intrusive. You do feel the warmth at slow speeds and traffic but it fades away once you get moving.
All in all, I'm very happy with the motorcycle and I'll keep this thread updated on everything related! Cheers.
Check out BHPian comments for more insights and information.
Source: Read Full Article