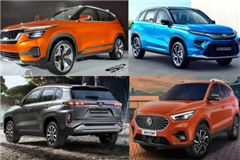 The midsize SUV market offers a diverse range of choices tailored to your specific needs. Whether you prioritize performance, space, luxury, safety, features, or efficiency, there's an SUV for you.

BHPian MotorDev recently shared this with other enthusiasts.
Midsize SUV comparison | A closer look at today's top contenders
Introduction
In the crowded midsize SUV segment, there's a mix of newcomers and established players. The Honda Elevate is one of the newcomers, joining the ranks alongside strong contenders like the Hyundai Creta, Kia Seltos, Škoda Kushaq, Volkswagen Taigun, Maruti Grand Vitara, Toyota Hyryder, and the MG Astor. Below, I compare all these midsize SUVs across various departments.
Related Links and Files
Team-BHP Reviews
Honda Elevate
Kia Seltos
Hyundai Creta
Škoda Kushaq
VW Taigun
MG Astor
Toyota Hyryder
Maruti Suzuki Grand Vitara
Dimensions
Length (mm)
Honda Elevate: 4312 mm
Hyundai Creta: 4300 mm
Kia Seltos: 4365 mm
Maruti Grand Vitara: 4345 mm
Toyota Hyryder: 4365 mm
Škoda Kushaq: 4225 mm
Volkswagen Taigun: 4221 mm
MG Astor: 4323 mm
Width (mm)
Honda Elevate: 1790 mm
Hyundai Creta: 1790 mm
Kia Seltos: 1800 mm
Maruti Grand Vitara: 1795 mm
Toyota Hyryder: 1795 mm
Škoda Kushaq: 1760 mm
Volkswagen Taigun: 1760 mm
MG Astor: 1809 mm
Height (mm)

Honda Elevate: 1650 mm
Hyundai Creta: 1635 mm
Kia Seltos: 1645 mm
Maruti Grand Vitara: 1645 mm
Toyota Hyryder: 1645 mm
Škoda Kushaq: 1612 mm
Volkswagen Taigun: 1612 mm
MG Astor: 1650 mm
Wheelbase (mm)
Honda Elevate: 2650 mm
Hyundai Creta: 2610 mm
Kia Seltos: 2610 mm
Maruti Grand Vitara: 2600 mm
Toyota Hyryder: 2600 mm
Škoda Kushaq: 2651 mm
Volkswagen Taigun: 2651 mm
MG Astor: 2585 mm
Ground Clearance (mm)
Honda Elevate: 220 mm
Hyundai Creta: 190 mm
Kia Seltos: 190 mm
Maruti Grand Vitara: 210 mm
Toyota Hyryder: 210 mm
Škoda Kushaq: 188 mm
Volkswagen Taigun: 188 mm
MG Astor: 180 mm
Boot Space (litres)
Honda Elevate: 458 litres
Hyundai Creta: 433 litres
Kia Seltos: 433 litres
Maruti Grand Vitara: 355 litres
Toyota Hyryder: 355 litres
Škoda Kushaq: 385 litres
Volkswagen Taigun: 385 litres
MG Astor: 488 litres
To sum it up, among these midsize SUVs, the Toyota Hyryder and the Kia Seltos are the longest at 4365 mm. In terms of width, the MG Astor is the widest at 1809 mm. For the wheelbase, both the Skoda Kushaq and Volkswagen Taigun share a measurement of 2651 mm. In terms of height, both the Honda Elevate and the MG Astor are the tallest at 1650 mm. Lastly, the Honda Elevate has the highest ground clearance at 220 mm, and the MG Astor provides the most space in the boot with 488 litres.
Continue reading BHPian Motor_Dev's thread for more insights and information.
Source: Read Full Article