Jimny really feels at home on the broken state highways and internal roads. Nothing seems to faze it and the car always feels in control.
BHPian Biraj recently shared this with other enthusiasts.
Initial driving impression after two weeks of ownership
Have done around 650 km on my Jimny AT in the past couple of weeks including a drive to a farmhouse near Sariska. The early impressions after driving the Jimny on city roads, expressways, some broken state highways, a small ghat section, heavy downpours, and a tiny bit of track are extremely positive. I absolutely love my decision to go for the Jimny.
While the numbers (104 BHP and 134.2 Nm torque) don't sound very promising, after driving it on different types of roads and conditions, I find it quite adequate for its purpose. It cruised effortlessly on the expressway at 110-120 kmph. At 100, it's around 2900 rpm and there seems to be enough power on tap to overtake the trucks and other slow-moving traffic. I like the fact that the car has been tuned for staying in the peak torque range rather than fuel efficiency. So, unless one is a hypermiler, the performance is adequate enough for cruising on our highways and expressways. I turned the OD (overdrive) off on ghat sections and never struggled to overtake slower traffic on it. The car seems eager to drop a gear on the inclines and while overtaking. It does get loud during the overtakes and climbing inclines thus, I am considering adding sound deadening to the bonnet. Wind noise is well-contained, however, the roof rails are making a booming noise. I believe it's because of two plates on the rear roof rail. Not sure about the function of those plates so, planning to get them removed soon.
Jimny really feels at home on the broken state highways and internal roads. Nothing seems to faze it and the car always feels in control. The ride quality for a body-on-frame SUV is phenomenal. My Fiats (Linea T-jet and Punto) spoiled me with their ride quality and I am glad I wouldn't need to change that part of my driving style in the Jimny. The change of tyres has improved the ride quality even further. The rear doesn't seem to bounce as much as it did on the first day (perhaps I am getting used to this car and have learnt how to manage it).
The steering weighed up at speeds but the resistance it offered seemed unnatural almost as if the system is overcompensating. All my previous cars have had amazing and direct hydraulic steerings thus, I may find the effect more pronounced. It seems to require more steering wheel turns than what my Linea requires. However, taking the hairpin turns or U-turns wasn't difficult as the long Linea has prepared me well. It's light and easy at parking speeds. Overall, it's better than what I expected from an electric power steering but I wish it came with hydraulic power steering.
I haven't tried taking corners at speed as I don't feel comfortable pushing a high-ground clearance SUV around corners. The physics of it doesn't make sense to me. So, that's one adjustment I have had to make. The fuel efficiency in the city is around 9 and highways between 11-12 kmpl with my driving style. Which may improve with time but even now it's good for me.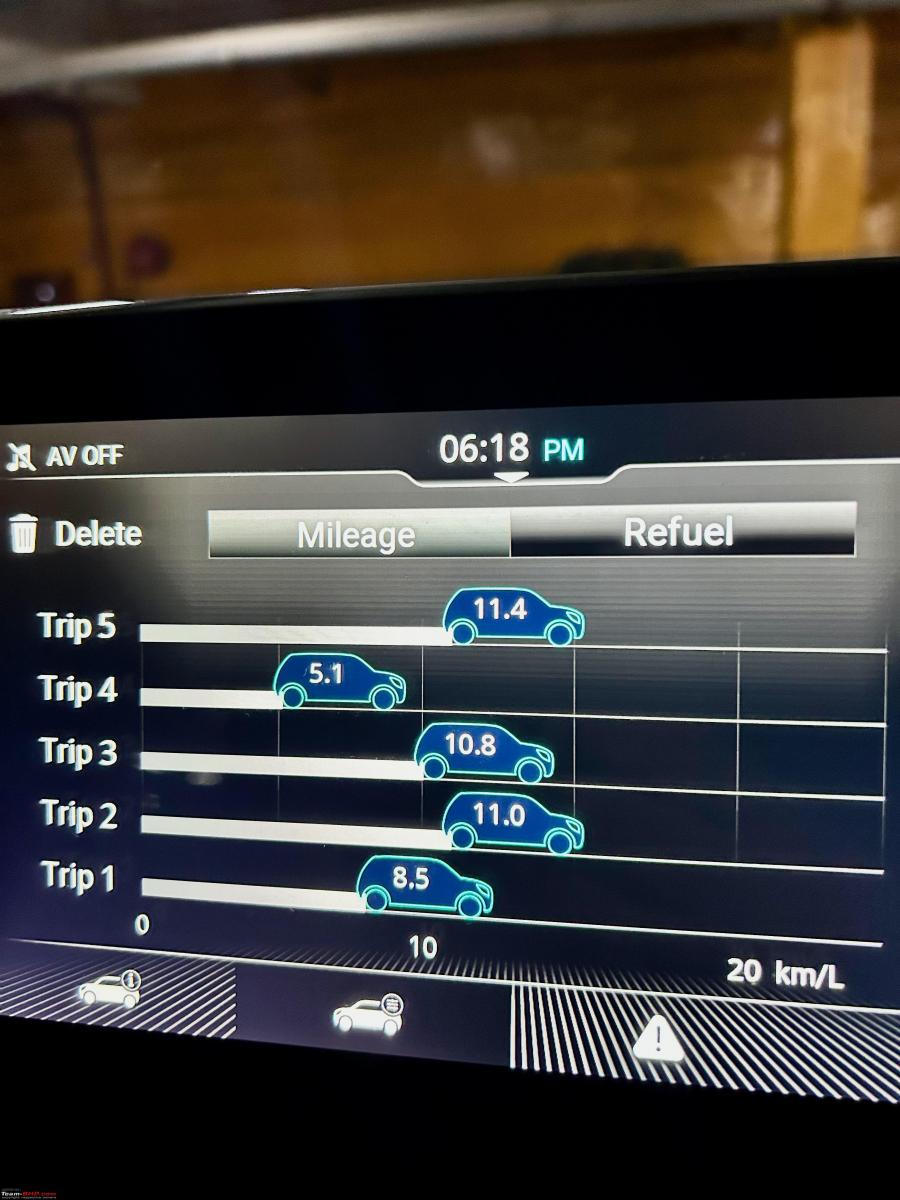 Overall it is adequately powered and feels in total control at reasonable speeds. Jimny has the potential to be a good touring car for solo drivers, couples, and small families. I read a few opinions that stated it would be torturous to reach mountains from the plains on this. As someone with the experience of considerable long-distance touring on the Linea T-jet, I can confidently say, that's not the case. Yes, it would have been nice to have more power and perhaps many owners would bump up the power once reliable aftermarket solutions reach our shores but it's certainly not the slouch that many are calling it.
The upgrades made until now:
Switched the tyres to Continental Cross Contact AT (215/75/R15)
Evaluated multiple options for 215/75/R15. The salesperson suggested the 235/70/R15 size, saying another Jimny he'd worked on looked great with those tyres. I stuck to 215/75 as it seemed a more reasonable choice to me.
Yokohama Geolanders were the lightest, with Continental Cross Contact and Goodyear Silentrac being about the same. The dealer recommended the Continental tyres as the Yokos have softer sidewalls, making them more prone to punctures. Since both brands were similarly priced and in stock (from the 13th/14th week of 2023), I saw no reason to doubt his advice on this. Replaced four tyres, given that the spare wheel cover I'd bought wouldn't fit a wider tyre.
Got JK Tyre TPMS installed. It's an app-based system and works with Apple CarPlay. So, quite convenient.
Installed bespoke seat covers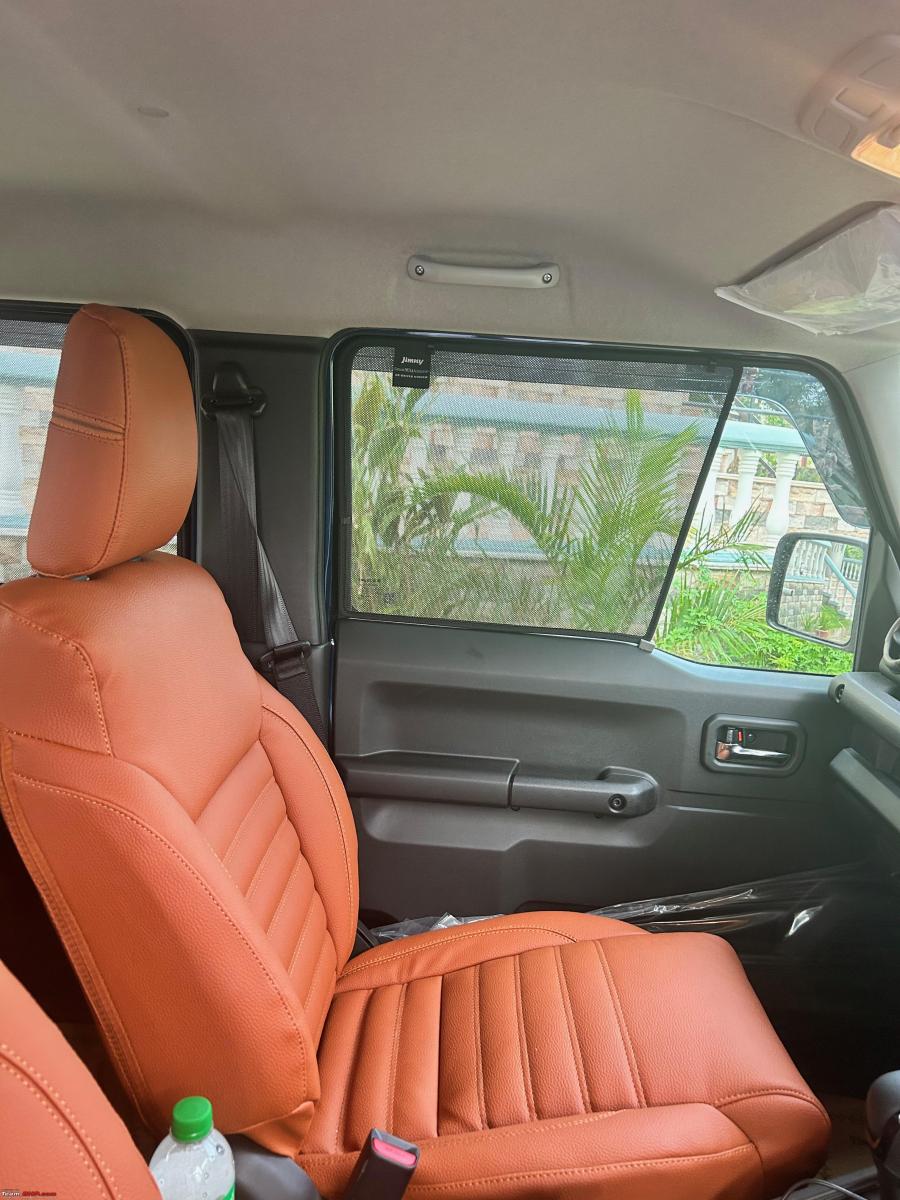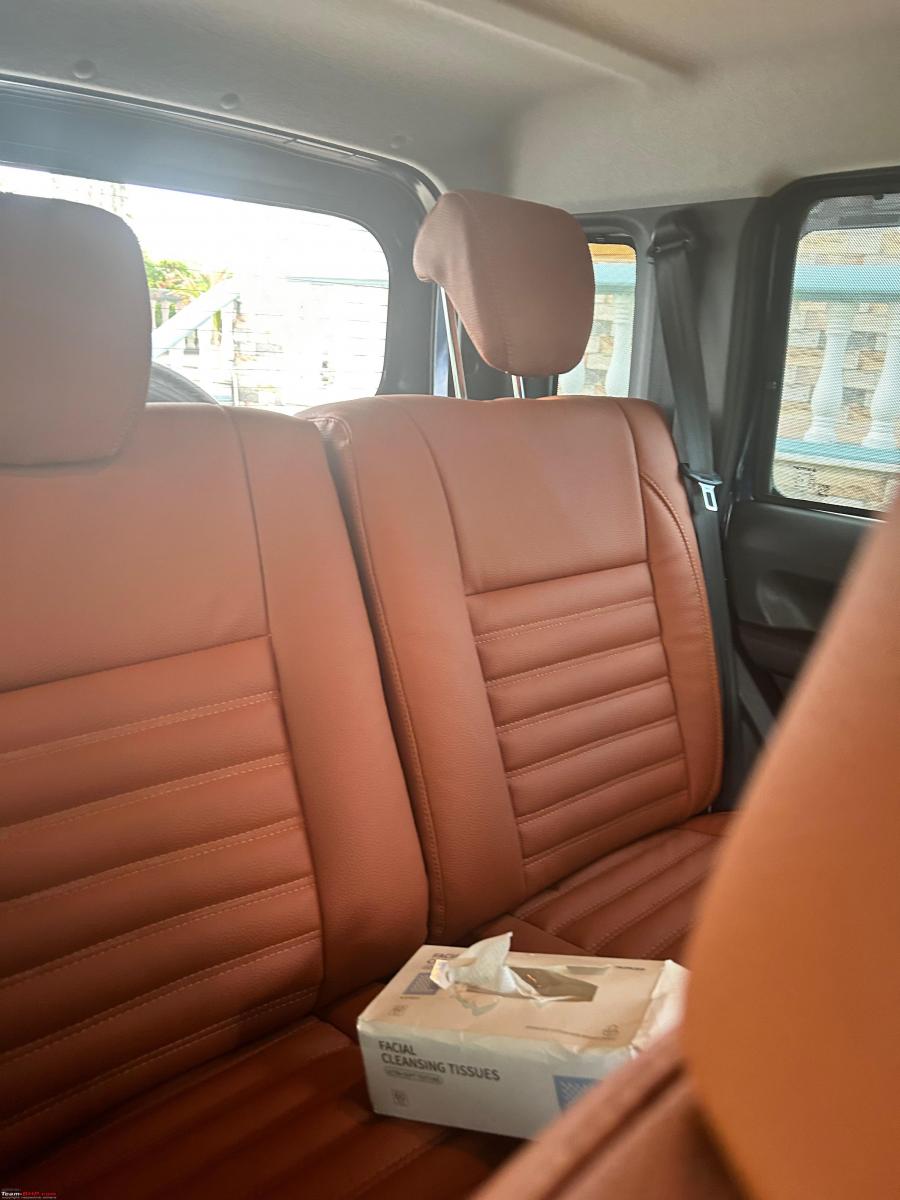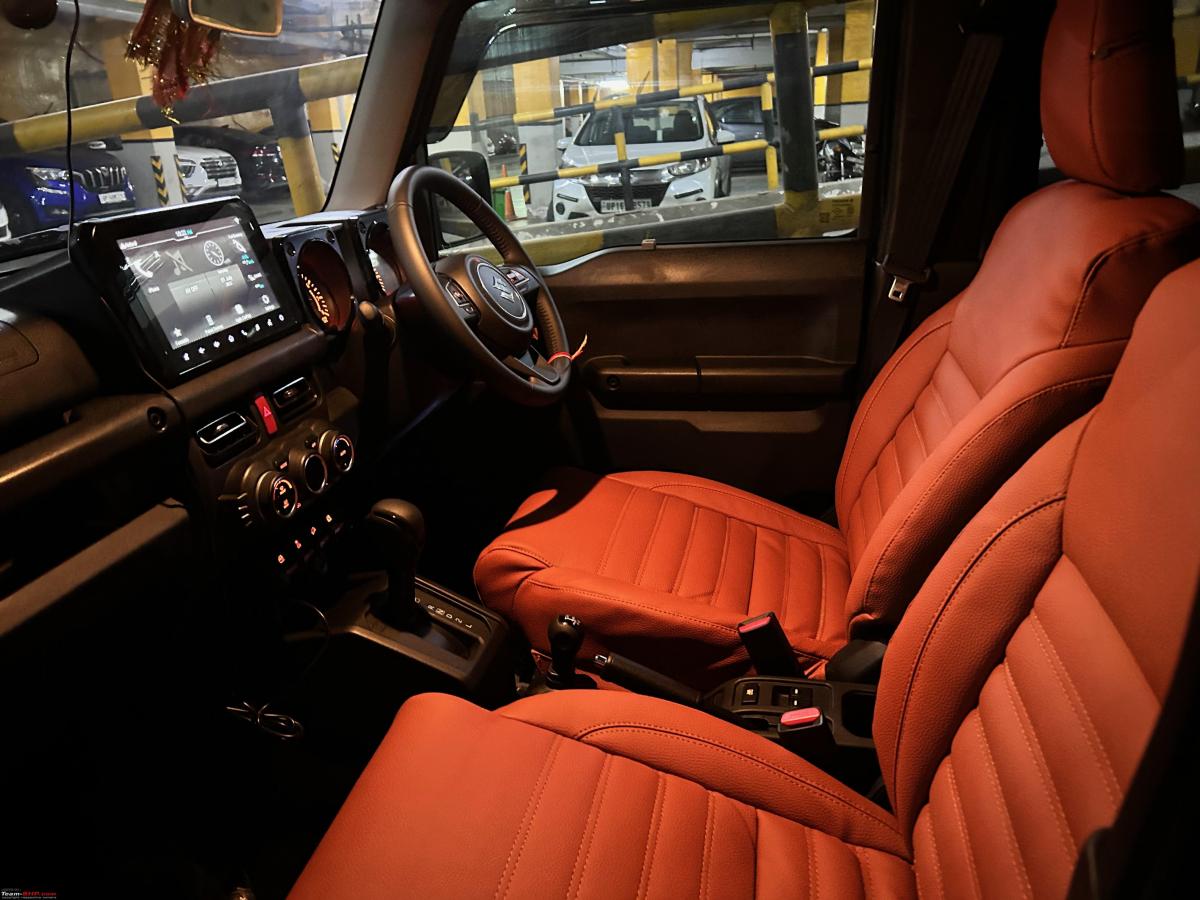 I was skeptical about the seat covers, since they required the removal of the seats and some tinkering around. However, the owner of the manufacturing unit showed the work being done on various vehicles (a Hycross, Grand Vitara, XUV 700, and a Fronx) with airbags, all of which were at different stages of completion. After some deliberation, I decided to go ahead with the custom fitment. The seats offer much better support and comfort now particularly, the under-thigh support has improved considerably. The OEM seats, despite being comfortable, were a bit too soft for my liking. Moreover, my wife wasn't happy with the position of the seatbelt. The elevation of the seat due to additional foam seems to have fixed the issue. The best part – There is no rattling from the seat rails and, fortunately, no airbag-related warnings after the installation.
Pending upgrades:
I am yet to find an armrest that's both aesthetically pleasing and comfortable. The seat cover manufacturer is confident that Jimny-compatible armrests will become available in a month or two. Will get it installed as soon as it becomes available as I sorely missed it during yesterday's drive on the expressway.
May get the doors damped as the speakers are jarring. Would get the speakers upgraded to components that would fit the OEM location.
Closing thoughts
Although it's still early days, I am delighted I chose the Jimny. It complements the Linea T-jet exceptionally well and may prove to be a reliable car to travel to places where taking T-jet induces anxiety. For a happily married, non-smoking, teetotal man with middle-class values, there are very few things one can legally spend on and feel good about. For me, it's my car and watches. They bring me joy and make my weekends enjoyable after five workdays. Thus, I prioritised the smile that the Linea T-jet and Jimny bring to my face over many other practical considerations. Keeping my fingers crossed for the journey ahead.
A word of caution for those considering buying this car – I'd recommend waiting if you're introverted. Let this car become popular or allow the initial euphoria to die down before buying it. There's too much attention for comfort at this stage. While some attention is nice, some can be annoying. Particularly, the ones braking in front of the car to capture a photo/video through their IRVM.
Pics from the recent trip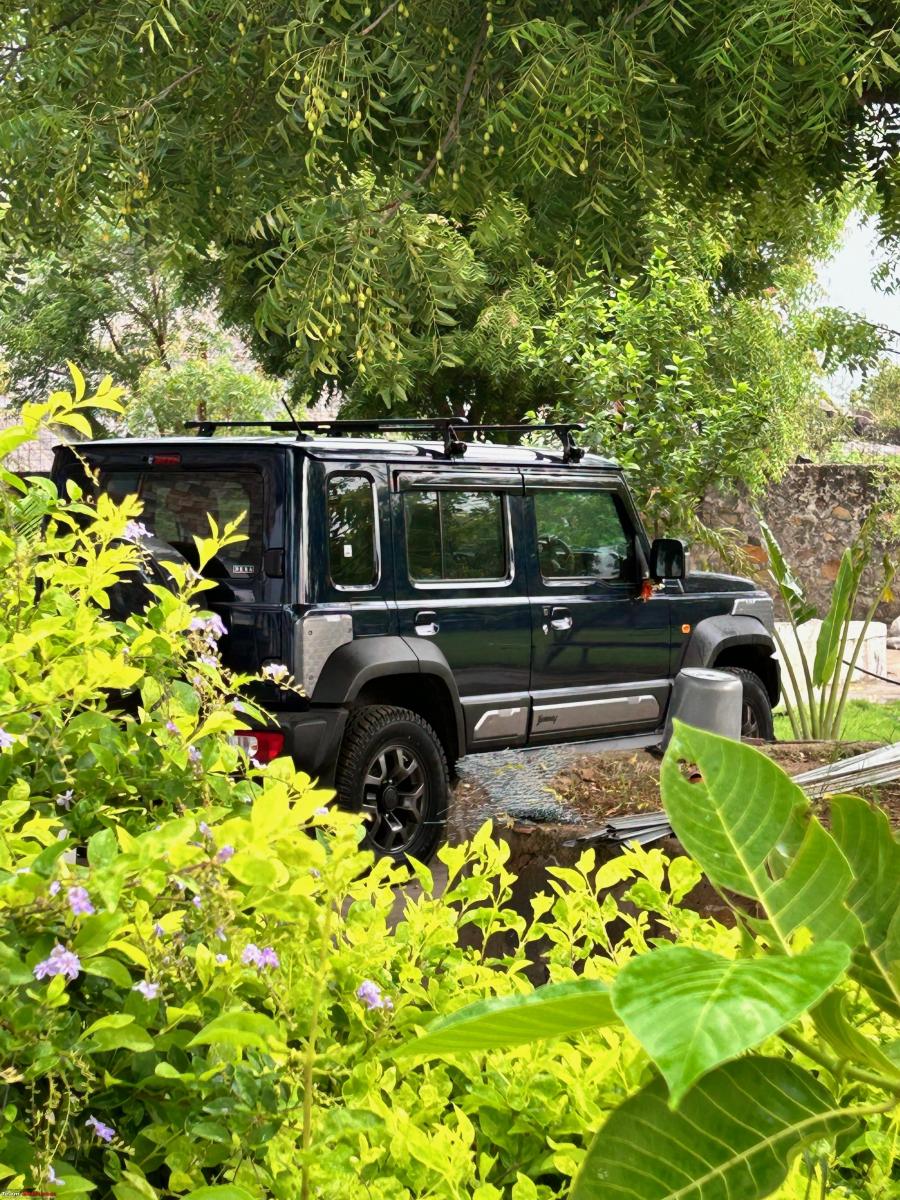 Read BHPian comments for more insights and information.
Source: Read Full Article