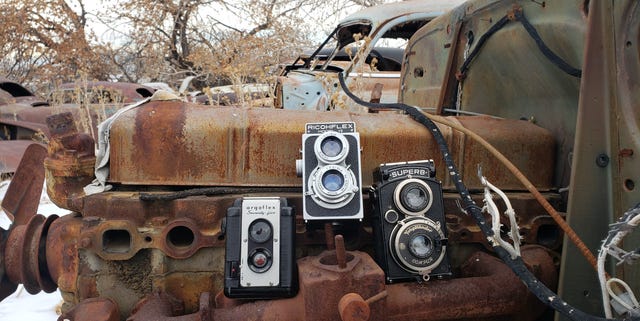 During the last few years, I've been restoring film cameras of the 1890s through 1960s and using them to shoot the machinery at races and car graveyards. My favorite tools for this have been ancient box cameras from the early 20th century, and I've obtained some nice photos with these cameras at old-time junkyards in northeastern Colorado. The twin-lens reflex camera type is much more sophisticated than the cheapo box design, and I decided to take my three favorite TLRs to Speedway Auto Wrecking in Dacono, Colorado, during a blustery winter day last month. Here's how it went.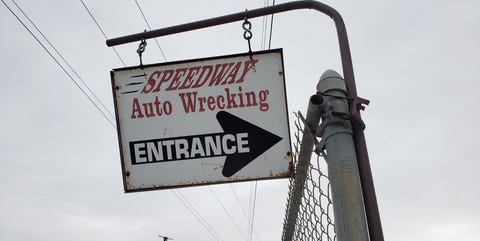 Speedway is a family-owned yard located in the farmland well northeast of Denver, and it specializes in American vehicles from the 1930s through 1970s.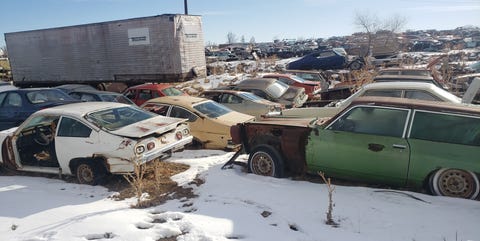 If you're in eastern Colorado, southern Wyoming or western Kansas and you need parts for your Chevy Vega, this is the place.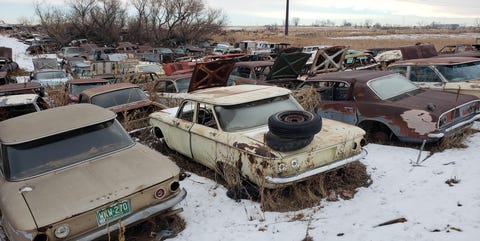 The same goes for Corvairs, not to mention Willys and American Motors products, Chryslers of the era stretching from the flathead six through the early Hemi, and just about any GM car of the 1960s and 1970s. I could have spent a whole day here just poking through the inventory and looking at CONELRAD-ready radios, but it was 20°F out and I had to start shooting photos before my fingers became unusable.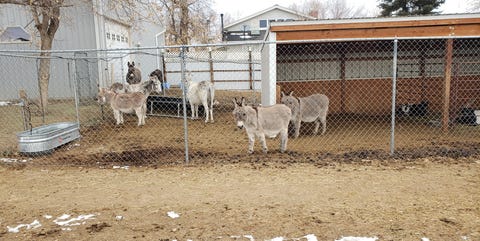 One of the best things about the Speedway operation is that the folks who run it are very active in local animal-rescue organizations. Dogs, cats, burros, donkeys— all these creatures get a fresh start thanks to this yard.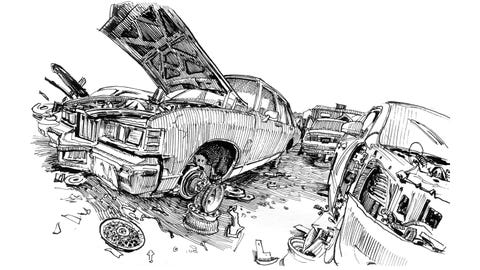 I learned about this yard from my friend Paul Heaston, a well-known sketch artist based in Denver. I'd taken him to a big self-service yard in Denver, where he'd sketched this 1980 Pontiac Bonneville, and after that he became hooked on junkyards. So, he did his research and found the friendly proprietors of Speedway Auto Wrecking willing to let him show up and sketch their inventory. When he said he wanted to go for a bit of winter-in-Colorado junkyard sketching, I packed up my cameras to join him.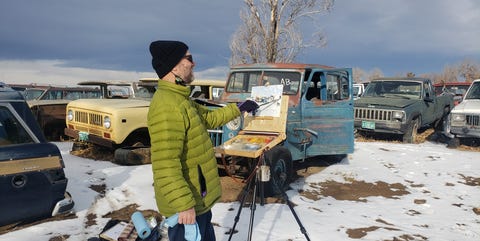 If you think wielding a pen is tough with freezing winds howling over your hands all the way down from Saskatchewan, try doing oil painting! That didn't faze Denver painter Clyde Steadman, a colleague of Heaston's who joined him for a day at Speedway.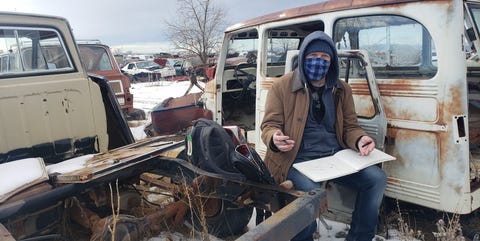 While I went off to look for bits for my 1941 Plymouth project, prior to breaking out my TLRs, Heaston and Steadman clomped about in the snow until they settled in the Willys section.
https://www.instagram.com/p/CI_xS3SM-BE/
A post shared by Paul Heaston (@paulheaston)
As you can see, a partially dismantled 1950s Willys Station Wagon makes for good sketching material (if you've got Heaston's skills, that is).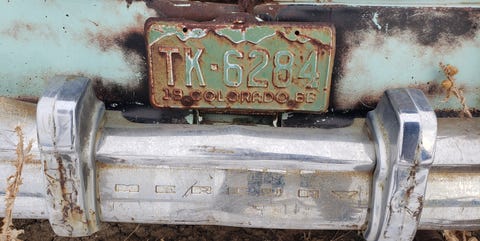 I pulled some AMC Ambassador Brougham badges and this beautifully weathered Colorado license plate on a '56 Mercury (it's now on my garage wall), then got out my cameras.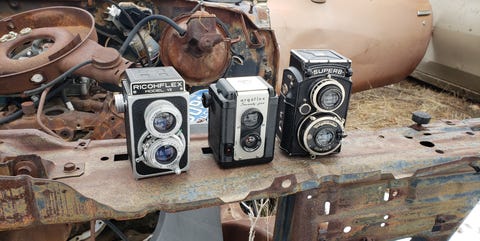 From left to right: a 1954 Ricohflex Model VII, a 1949 Argus Argoflex Seventy-Five, and a 1933 Voigtlander Superb. Each of these cameras was very important in its time; the Voigtlander Superb was an incredibly complex and finicky piece of German over-engineering that shot beautiful photographs, the Ricohflex was the top-notch-build-quality camera that put German competitors on notice that Japan was about to steal most of their customers, and the Argoflex was a simple-to-use cheap camera that went straight from Michigan into the hands of millions of American families. So, we could say this group is like having a Mercedes-Benz S-Class, a Lexus LS and a Chevy Sonic in the garage.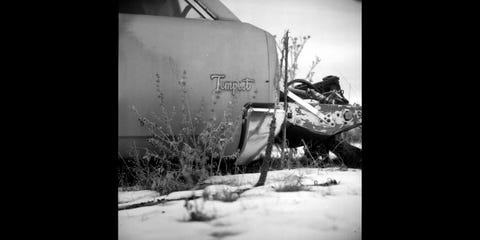 These TLRs each get 12 shots from a roll of 120 film (I used Shanghai GP3, an old-fashioned 100-speed black-and-white film that's a 1960s Chinese knockoff of a 1940s Soviet knockoff of a 1930s German film), and so each gallery below contains 12 photographs, for a total of 36. Enjoy.
Source: Read Full Article