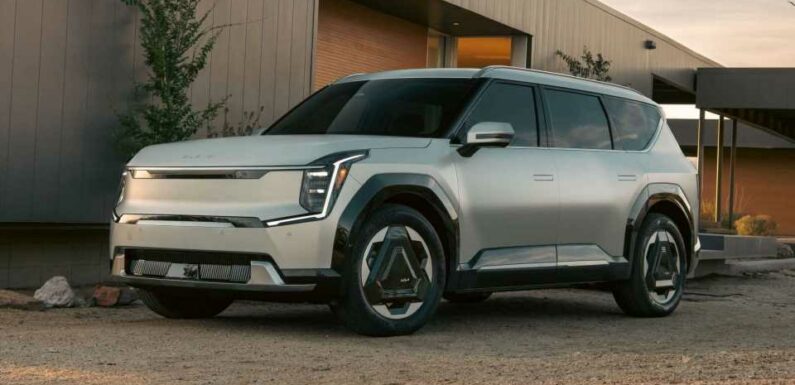 Last month, Kia released pricing for the 2024 EV9 three-row electric SUV, which starts at $56,395 (including $1,495 shipping) in base Light RWD trim.
The automaker did not reveal anything about lease deals at the time – and its website doesn't list lease prices yet – but according to a bulletin sent to dealers and seen by CarsDirect, the 2024 Kia EV9 can be leased starting at $599 a month.
The $599 a month deal is for the EV9 Light Long Range RWD, which has a starting MSRP of $60,695 including destination, for 36 months with a $5,999 downpayment and a 10,000-mile limit of yearly driving.
The effective cost of the Kia EV9 Light Long Range RWD is $766 per month, including the downpayment. Thanks to the standard 99.8-kilowatt-hours battery, the 2024 Kia EV9 Light Long Range offers an EPA-estimated range of 304 miles, the highest in the entire EV9 lineup.
Gallery: 2024 Kia EV9 in US specification
Kia also offers a lease deal for the 2024 EV9 Wind AWD, which is listed for $659 a month with $5,999 due at signing for the same duration and yearly mileage limit. The effective cost of the EV9 Wind AWD is $826 per month.
The EV9 Wind AWD has a lower EPA-estimated range of 280 miles but offers much more power than the Light Long Range RWD – 379 horsepower over 201.
It's worth noting that both lease deals include $7,500 in lease cash, as Kia is likely passing the federal tax credit to consumers who lease the EV9, taking advantage of an Inflation Reduction Act loophole. Kia offers $7,500 in lease cash for all EV6 leases as well.
Thanks to the $7,500 in lease cash, the 2024 Kia EV9 costs about the same to lease as the similarly sized and equipped Telluride gas-powered SUV, which has an effective cost of $737 per month in SX X-Line trim, according to CarsDirect. That makes the EV9 just $29 per month costlier to lease despite carrying an $11,400 higher starting price.
The Kia EV9 will eventually be built in the United States, which means it will qualify for the $7,500 federal tax credit not just for leases but also for purchases. The automaker said earlier this year the EV9 will be built at its plant in West Point, Georgia, from the second quarter of 2024. Until then, the EV9 sold in the U.S. will be imported from South Korea and will not benefit from the $7,500 federal tax credit when purchased.

Source: Read Full Article