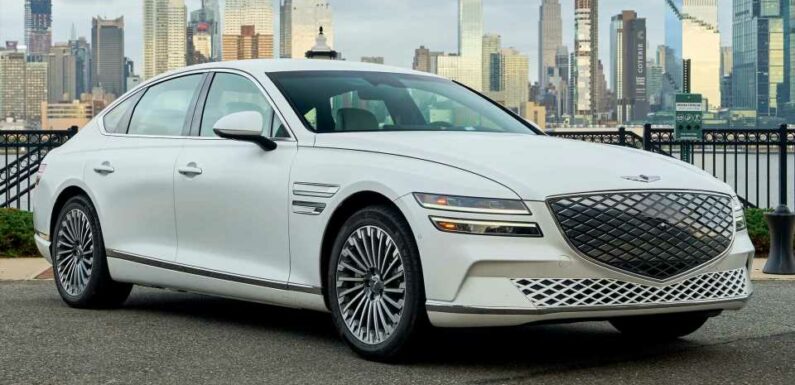 In case you haven't been keeping track, the Hyundai Motor Group currently sells more EVs in North America than any other carmaker, including Tesla. When reuniting Kia, Hyundai, and Genesis, you end up with a total of nine battery-electric models. And more are coming soon.
Hyundai seems intent on getting as many EVs on the road as possible with two different strategies. 
On one hand, it adapts EV propulsion to existing ICE (internal combustion engine) vehicles, with models like the Hyundai Kona, the Kia Niro, and the Genesis Electrified GV70 and Electrified G80. On the other hand, it also developed its own dedicated EV architecture called E-GMP, which gave birth to a full family of compelling EVs. We're talking about vehicles like the Hyundai Ioniq 5 and 6 (upcoming Ioniq 7), the Kia EV6 and EV9 (and a slew of new Kia EV models about to be released) as well as the Genesis GV60. Hyundai's EV strategy is therefore completely different than, say, Nissan, who built the Leaf and essentially left it alone on its rock for an entire decade until it finally gave birth to the underwhelming Ariya. Most automakers are now realizing the value of the dedicated EV platform, but Hyundai was one of the few that got there first.
Perhaps, more important, is how each of the Hyundai group's EVs intertwine their components to fit the segments in which they reside. This aggressive take on electrification allows the company to be incredibly agile while facing a rapidly shifting industry.
One only needs to examine the entire Genesis portfolio of electric luxury vehicles to see how quickly the company can adapt. Within the span of only a few years, Hyundai's luxury division not only positioned itself as a true rival to the almighty German car brands – -, but also took them head-on in the EV race with three serious models – something the Japanese are still struggling to do 
But which of these EVs is the most energy efficient, a metric that's going to be increasingly important in the electric era and one every buyer should consider? That answer may actually surprise you.
A Roadtrip to Test Them All
I was recently given the opportunity to drive the GV60, the Electrified G80 and the Electrified GV70 during a road trip organized by Genesis between New York and Philadelphia. While these events are typically controlled by the carmaker, preventing us auto journalists from performing any real form of range or efficiency tests, I was rather surprised by the outcome of it all.
While the auto industry is focusing its business on SUVs and trucks these days, to my astonishment, it was the Electrified G80 – a good old midsize luxury sedan converted into an electric car – that ended up being the most efficient during that trip.
I ended my portion of the adventure at the helm of that fancy limousine (69.1 miles) with a consumption average of 3.8 miles/kWh, the best of the trio (3.7 mi/kWh for the GV60 and 3.1 mi/kWh for the Electrified GV70). And it isn't just me that says this. Genesis' own efficiency claims put its electric sedan at an advantage versus its two other zero-emission SUVs. So what exactly is going on here?
Lower to the Ground Always Wins
Before I dive into the real geeky stuff, the obvious reason why the Electrified G80 consumes less electricity has to do with the fact that it's not an SUV. What I mean by this is that because it's much lower to the ground and sleeker due to its elegant three-box design, the G80 is inevitably more aerodynamic. What we're quickly learning as we dig deeper into the world of EVs is that aero, measured by a car's drag coefficient (Cd), is extremely important to safeguard efficiency. This was also the case for ICE cars, but now people care a lot more about this stuff since it takes more time to replenish an EV in electricity. And in case you're new to this, the lower the Cd, the more aerodynamic the car is.
For instance, while the GV60 – a vehicle that was designed from the ground up to be an EV – boasts a Cd of 0.29, the Electrified G80 pulls off an impressive 0.26. It's 0.1 less than its gasoline counterpart, mostly due to redesigned wheels and bumpers.
Then there's the way the entire car is set up underneath, which gets seriously cool. No, the G80 does not ride on the E-GMP platform, meaning it doesn't come off the assembly line with an electric motor already bolted onto its architecture for optimized manufacturing. It's rather a Frankenstein of an EV, blending only bits and pieces of E-GMP and adapting them to the traditional Hyundai-Kia M3 ICE platform, essentially stuffing EV components where there used to be a gas tank, a driveshaft, axles, a transmission, and a thermal engine. It's basically the old, inefficient way of building EVs. 
This is apparent inside the G80 EV, with the battery resulting in a higher floor than in the gasoline car. The only way Genesis could have worked around this was to lift the car's suspension, which would have ruined its design.
Larger Capacity Battery, but Less Powerful Motors
But where the Electrified G80 truly becomes fascinating is when you take a closer look at the capacity and arrangement of its liquid-cooled lithium-ion battery pack. Unlike the GV60 and Electrified GV70, which make do with a 77.4 kWh (usable) unit, the G80 has its own bespoke 87.2 kWh pack. As a matter of fact, it's the only vehicle within the entire Hyundai Motor Group that utilizes it.
According to the people at Genesis, the G80's extra size and weight gave the engineers a bit more freedom to enlarge the battery in order to give it more capacity and, well, more range (282 miles as per EPA). Since the Electrified G80 was essentially some form of an internal skunkworks project, Genesis basically overhauled the battery to give it its own dedicated specs. In a way, it's kind of a hot rod of an engineering project, the kind of rad thing that typically never gets greenlit at carmakers these days.
That battery pack, for instance, was widened to make room for 36 modules (3P 4S), four more than the E-GMP's 77.4-kWh setup. This allows it to inevitably stack more cells; 432 versus 384. Each module, however, has a 2.42-kWh capacity, just like the E-GMP setup. As I said, it's a Frankenstein car, but the end result works.
Now, on paper, a larger battery capacity would mean less efficiency, but Genesis engineers worked around this by detuning the output of the G80's twin electric motors.
For reference, the front and rear motors on this sedan pump out 136 kW of power each, 272 kW combined, or the equivalent of 365 horsepower and 516 lb-ft of torque. By comparison, the GV60 and Electrified GV70 get 160 kW motors instead, for a total combined output of 320 kW, or 429/483 horsepower and the same amount of torque. What you end up with is an EV that supplies more energy for a longer period of time due to its larger capacity battery, but consumes less of it due to its detuned motors. It's the classic luxury approach to effortlessness, the kind of stuff Rolls-Royce used to be known for with its under-stressed V12 engines.
Sedans Rule
This is therefore why, while being a bit slower off the line (who cares this is a car built for comfort anyway), the G80 boasts more range and a lower energy consumption average than the other two EVs Genesis sells.
And I gotta say, there's something rather relaxing about driving a fat executive sedan that's running on pure electricity through deafening New York morning traffic. The lack of an internal combustion engine simply accentuated this car's quiet cabin and impeccable build quality. The G80 is a seriously underrated luxury sedan. 
Although I must admit that the lifted floor due to that afterthought battery did, at times, make me feel like I was driving a Toyota Tacoma. It's something the Electrified G70 doesn't need to deal with due to its lifted ride height.
But that's a small compromise given that the traditional sedan, a car that's way too often overlooked, can still shine bright above the almighty SUV. It also serves as a lesson that even in the world of EVs, trucks, and SUVs are going to bring us a whole new set of energy-related problems.
Source: Read Full Article