Volkswagen is already planning for post-MEB electric future with next-generation SSP EV platform by middle of the decade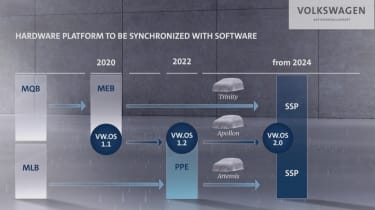 The Volkswagen Group will introduce a new singular electric vehicle platform from 2025 onwards, intended to replace both the new MEB and the upcoming PPE electric car platforms in the 2030s. 
Called SSP (Scalable Systems Platform), its rollout will be applied across all VW Group brands and across numerous vehicle sectors. It will be revealed in 2024, as the platform that will underpin a next-generation all-electric Audi, dubbed "Project Artemis."
New Volkswagen ID.4 2021 review
"In 2024, we start to merge our electric platforms and synchronize them," explained Volkswagen Group chairman, Herbert Diess, at the Group's annual financial results presentation. 
"The SSP platform will replace the existing platforms but over a long period of time. The start-up will begin with Artemis, so 2024/2025."
Diess hinted that the SSP wouldn't be a new vehicle platform from the ground up, but would instead be an evolution of both the MEB and PPE modular toolkits the group has spent billions developing from scratch. 
"It shouldn't be seen as something brand new. What we are taking is what we have got with the MEB, with cost improvements. And standardization of the battery will play a significant role. This will go hand in hand with a new electronic architecture which will provide much greater computing power.
"SSP will eventually be the single backbone for the group. We are speaking about beyond 2035 here.
"By the end of the decade we will be able to roll out the SSP on all vehicle classes. We will reduce complexity and focus on only one single battery cell from '23 onwards. From 2030, one cell format will cover 80 per cent of use cases across the Group. New chemistry and manufacturing processes will reduce battery costs by 50 per cent. This will make e-cars even more affordable."
VW's plan for a new 'unified' battery cell will see the vast majority of upcoming electric cars move to a new highly standardised battery system. They will use the same cell packaging with the same dimensions, for greater ease of manufacturing. Cost and range will no longer be determined by the size of the pack, but the cell chemistry instead.
Check out the latest on Volkswagen's 'Project Trinity' here…
Source: Read Full Article