Volvo has started to ditch its in-house developed Sensus infotainment software for a new Google Android-powered system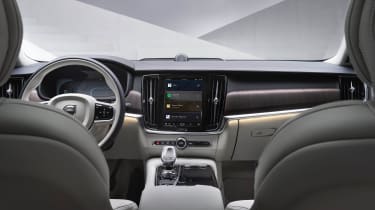 Volvo will soon add its new Google-developed infotainment software to the XC60, S90 and V90. The technology will be rolled-out just in time for the MY22 plate change and will provide out-of-the-box support for Google Maps and Google Assistant, without the need to connect a compatible smartphone.
The new software was first trialled on the pure-electric Volvo XC40 Recharge and now, for its general roll-out, it will also be paired with the brand's new Digital Services package. The add-on grants owners access to a range of Google services and Volvo's dedicated smartphone application, as well as a data package to run the various online features.
Volvo to go all-electric by 2030 with new small EV planned
From new, Volvo's Digital Services package will remain active for four years, after which time the car's owner can choose to pay an additional fee to continue their subscription.
As this is Volvo, there's also a key safety aspect to the new infotainment software. The brand says it will allow drivers to perform more functions using voice control, (such as setting the cabin temperature, selecting music or sending text messages), which will allow the driver to keep their focus on the road.
Following the same theme, Volvo has also updated the XC60, S90 and V90 with its latest driver assistance technology, which features a fresh range of cameras, radar sensors and ultrasonic detectors.
The new hardware supports Volvo's improved active safety systems. Now, the three cars can better detect other road users, as well as react to hazards thanks to a new automatic braking and collision avoidance system.
Volvo's approach to infotainment contrasts with the widely held belief elsewhere in the industry that there's considerable revenue potential in car users' data. SEAT and Jaguar Land Rover are among a number of firms with in-house app development and investment divisions, which hope to create new profits by selling services to their car users.
Speaking at the 2018 Financial Times Future of the Car Summit, Volvo President Hakan Samuelsson said the decision to offer Google as the main in-car service would allow the firm to concentrate on other priorities, such as electrification and developing its Care by Volvo car subscription service.
"We've come to the conclusion we won't try to make business dealing with consumers' data," Samuelsson said. "That data is owned by our consumers, we don't own it and we shouldn't try to monetise that. The legislation is pushing us in that direction anyway.
"I think we should stay on what we are good at," he added. "We should offer a very attractive car with the best services, and I don't think we are smart enough to develop all of those apps. So we're opening up the car, which is different from everybody else. It's an interesting platform and consumers will be able to download hundreds of apps, with new ones every month. They'll be much better than the ones we'd have made ourselves."
Now read all the latest news on the all-new, pure-electric Volvo C40 crossover…
Source: Read Full Article