The software update brings minor improvements to the electric SUV's driving range and charging time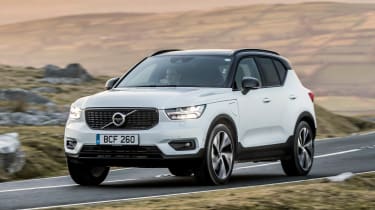 Volvo has released its first over-the-air update for the pure-electric XC40 P8 Recharge. The new software, which can be installed at home at the touch of a button, brings a range of improvements to the SUV's driving range, charging architecture and interior technology.
Volvo says its new software update has improved the XC40 Recharge's driving range by tweaking the way each cell in the battery pack is managed. 
Best electric cars to buy 2021
According to the manufacturer, the revisions have improved the car's maximum driving range, although Volvo hasn't yet released any official figures. In any case, we're only expecting an improvement of a few miles, which should push the SUV's maximum driving range past 260 miles. For reference, the pre-updated car had a maximum range of 257 miles
The software update has also improved the electric XC40's charging times by increasing the rate at which the battery can accept charge. However, Volvo hasn't yet released an official figure for the improvements in this area, either. Before the update, the EV could achieve an 80 percent charge in around 40 minutes, when connected to a 150kW DC rapid charger.
Volvo's software update also refines certain technology features, such as the car's Bluetooth connectivity, 360-degree camera and climate control timers. The update also loads the latest version of Google's Android Auto operating system into the car's infotainment system.
Now read our review of the pure-electric Volvo XC40 P8 Recharge. Let us know your thoughts in the comments below…
Source: Read Full Article