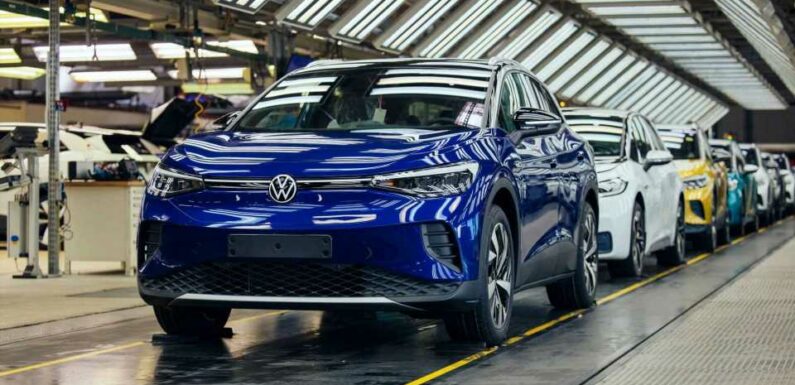 Volkswagen Group's electric car factory in Zwickau, Germany will have to pause production of some of the MEB-based models.
According to Freie Presse (via Electrive) and Automotive News Europe, the company's largest EV factory was negatively affected by an insufficient supply of the all-new APP550 electric motors from the Kassel plant.
The new motors were introduced earlier this year and fitted to a number of MEB-based models, bringing more power and torque – respectively 210 kilowatts and 550 Newton-meters – and higher efficiency compared to the previous model, which was rated at 150 kW and 310 Nm.
According to the company's spokesperson, the production of e-drives at the Volkswagen Group Components site in Kassel is currently limited.
The new motors are used in the latest versions of the Volkswagen ID.4, Volkswagen ID.5, Audi Q4 e-tron, and Audi Q4 Sportback e-tron, which are produced in Zwickau. Because of that, the production might be paused for as long as three weeks and affect more than 1,000 out of around 8,000 employees at the site, the report says.
The Volkswagen ID.3 and Cupra Born hatchbacks, also produced at the Zwickau plant, are not affected because they still use the older 150-kW electric motor.
The report indicates that the Volkswagen Group will redirect the limited number of APP550 to the Emden plant so that production of the newly launched Volkswagen ID.7 is not interrupted (the ID.4 is also produced in Emden).
It's difficult to say what caused the bottleneck at the e-drive factory, but hopefully, it's temporary. Nonetheless, it's another story about interruptions at the Volkswagen Group factories, after several reports about insufficient demand and production cuts.
When initially converting the Zwickau plant from 100 percent ICE cars to 100 percent all-electric cars, the company wanted to produce six models at a rate of around 330,000 annually. As it turns out, it's not that easy.
In the future, the Zwickau factory is expected to produce a new model based on the upcoming SSP platform (the Trinity project).
Source: Read Full Article