Up to 249 miles on a brimmed tank makes Vivaro-e Hydrogen a long-range zero-emission commercial vehicle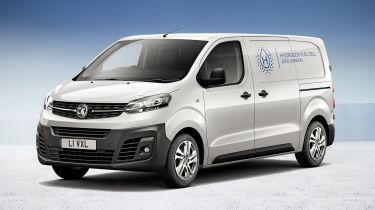 Vauxhall has confirmed that it will add a hydrogen fuel cell option to its commercial vehicle line-up with this, the Vivaro-e Hydrogen. 
Launching in left-hand-drive markets with an Opel badge later this year, it will come to Britain in right-hand drive early in 2023 if customer demand is there, and wearing Vauxhall badges. It will be built at Opel's headquarters in Russelsheim, Germany. 
Best electric vans 2021
Vauxhall's new commercial fuel-cell electric vehicle (FCEV) is based on the same platform as the battery electric Vivaro-e, and it uses the same front-mounted electric motor too, rated at 134bhp in the Vivaro-e but unconfirmed in this Hydrogen variant. However, in place of the large underfloor battery is a smaller 10.5kWh unit mounted beneath the front seats, which is constantly charged by a 45kW fuel cell. 
The fuel cell is fed by three 700-bar hydrogen tanks that can be refilled in three minutes at a hydrogen refuelling station. Vauxhall claims a maximum range of 249 miles, eclipsing the 205 miles claimed by the largest 75kWh battery version of the Vivaro-e.
The Vivaro-e Hydrogen will come with plug-in support too, so can run using battery power alone for a maximum range of 31 miles. 
Perhaps more importantly for users, the packaging of the hydrogen drivetrain does not change the carrying capacity of the van – the cargo volume of 6.1m2 is level with diesel and battery-electric versions of the Vivaro. Maximum payload stands at 1,100kg. 
"We are already in contact with UK fleet operators that want to go the extra mile on sustainability and we look forward to bringing Vivaro-e Hydrogen to the UK soon," said Paul Willcox, managing director at Vauxhall.
Check out more on Stellantis' future hydrogen plans here…
Source: Read Full Article