A full used buyer's guide on the Lexus ES covering the ES Mk7 that's been on sale since 2018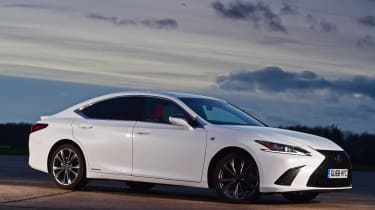 Verdict
You could be forgiven for overlooking the Lexus ES, because it has never sold in big numbers and it's easily overshadowed by more obvious executive saloons. But this is a car that's worth a closer look if you want a luxurious model that's reasonable value for money and offers peerless reliability.It's not all good news, though, because when we pitted an ES 300h against a Mercedes E 200 and a Genesis G80 back in 2021, the Lexus came last because of its disappointing infotainment and performance, plus a cabin that couldn't compete with its German and Korean rivals. We commented: "It's high quality, refined and efficient, but not quite as comfortable or as good to drive as the best in the class." So there's lots to recommend, but one of the ES's rivals could be more tempting.
It was way back in 1989 that Toyota launched its Lexus luxury sibling brand, largely for the North American market.
Within a year Lexus had also been launched in the UK, and while it has never really set the market alight with its modest annual sales, Lexus has shown buyers that very complex, feature-laden luxury cars can be incredibly reliable and good value; you tend to get much more equipment for your money than when buying the more obvious alternatives, and with a higher standard of dealer service.
More reviews
Car group tests
Lexus ES vs BMW 5 Series vs Volvo S90
In-depth reviews
Road tests
New Lexus ES 300h 2022 review
Lexus ES Takumi 2020 review
One of the models introduced by Lexus when the brand was launched was the ES executive saloon, but it didn't reach UK showrooms until it was in its seventh generation. It replaced the GS which, in Mk4 guise, had been on sale since 2012.
History
Orders opened for the Mk7 Lexus ES on 1 October 2018. The ES 300h was the only model offered and came with a 2.5-litre four-cylinder non-turbo petrol engine supported by an electric motor and battery pack. A continuously variable automatic transmission (CVT) was the only gearbox option. While the engine was rated at 215bhp, the electric motor added another 118bhp for sprightly performance while retaining the potential for 50mpg economy.
The initial three-level trim structure (standard, F Sport and Takumi) was boosted by a high-value Premium Edition in September 2020; sitting above the base model, it brought 18-inch alloy wheels, a 12.3-inch infotainment display and navigation. At the same time a Blind Spot Monitor and Rear Cross Traffic Alert were fitted as standard across the range.
A facelift in October 2021 brought design tweaks, recalibrated suspension, updated multimedia with all cars getting a 12.3-inch display, improved LED headlights and extra high-tech safety features.
Which one should I buy?
When it comes to engines and transmissions, all Lexus ES derivatives are the same mechanically, so it's just a question of picking which colour you want and the trim level.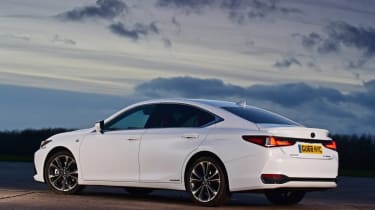 Three specs were available at launch. The standard ES came with 17-inch alloy wheels, navigation, an eight-inch display, DAB, parking sensors front and rear, electrically adjustable and heated front seats, synthetic leather trim and a sunroof.
F Sport brought 19-inch wheels and sports seats along with adaptive sports suspension, while the range-topping Takumi had heated and reclining rear seats, surround view, three-zone climate control, adaptive LED headlights, a Mark Levinson premium audio system, a powered boot lid and a 12.3-inch multimedia display.
Alternatives to the Lexus ES
The biggest threats to the ES are its three German arch rivals, in the forms of the Audi A6, BMW 5 Series and Mercedes E-Class. For years this trio has dominated the executive saloon market, and unlike the Lexus they are also available as estates. Not only that, but German rivals offer broad model ranges, with an array of petrol and diesel engines and auto transmissions, plus they're also all offered in hybrid guise. No wonder these three models account for most of the executive car market.
Another alternative is the Jaguar XF, which is great to drive but feels dated, while the Volvo S90 and V90 look sharp and they ooze quality, but they're not as engaging to drive as most of the alternatives.
What to look for
Cameras
The Takumi was offered with the optional Digital Side View Monitor package, replacing the door mirrors with cameras.
Hybrid
Whereas the GS was RWD, the ES is FWD. The ES 300h is a self-charging hybrid with a small battery pack for minimal electric-only driving.
Sensors
A few owners have reported the parking sensors not working properly, usually when it's raining. A warning flashes up on the dashboard.
Economy
The official fuel consumption figure for the ES 300h is somewhere between 48 and 54mpg. Owners easily achieve this or more.
Common faults
Although the ES has been recalled three times, Lexus has a well earned reputation for reliability. In our 2022 Driver Power Brands survey, it finished 12th overall with a strong score for reliability. Some 14.79 per cent of owners had faults.
Interior
The ES is crammed with equipment so the dashboard is quite busy, but it's designed intuitively so you soon get used to it. The interior quality is generally good, if not quite enough to beat German rivals, but with incredibly comfortable seats you can overlook the odd piece of plastic trim.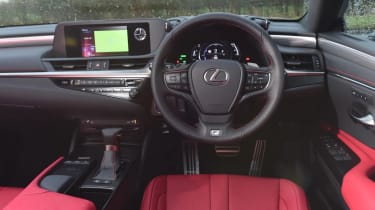 Rear legroom is superb, but headroom is tight for tall adults because of the sloping roof line. The boot isn't that big, though, at 454 litres, and the back seats can't be folded down to increase this.
Lexus infotainment systems can be a bit of a pain, but later ESs come with Apple CarPlay and Android Auto, which make life a lot easier.
Running costs
The ES 300h needs to be serviced every 12 months or 10,000 miles, with Lexus main dealer services alternating between minor and major. These are priced at £290 and £550 respectively, with the latter figure including fresh brake fluid every other year.
There's no schedule for the engine coolant, but it's checked at each service and topped up as necessary; the cost of this is included in the service. Replacement coolant is only usually needed if the system has been drained for some reason, for example if the water pump has had to be replaced.
The ES's 2.5-litre petrol engine is chain-driven so there's no cambelt to replace. The standard warranty on the ES is three years or 60,000 miles, but each time an official dealer carries out a service this is extended by a year, up to 10 years or 100,000 miles, which is impressive. Service plans are also available, to help spread the cost of maintenance when the work is done at a dealer.
Recalls
Lexus has recalled the ES on three occasions already. The first time was in May 2019, because 1,201 cars built between October 2018 and March 2019 left the factory with faulty e-call software. The issue was fixed with a software update and also affected the UX SUV.
The second recall was issued in November 2019. This time the campaign affected 228 cars, including examples of the UX and LS. Some of these built in May 2019 were fitted with a faulty brake servo; the remedy was to replace it with a new unit.
The most recent recall came in October 2020 and affected most of the Lexus model range. In all, 6,787 cars made between October 2017 and December 2018 were fitted with faulty fuel pumps, leading to the engine cutting out or not starting – a new pump fixed things.
Driver Power owner satisfaction
It'll come as no surprise that the ES sells in quantities that are too small for it to make it into our Driver Power new-car surveys, but while the ES has never appeared, several other cars from the same brand have made appearances, usually higher up the table. The only Lexus to get into the 2021 survey for example (there were none in 2022) was the NX in 13th place.
Head over to our sister site Buyacar to get a great deal on a used Lexus ES…
Next Steps
Source: Read Full Article