One of Britain's best-selling cars, the Ford Fiesta is a stylish supermini that's brilliant to drive, cost effective to run and offers decent practicality
1

Verdict

– currently reading

2

How much will it cost?

3

How practical is it?

4

What's it like to drive?

5

What should you look for?

6

What do owners think?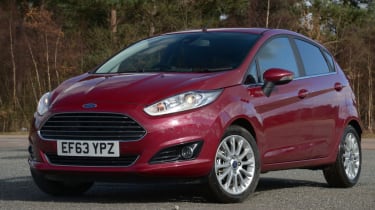 3.5 out of 5
Fantastic to drive
Low running costs
Plenty of choice

Some rivals are roomier
Fiddly infotainment
Some quality issues

Verdict

The Ford Fiesta Mk7 was the UK's best-selling car from its launch in 2008 until it was replaced in 2017. And once you've driven one, it's quite easy to see why. The Fiesta was quite simply one of the best all-round small hatchbacks available. Even after such a long production run, there are very few rival models that can match the Fiesta's blend of versatility, comfort and driving enjoyment. And with a range of very frugal petrol and diesel engines, as well as low servicing bills, it's cost-effective to own, too. All that makes the Fiesta one of the most satisfying used small cars you can buy. It's not perfect – the cabin's button-heavy styling is a little dated, and others offer better quality – but it remains a top used choice for those in the market for a small car.

Which one should I buy?

Best Ford Fiesta for families: 1.0 EcoBoost 100 Zetec
Best Ford Fiesta for low costs: 1.5 TDCi ECOnetic

The seventh-generation Fiesta debuted in 2008, with 1.25, 1.4 or 1.6-litre petrol engines, along with 1.4 or 1.6 diesels. The 1.25 came in 59 or 81bhp forms, there were three or five-door hatchbacks, and Studio, Style, Style+, Zetec, Zetec S and Titanium trim levels.

More reviews

Car group tests

Used Ford Fiesta vs new Dacia Sandero

In-depth reviews

Ford Fiesta review
Ford Fiesta Van review
Ford Fiesta Active review
Ford Fiesta ST review

From October 2009, Edge muscled in between Style+ and Zetec. From the outset there was a 98g/km Econetic edition; by March 2012 this was cut to just 87g/km. The 1.4 petrol got an auto option from June 2009, then in April 2010 came the sporty 118bhp S1600. The hot 180bhp 1.6-litre ST followed in 2012.

A facelifted Fiesta arrived in early 2013, offered with Ford's 1.0-litre EcoBoost engine in either 99bhp, 123bhp or 138bhp tune. The 1.4-litre TDCi diesel was also dropped in favour of a single 1.5-litre TDCi that was available with either 72bhp or 94bhp.

The trim line-up remained largely unchanged apart from the introduction of the sporty-looking ST-Line models and the special-edition Red and Black versions in 2014, which as the name suggests were available in either red with black contrasting accents vice versa. Then in 2016 a more powerful 197bhp ST200 was added, complete with special grey paint finish.

There are no poor engine choices, but we prefer the 1.6 TDCi for its muscle, relaxed cruising and economy. The entry-level Style comes with electric front windows and remote central locking; Style+ adds a heated windscreen and air-con. Zetec Fiestas feature 15-inch alloy wheels, a trip computer and ambient cabin lighting, while the Zetec S comes with 16-inch alloy wheels, lowered suspension and sports seats.

The range-topping Titanium packs cruise control, power-operated door mirrors, privacy glass, climate control, plus automatic lights and wipers. The high-spec Titanium is also the most popular trim level for buyers of the Fiesta when new.

The high-performance ST flagship is identified by its racy body kit, lowered suspension and special alloy wheels. Inside, it gets figure-hugging Recaro front seats for the driver and passenger, plus numerous ST logos. It's available in ST -1, ST-2 and ST-3 guise, with the later getting luxuries such as heated seats and sat-nav infotainment.

It's worth looking out for Mountune fettled examples of the ST, because many have an upgraded power output to 197bhp. Officially supported by Ford, these factory approved improvements should have no adverse effects on the car's running or reliability.

What are the alternatives?

Toyota's Yaris is reliable and good to drive, but you'll pay more for one of these than an equivalent Fiesta. Skoda's Fabia is roomy and fun to drive, too, while its VW Polo cousin offers the same virtues, but at a higher price. The Vauxhall Corsa is almost as plentiful as the Fiesta, and great value.

Don't discount Renault's Clio or Nissan's Micra; the first for its driving enjoyment and the second for reliability. But the Honda Jazz is the Fiesta's toughest adversary. Not only is it very dependable, it's hugely practical and generously equipped. It's costly, though.

Ford Fiesta vs Vauxhall Corsa

When we tested the box-fresh Fiesta against its arch-rival the Corsa in 2008, the Ford scored an emphatic win. The Blue Oval machine cost a little more, but its blend of brilliant driving, dynamics, sleek style and spacious interior was too much for the Vauxhall. Read the full test…

VW Polo vs Ford Fiesta vs Peugeot 208

In August 2014 the Fiesta tasted defeat for the first time when it met the recently revised Polo. That said, it was a very close run thing, and both left the 208 trailing in their wake. The Ford was still brilliant to drive, but it lacked the classy finish, comfort and cutting-edge kit of the VW. Read the full test…

MINI Cooper S vs Audi S1 vs Ford Fiesta ST

The Ford was in giant-killing form when it took on and beat a pair of upmarket rivals in a fierce hot hatch shoot-out in June 2015. Despite having less power than the Audi S1 and MINI Cooper S, the Mountune-fettled Fiesta ST was more fun to drive, yet cost thousands less and was more practical. Read the full test…

Next Steps

In this review

1

Verdict

– currently reading

One of Britain's best-selling cars, the Ford Fiesta is a stylish supermini that's brilliant to drive, cost effective to run and offers decent practicality

2

How much will it cost?

The Fiesta is affordable to buy, while its efficient engines, good reliability and affordable servicing mean it won't cost much to run

3

How practical is it?

It's a small car, but neat packaging mean the practical and roomy Fiesta makes a great family runaround

4

What's it like to drive?

Few small cars are as fun to drive as the Fiesta, while there's everything from frugal diesels to the fire-breathing ST hot hatch

5

What should you look for?

Overall the Fiesta is a robust and reliable car, but there are one or two issues to keep and eye out for

6

What do owners think?

Owners love the way the Fiesta drives and its low running costs, but build quality could be better

Source: Read Full Article