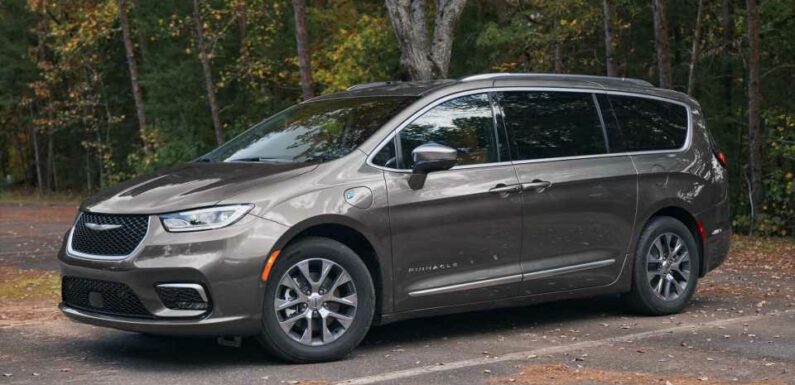 Stellantis reports 380,563 vehicle sales in the United States during the third quarter of 2023, which is one percent less than a year ago. Similarly, the year-to-date result of 1,183,538 is also one percent lower than in 2022 at this point of the year.
Results in Q3′ 2023 and year-to-date:
Alfa Romeo: 2,889 (down 16%) and 7,590 (down 23%)
Chrysler: 42,315 (up 96%) and 123,358 (up 41%)
Jeep: 154,619 (down 4%) and 490,106 (down 9%)
Stellantis total: 380,563 (down 1%) and 1,183,538 (down 1%)
including Alfa Romeo, Chrysler, Dodge, Fiat, Jeep and Ram
However, when it comes to plug-in hybrid cars, Stellantis absolutely excels with surging sales, new records, and new models.
According to Stellantis, in Q3 2023, PHEV sales amounted to 37,079 units, which is 132 percent more than a year ago, and another consecutive quarterly record.
The company does not offer all-electric cars in the United States yet, but the plug-in hybrids are expanding very quickly, gaining 9.7 percent share of the total volume (compared to 4.1 percent a year ago).
The Chrysler brand more than quadrupled sales of PHEVs, while Jeep doubled its volume. Meanwhile, Alfa Romeo entered the PHEV segment with its Alfa Romeo Tonale model (PHEV-only). There is also the all-new Dodge Hornet R/T PHEV (alongside the ICE version), but we don't know its numbers.
Plug-in car sales in Q3'2023:
Alfa Romeo PHEVs: 746 (new) and 25.8% share
Chrysler PHEVs: 8,949 (up 329%) and 21.1% share
Dodge PHEVs: N/A
Jeep PHEVs: 27,384 (up 97%) and 17.7% share
Stellantis PHEVs: 37,079 (up 132%) and 9.7% share
Stellantis Plug-In Car Sales – Q3 2023
So far this year, Stellantis sold more than 98,000 plug-in hybrid cars in the US, which is over eight percent of its total volume. That's far more than Toyota/Lexus's 28,612 PHEVs.
Plug-in car sales in Q1-Q3'2023:
Alfa Romeo PHEVs: 746 (new) and 9.8% share
Chrysler PHEVs: 21,185 (up 105%) and 17.2% share
Dodge PHEVs: N/A
Jeep PHEVs: 76,708 (up 132%) and 15.7% share
Stellantis PHEVs: 98,639 (up 127%) and 8.3% share
For reference, in 2022, Stellantis sold more than 63,000 plug-in hybrids in the US.
In terms of individual models, Stellantis absolutely conquered the PHEV segment, with 1-2-3 sales spots among PHEVs in the US.
The Jeep Wrangler 4xe remains the best-selling plug-in hybrid model with 17,662 units sold in Q3. This number represents 42 percent of total Jeep Wrangler sales.
The second best PHEV is the Jeep Grand Cherokee 4xe with 9,722 units (17 percent of the total model sales), followed by the Chrysler Pacifica Plug-In Hybrid, which noted a spectacular record of 8,949 (up 329 percent year-over-year). 23 percent of all Chrysler Pacificas sold were rechargeable.
An interesting thing is that Chrysler has decided to rename the plug-in hybrid Pacifica Hybrid to Pacifica Plug-In Hybrid, clearly indicating that it's a rechargeable version. Previously, it was simply "Hybrid," despite the fact that the recharging capability was present.
In late August, Chrysler announced a major milestone of production of the 100,000th Pacifica Plug-In Hybrid minivan at the Windsor (Ont.) Assembly Plant in Canada. The rechargeable version entered production in December 2016 as a 2017 model and currently sells better than ever. Its all-electric range is 32 miles (compared to 520 miles total).
The all-new Alfa Romeo Tonale plug-in hybrid appeared in the stats for the first time with 746 units. Another new model is the Dodge Hornet R/T, but in this case, there is also a gas version, so we don't know the PHEV number (the total is 1,753).
Model sales in Q3'2023:
Alfa Romeo Tonale (PHEV): 746 (new)
Chrysler Pacifica Plug-In Hybrid: 8,949 (up 329%)
(23% of Chrysler Pacifica total sales)
Jeep Grand Cherokee 4xe: 9,722 (up 2,198%)
(17% of Jeep Grand Cherokee total sales)
Jeep Wrangler 4xe: 17,662 (up 31%)
(42% of Jeep Wrangler total sales)
Stellantis outlines a huge electrification offensive with several new models, including all-electric models from several brands next year. US Head of Sales Jeff Kommor said: "We've gained traction over the summer and we're starting to see some momentum at the end of this third quarter. Our Jeep 4xe and Pacifica Plug-in Hybrid models continue to perform extremely well, taking the 1-2-3 sales spots among plug-in electric vehicles in the U.S. market, and our progress toward our Dare Forward 2030 plan also remains on track with the introduction of many all-new, all battery-electric vehicles next year, including the all-new Fiat 500e, Dodge Charger, Wagoneer S, Ram 1500 REV and Jeep Recon."
Year-to-date sales of Stellantis' PHEVs also look very strong. Most of the other manufacturers appear to be more focused on BEVs.
Model sales in Q1-Q3'2023:
Alfa Romeo Tonale (PHEV): 746 (new)
Chrysler Pacifica Plug-In Hybrid: 21,185 (up 105%)
Jeep Grand Cherokee 4xe: 27,705 (up 6,450%)
Jeep Wrangler 4xe: 49,003 (up 50%)
Stellantis sales details:

Source: Read Full Article