Industry figures point to a summer surge of EV sales, but private buyers remain wary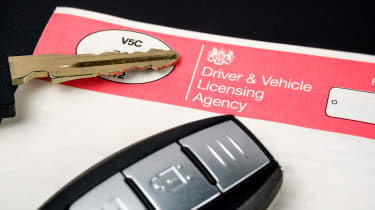 Easing supply chains have helped lift car sales for the seventh consecutive month, boosted by fleets switching to electric models. 
143,921 new cars were registered in July, a rise of 28.3 per cent compared to July last year. It's the strongest July performance since 2020 when a mini-boom followed the end of a period of Covid lockdown, but sales still lag behind the pre-pandemic total.
It's fleet sales that are continuing to power the latest growth, according to latest figures from the Society of Motor Manufacturers and Traders. Large fleet orders increased by almost 63 per cent to 80,961 vehicles, while other business registrations rose 28.7 per cent and accounted for 2,915 new cars in the monthly total.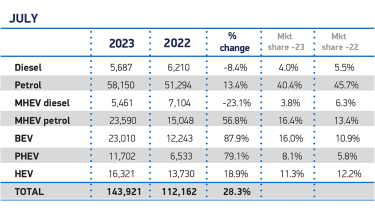 Worryingly for industry and government, as they look toward proposed targets for EV take-up, private new car sales grew by just one third of a percent with 60,045 new models sold.
The SMMT figures show that 'electrified' vehicles took more than a third of July sales at 35.4 per cent. Company car tax breaks for business users saw plug-in hybrid registrations soar by 79.1 per cent to an 8.1 per cent market share, while battery EV (BEV) registrations were even more popular – an 87.9 per cent rise means BEVs accounted for 16 per cent of total July registrations.
However, that BEV market share is broadly consistent with what we've seen across the year so far, the SMMT says, pointing out that growth in EV sales needs to be faster if it's to meet environmental targets it calls "ambitious but necessary".
"To get even more consumers to make the switch, every means of support must be provided, from fiscal incentives to purchase reassurance," the industry body says. It claims the support needed most obviously comes "in ensuring drivers have full confidence that they will be able to charge wherever and whenever required, sustainably and affordably."
To reach the government's minimum target of 300,000 chargepoints by 2030, the SMMT says, the installation rate must treble to almost 10,000 chargers per quarter, every quarter.
Looking to sell your current car quickly and for a good price? We've partnered with Motorway to bring you the best offer from its network of UK dealers…
Source: Read Full Article