Only 86,052 cars were built in the UK in January 2021 due to Covid-19, global supply chain issues and post-Brexit trading friction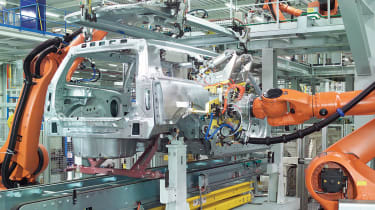 UK car production fell 27.3 per cent year-on-year in January 2021, with 86,052 cars built during the month. It marks the worst January since 2009 and the 17th consecutive month of decline.
The ongoing effects of the Covid-19 pandemic drove the decline to a large extent, causing global supply chain issues and keeping car dealerships in the UK closed under lockdown restrictions. The Brexit transition period coming to an end at 11pm on 31 December 2020 also had an impact, with friction in the new trading arrangements affecting output.
Best-selling cars of 2021
Car manufacturing for the domestic and overseas markets fell 18.3 per cent and 29.1 per cent respectively. Exports accounted for more than eight out of 10 cars made in January, but shipments to the EU, US and Asia fell 26.2 per cent, 34.5 per cent and 36.1 per cent respectively.
On a more positive note, the combined output of electric, plug-in hybrid and conventional hybrid cars rose to 25.3 per cent of cars produced in January. However, the UK automotive industry has lost a total of £11.3 billion since March 2020.
The Society of Motor Manufacturers and Traders (SMMT), which released the figures, is calling for the Government to reopen car showrooms as soon as possible and also wants the Chancellor to announce measures in the Budget to enhance the sector's competitiveness.
Mike Hawes, chief executive of the SMMT, said: "Yet another month of decline for UK car production is a grave concern and next week's Budget is the Chancellor's opportunity to boost the industry by introducing measures that will support competitiveness, jobs and livelihoods.
"Whilst there have been some very welcome recent announcements, we need to secure our medium to long-term future by creating the conditions that will attract battery gigafactory investment and transform the supply chain.
"Most immediately, however, we must get our Covid-secure car showrooms back open, ideally before 12 April. This will be the fastest way to UK automotive manufacturing recovery."
Subscribe to Auto Express for the best car news and reviews…
Source: Read Full Article