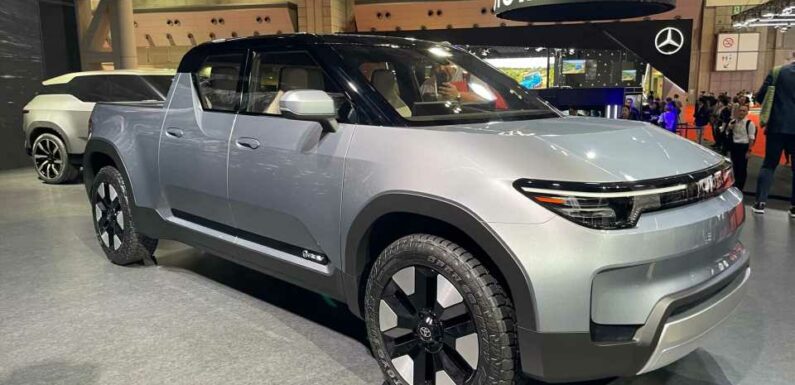 Toyota brought a bevy of concepts to the Japan Mobility Show. Still, the EPU Concept (standing for Electric Pickup) stuck out among them as a vehicle that looked particularly close to production. According to a new report, the automaker's Calty Design Research Center in California has been working on the truck for three years, but the project hasn't yet received a production greenlight.
An unnamed Toyota Motor North America executive who spoke to Automotive News said this person's region of the automaker's operations was pushing to put the truck into production. However, the overall Toyota Motor Corporation headquartered in Japan gets to make the final decision. The lingering problem allegedly is reducing the price to make sure the cost isn't too similar to the Tacoma.
Gallery: Toyota EPU Concept
"We're fighting for it," this executive said. "They know how much we want it. We just have to make it work."
Kevin Hunter, president of Calty, told InsideEVs the EPU is for customers looking for the utility of a pickup but with no desire for hardcore off-roading. These folks would be more casual users or possibly people in cities. "It has enough capability," Hunter said. "We didn't want it to be a toy."
The EPU Concept features an adaptive cargo bed. It's around 4.5 feet long in the standard configuration, roughly the same as the Maverick. However, the Toyota has a divider that opens into the passenger compartment and increases the length to about 6.0 feet. Dropping the tailgate and lifting a portion of it extends things to 8.0 feet. You can see this in the photo gallery above.
In photos, the EPU appears to be a midsize truck, but the physical dimensions reveal that it's closer in size to a Ford Maverick. Plus, both trucks have a monocoque chassis and a four-door body. The table below compares their footprints.
Toyota provided no details about the electric powertrain or the battery system specs for the EPU.
For more discussion about the Toyota EPU, check out this episode of Motor1.com's Rambling About Cars podcast:
Source: Read Full Article