Toyota looks ahead to a new era of hydrogen endurance racers with the GR H2 concept car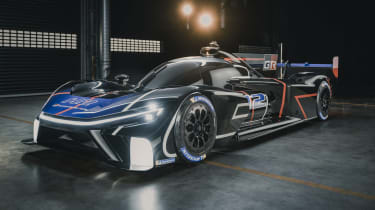 Toyota GR has revealed a hydrogen-powered endurance racer, called the GR H2 Racing Concept ahead of the 2023 Le Mans 24h race.
The new concept race car arrives in the wake of the Automobile Club de l'Ouest (ACO) announcing that it would allow hydrogen-powered and hydrogen fuel cell electric vehicles to compete in the FIA World Endurance Championship from 2026. 
The Toyota GR H2 takes clear inspiration from the brand's successful Le Mans winning TS050 and GR010 racers, and reveals a plethora of underbody aero along with a much narrower cockpit. Toyota hasn't revealed details of the powertrain of the GR H2, but we can expect that in time for 2026, the hydrogen powertrain will be capable enough to tackle the world's gruelling endurance tracks.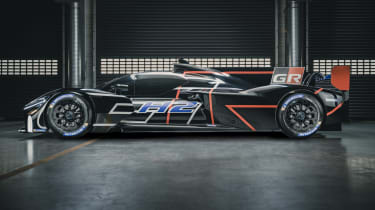 Toyota has already established itself in racing with hydrogen fuels by using the powertrain technology in a Corolla for Japan's Super Taikyu Series, as well as in an endurance race held in Thailand.
With hydrogen powered road cars like the Mirai, Toyota has pioneered the fuel's use for some time, while displaying consistent hesitancy towards full electrification. The GR H2 would, however, be the first time such technology would ever be taken to a popular, worldwide motorsport. 
Toyota says it also wants to develop 'better motorsport-bred cars' while also working to contribute towards a 'carbon neutral society' – suggesting that the GR H2 will be the brand's contribution to a more sustainable form of racing. From there, the technology could well trickle down into future road car projects. 
Toyota's racing department is no stranger to endurance racing as it has already won Le Mans five times since 2018 with hybrid cars. Even before the hybrid era, Toyota has put up a fight many times against the likes of Porsche and Jaguar during the era of Group C – including the 90C-V coming sixth in 1990 – and continued to achieve some podium finishes later in the 1990s. Toyota famously struggled to achieve an overall victory until it finally did it in 2018. 
The GR H2 will be on display for anyone attending Le Mans 2023 to view. It can be seen at the ACO's H2 village at the Circuit de la Sarthe.
Now read our preview of Le Mans 2023…
Source: Read Full Article