Associate editor Sean Carson thinks the C-HR Mk2's choice of electrified powertrains means there simply isn't room for the Prius in Toyota's UK line-up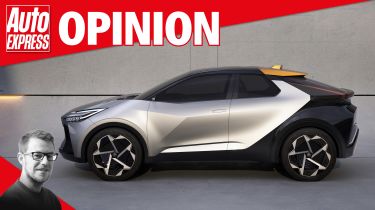 The stunning-looking fifth generation of Prius has grabbed headlines for Toyota in recent weeks, but the C-HR Prologue looks a fine example of why the firm believes the new version of the hybrid pioneer is no longer needed in the UK.
The original C-HR was a transformative vehicle for the Japanese company in Europe – a model with such divisive styling and compromised packaging that it was hard to believe such a traditionally conservative brand would dare to produce it. But when it did, the C-HR sold in spades, attracting lots of new customers to Toyota.
All-new Toyota Prius unveiled for 2023 with sleek design
The ability to offer the Mk2 C-HR with a choice of regular hybrid and plug-in hybrid power means that Toyota will have a radical-looking, highly efficient alternative to the Corolla hatchback and RAV4 full SUV – and one that's likely to be lapped up by many existing C-HR owners. So there simply isn't room for a dedicated eco-warrior in that line-up.
Would you still like to see the new Toyota Prius come to the UK? Let us know your thoughts in the comments section below…
Source: Read Full Article