Editor-in-chief Steve Fowler was very impressed after driving the new Fisker Ocean electric SUV for the first time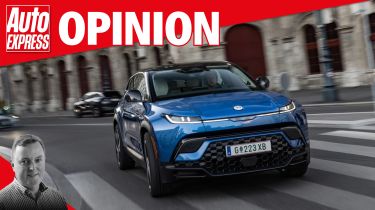 I've known Henrik Fisker for many years, going back to his days at BMW in the nineties. So it seems a little odd talking about him in terms of a start-up, especially because his previous venture, Fisker Automotive, didn't end well. That's a shame because the car it produced, the plug-in hybrid Fisker Karma, was arguably a model ahead of its time.
Proving that you can't keep a good man down, Henrik is back with Fisker Inc. and its first new model, the Ocean. Henrik hasn't changed much over the years – he's always fun and insightful when you chat with him – but he's learnt from the past and that hindsight has really paid dividends.
New Fisker Ocean 2023 review
The fresh thinking at Fisker shines through in the new Ocean, and I like the way Henrik has moulded his company into something different, with sustainability at its heart. It's a car company that doesn't make its own cars, but why should it when others can do it without giving you the huge costs and even bigger headaches that manufacturing brings? Magna – which builds the Ocean – can make up to 150,000 of them, while Henrik hinted that US production for the Ocean is likely, too.
Next up is the smaller, cheaper Fisker Pear, which will be built by Foxconn, a company more used to making iPhones than cars. There's a Fisker pick-up coming, plus a couple of models that have been developed at the company's UK engineering base, Fisker Magic Works.
Fisker's ability to challenge the norm – as Tesla has done so successfully – is paying off; traditional car makers just don't have the ability to be as agile and think differently. The result, in the Ocean, is an electric SUV that's so good I'd buy one ahead of anything of a similar size from any other current car maker. And it's decent value. Car makers often make early price promises that they're unable to keep. Henrik promised ages ago that he'd deliver the Ocean from around £35,000, and he'll do just that.
Click here for our list of the best electric cars on sale right now…
Source: Read Full Article