If you've got limited parking space or just want a car to nip around town in, the smallest cars on sale are your best bet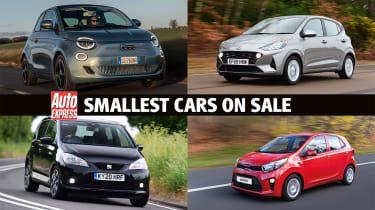 Small cars are big business in the UK. There are several reasons why this is the case: our increasingly crowded cities are congested places with little in the way of parking provision, while the cost of fuel forces many drivers to look for small, efficient vehicles to get around in.
More often than not, the smallest cars are also the cheapest cars and they can be among the easiest and most fun to drive. Their small dimensions make them naturally nimble, and you don't need an overly powerful engine to coax good acceleration and speed from them either.
Best city cars to buy 2021
It's an exciting time in the car market, as the push towards electric vehicles has forced manufacturers to think again about what they can offer to customers. Generally speaking, electric powertrains take up less space than combustion engines, which translates into more legroom and more room for luggage inside. So there's potential for a win win.
Whatever your reason for buying a small car, it's helpful to know exactly how small you can go in the current market. So we've compiled a list of the smallest cars on sale in the UK today to help you make an informed choice about exactly what it is you need from your motor. You'll find the cars below ranked by total length in reverse order. 
The smallest cars on sale 2021
10. Hyundai i10 (3,670mm)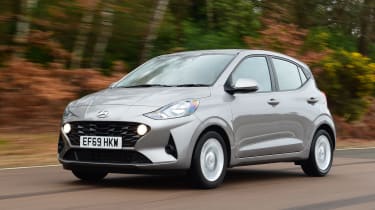 Unlike many of its rivals, the Hyundai i10 has yet to move towards hybrid or electric power, with three petrol engines offered as part of its line-up. The most powerful is the 1.0-litre T-GDi which comes with a five-speed manual gearbox, although the less powerful variants can be twinned with an automatic transmission if desired.
Standard equipment includes Bluetooth, DAB digital radio and a multi-function steering wheel, although you'll need to upgrade to the mid-spec SE Connect trim to access the eight-inch infotainment touchscreen. The cabin is roomy and 252 litres of boot space almost puts the i10 in hatchback territory. The sporty styling makes the i10 somewhat of a looker, although those engines don't quite live up to the sport exterior.
9. Volkswagen e-up!/SEAT Mii Electric (3,600mm/3,556mm)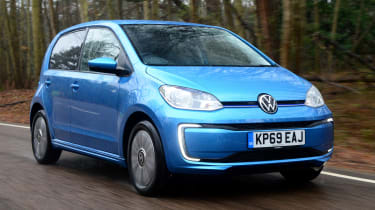 The Volkswagen e-up! and SEAT Mii Electric are identical underneath, although the latter is a little shorter thanks to tighter bodywork. A third sibling – the Skoda Citigo e iV – was available in the UK for a short time before it was pulled from the Czech company's line-up on these shores.
Both cars offer very generous interior space for their size. You'll struggle to find a city car that can rival the Volkswagen or SEAT when it comes to transporting four adults in comfort.
A 36.8kWh battery gives a range of over 162 miles according to WLTP rules, which is a lot more than the previous-generation versions of these electric cars were capable of. Acceleration over 0-30mph is excellent, making them fun to chuck around town.
8. Kia Picanto (3,595mm)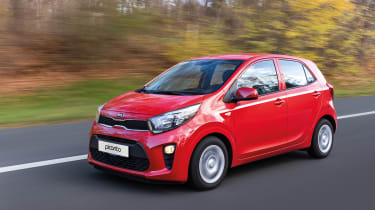 The Kia Picanto follows the classic city-car layout, with appealing styling combined with Kia's trademark 'Tiger Nose' grille to help it stand out on the road. Meanwhile, the interior is decently equipped for the money and the cabin is very well trimmed too.
As standard the Picanto comes with Bluetooth connectivity, 14-inch alloy wheels and electric windows all round, while upgrading from the base-spec '2' to '3' trim adds better connectivity and infotainment. Kia's confidence in its engineering is high: as with all its cars a seven-year warranty is offered, which means it'll suit drivers who tend to keep their vehicles for a long time rather than chop and change every couple of years.
7. Fiat 500 (3,571mm)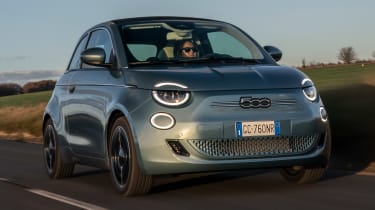 The original 1950's Fiat 500 was positively tiny next to its modern-day successor, but by our standards today it remains a pretty small car. It's been a successful one, too – competing with the MINI for the top of the fashionable small car market.
Power isn't the 500's forte, with a 1.2-litre petrol engine producing just 68bhp for 0-62mph in 12.9 seconds. There's a new Mild Hybrid variant that embraces electrification too, although this only delivers one brake horsepower more and is slower to 62mph. Fuel economy does at least creep up above 50mpg.
Inside, there's a surprising amount of headroom for a car this size, although it's a bit more restricted when it comes to legroom. The boot is also a bit on the small side compared to the car's rivals: even the new electric 500 – which measures 3,632mm in length – has the same 185-litre luggage compartment as the combustion-engined car.
6. Smart ForFour (3,495mm)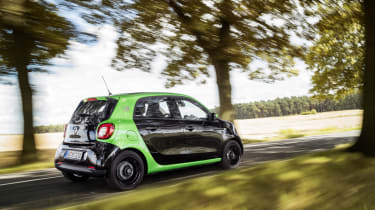 The Smart ForFour is now only available as an electric vehicle having offered petrol powertrains in the past. It's closely related to the Renault Twingo, which is no longer on sale in the UK. Thanks to Smart's styling department, the ForFour has shorter front and rear overhangs than the car on which it's based, although clever packaging means that interior space isn't affected.
The ForFour will carry four adults (as the name might suggest), although the 185-litre boot puts a tight restriction on the amount of luggage that can be carried. It's also quite pricey (despite being one of the cheapest electric cars on sale), and you'll have to weigh up the purchase price against the potential fuel savings. This means it usually only makes sense financially as a long-term purchase.
5. Peugeot 108 (3,475mm)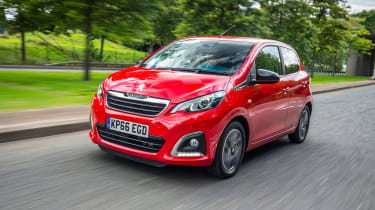 Much like the VW e-up! and SEAT Mii Electric share a platform, the Peugeot 108 has underpinnings in common with the Citroen C1 and Toyota Aygo: this makes them similar in character as well as in terms of dimensions.
Although it was launched with a choice of two engines in 2014, just one remains following a facelift in 2018. An automatic version is offered, although it negatively affects the car's already-weedy performance, so the five-speed manual is the transmission of choice.
As you'd expect legroom isn't great in such a small vehicle. The 108 will carry four adults at a push, although they won't be very comfortable on a longer journey. As one of the last cars to still offer a three-door variant, the front seats have a memory function that means they return to their set position after being tilted forwards to allow access for rear passengers, so at least it has some convenience in its favour.
4. Citroen C1 (3,466mm)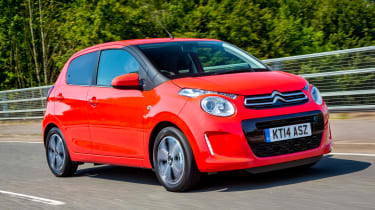 At just over £10,000, you won't find many new cars cheaper than the Citroen C1. With 196 litres of space in the boot it isn't the most practical car in the class, but you can't expect the smallest cars to come without compromises somewhere.
0-62mph takes 14 seconds, meaning this isn't a car destined to spend its life on fast roads. The sluggishness is less of a problem on town roads and city streets, where the C1 feels most at home. 58mpg is promised, although you'll be doing well to achieve that figure in the real world even with the most gentle application of the throttle imaginable.
Citroen has put some thought into the styling at least, with the C1's range of contrasting colour options helping owners to feel like the car is truly theirs. The splash of colour does wonders for the interior too, although the build-quality isn't exactly outstanding.
3. Toyota Aygo (3,465mm)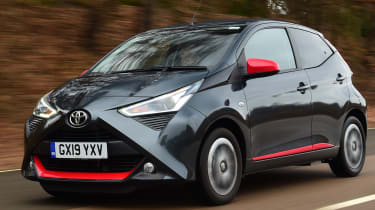 The Toyota Aygo is the smallest petrol-powered car on sale in the UK right now (albeit by just one millimeter), and the current model has been with us since 2014. Just the one engine is offered: a 1.0-litre VVT-i unit capable of 71bhp and 6,000rpm. While the engine needs to be revved hard to extract any meaningful acceleration out of the car, it's happy to do just that, making the Aygo good fun to drive.
Over 50mpg is claimed officially, although hybrid tech means some newer, larger cars are surpassing that kind of benchmark these days. The boot measures just 168 litres, so only get an Aygo if you don't need it for transporting bulky items.
2. Smart ForTwo (2,695mm)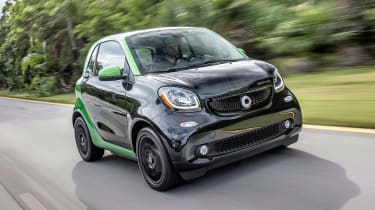 Was this ever going to be a surprise? Smart has been trading on the ultra-compact dimensions of the ForTwo since its launch in 1998, touting the ability to park end-on to the curb as a particular highlight. Now in its third generation, the car is no longer than it was before – but has grown in width, and is much more mature and easy to live with than its predecessor.
These days it's electric only, with a range of 83 miles on a full charge of the 17kWh battery and a motor capable of chucking out 80bhp; enough for 0-62mph in 11.6 seconds. You're unlikely to push it this far though, as it's much more suited to urban roads where acceleration between 0 and 30mph is far more relevant.
1. Renault Twizy (2,319mm)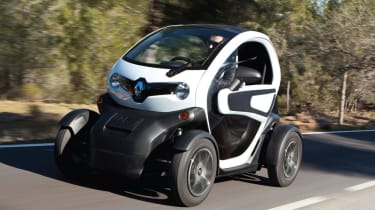 Whether the Twizy can be called a 'car' is up for debate, as the Government classes it as a 'heavy quadricycle'. There's nothing easier to park in the city, but be warned – the lack of a rear window will have you sticking your head out of the side to get a better look.
That's not a problem, though, as side windows – and even side doors – are an optional extra. What comes as standard are two seats arranged in tandem, some lights, a wiper, and an electric powertrain capable of 62 miles on a full charge. And that's about it. So remember, however easy it may be to park, if you can't get close enough to a socket, you're doomed!
Honourable mention: Peel P50 (1,372mm)
Now this one really stretches the boundaries of 'car', but as a Guinness World Record holder it deserved a mention. Originally built in tiny numbers on the Isle of Man, the P50 has been given a new lease of life by a company building reproductions. Supplied in either kit form or fully assembled, they come with the choice of an electric motor or a 50cc moped engine, and are sure to turn heads wherever you go. And forget parking – with the neat grab handle on the rear, once you get home, you can simply take your P50 inside with you…
In the market for a small car? Check out the latest deals at our sister site BuyaCar.co.uk
Source: Read Full Article