Toyota GR Supra technology could worm its way into future production cars, providing a "superhuman" safety net in adverse weather conditions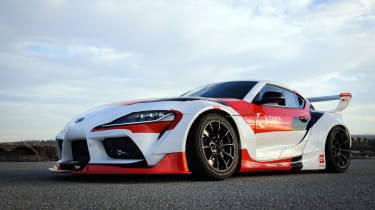 A US-based research team from Toyota and Stanford University have developed an autonomous GR Supra that's capable of drifting and supposedly has the seasoned reactions of a seasoned racer. 
Beneath the wild drift car makeover, Toyota hopes the technology underneath will find use in its future road vehicles, giving drivers an extra level of safety – especially when faced with situations that are beyond their driving skills.
Driverless cars: everything you need to know about autonomous car revolution
The example given is that of losing control on a wet and slippery road. Professional drivers may choose to maintain control of a car by sliding it through corners, carefully balancing the throttle, brakes and steering. The average driver probably does not have the skillset to do this, but Toyota's new project is investigating if autonomous technology could be useful in these sorts of situations. 
The car's on-board systems make use of the "calculated foresight" of computers. Powerful processors can simulate hundreds of potential scenarios about a corner before the driver even reaches it. Toyota says the autonomous system could be used to read the road and make instinctive interventions to avoid accidents, by applying its driving skills.
Toyota's project draws on research from Stanford University. Students designed a proof-of-concept autonomous driving system for a DeLorean capable of controlling the car when drifting. Toyota has also consulted numerous racing drivers and analysed their approach to car control to improve the technology.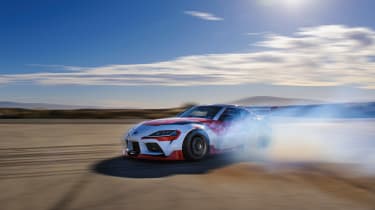 Gill Pratt, Chief Scientist and head of the Toyota Research Institute, said: "Every day, there are deadly vehicle crashes that result from extreme situations where most drivers would need superhuman skills to avoid a collision.
"The reality is that every driver has vulnerabilities and, to avoid a crash, they often need to make manoeuvres that are beyond their abilities. Through this project, Toyota Research Institute will learn from some of the most skilled drivers in the world to develop sophisticated control algorithms that amplify human driving abilities and keep people safe."
Toyota's ultimate goal is to have zero casualties from traffic collisions, and the company is so focussed on improving vehicle safety that it's willing to share its new technology with other manufacturers once it's been developed.
What do you make of Toyota's new self-drifting Supra? Let us know in the comments section below…
Source: Read Full Article