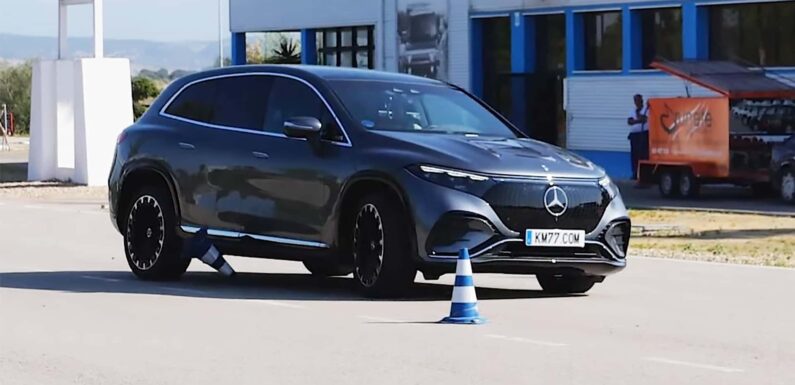 Electric vehicles, especially those that offer a decent amount of range, are undeniably heavy. Big batteries add a lot of weight, and that doesn't bode too well for handling, as the suspension components and tires need to work a lot harder compared to a light vehicle.
Case in point: the 2023 Mercedes-Benz EQS SUV in its 480 trim has a dual-motor setup that's good for a combined 536 horsepower, as well as a 108.4-kilowatt-hour battery pack that enables an EPA-estimated range of 285 miles, but – at the same time – weighs a hefty 6,228 pounds, which, as you'll see in the video embedded above, limits the SUV's ability to tackle high-speed direction changes, even with the help of electronic safety systems.
Published by the Spanish outlet km77.com, the video shows the German luxury vehicle subjected to the famous moose test, where the driver simulates a sudden lane change to avoid an obstacle and heavy damage.
Gallery: 2023 Mercedes-Benz EQS SUV: Review
In the case of the EQS SUV in the video, it was fitted with Cooper Zeon CrossRange tires, which is a high-performance all-season rubber, and had rear-wheel steering.
While it passed the slalom course with ease, the moose test at speeds of over 41 miles per hour (66 kilometers per hour) proved to be too much for the German luxury EV, going over the exterior cones like a Super Mario player hungry for in-game coins.
Even going less than 1 mph over the aforementioned limit made the $125,950 EQS SUV understeer and go over the course limits, which would translate to the car going off the road in a real-life situation.
One of the model's rivals is the Tesla Model X, which costs a smidge under $80,000 and managed to pass the moose test at 43 mph in 2016 without rear-wheel steering. The American EV is, however, lighter than its German alternative, tipping the scales at roughly 5,300 lbs for the dual-motor version.
Here's the Tesla Model X moose test, for comparison's sake:
https://www.youtube.com/embed/Sv9Oo5TMiWw?si=AMtuo29HMbBxrk4p
As always, let us know what you think about this, so head over to the comments section below to give us your opinion.
Source: km77.com (YouTube)
Source: Read Full Article