Renault's EV hatchback is only the third car in history to receive zero stars from Euro NCAP, despite the previous model scoring top marks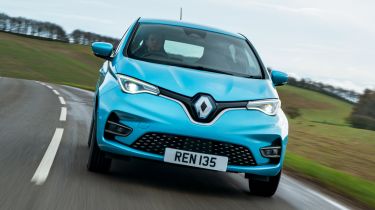 The Renault Zoe has become only the third car in Euro NCAP history to be awarded zero stars for crash safety. The previous version of the popular electric hatchback received a five-star rating in 2013, but thanks to more stringent safety tests and the omission of certain safety features, the latest model scored poorly.
The Zoe didn't fare well in the frontal offset crash test, with Euro NCAP citing poor protection of the driver's chest area. It performed worse in the side pole test, however, which simulates hitting a tree or lamppost side-on. According to Euro NCAP, a third of these accidents are serious or fatal, and the pole struck the test dummy's head when testing the Zoe.
'From now on I'll be looking at Euro NCAP's scores closely'
A key factor in the Zoe's poor performance is the removal of a head airbag, which protects occupants from side impacts. Renault introduced this type of airbag in 2001 with the Laguna 2, which became the first car to achieve a five-star Euro NCAP rating. The Zoe's 43% adult occupant safety score is the lowest in the past 11 years of testing.
The Zoe also lacks some driving assist systems commonly fitted to modern cars as standard, such as lane-departure warning and autonomous emergency braking. This resulted in a 14% safety assist score, 61% lower than average this year.
Elsewhere in the Renault group staple, the Dacia Spring EV, which could arrive in the UK next year, also scored poorly with a one-star rating. Testing revealed a chance of severe chest compression and a shortage of leg and pelvis protection during frontal impacts, resulting in an adult occupant protection score of (49%). Crashes could result in serious head and neck injuries for child occupants, too.
There were some strong performers this year, however. The BMW iX scored five stars, with an impressive adult occupant protection result of 91%. The Genesis G70 and GV70 also received top marks, continuing the brand's 100% record of five-star cars thus far. The Mercedes EQS achieved the highest adult occupant protection rating of all in 2021, scoring 96%.
Find out how car safety has changed over the years…
Source: Read Full Article