Never mind SUVs; the Boxster 986 was Porsche's saviour. We find out why…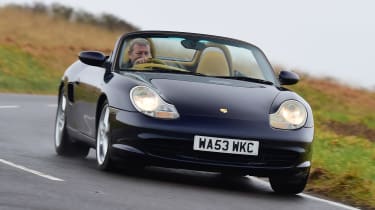 Hard as it may be to imagine, without the Boxster, Porsche might not have survived to even see in the 21st century, let alone go on to dominate it as far as the world of sports cars is concerned.
Back in the early nineties the company was struggling, and failing, to make ends meet. Its ancient four-cylinder cars were expensive and under threat from a raft of brilliant new six-cylinder turbocharged cars from Japan. Global sales were down to less than 20,000 cars a year, and, if you can believe it, the 911 was rapidly going out of fashion, while being heinously expensive to make. By 1995 it was the only Porsche on sale. So for a year or two, things really did look very shaky indeed for Germany's favourite sports car maker.
Audi TT (Mk1, 1999-2006) icon review
And then Porsche had its Eureka moment. Rather than going upmarket to dig itself out of the mire financially, it decided to do the opposite and go downmarket instead. The idea was to make a cut-price, mid-engined version of the next 911 (the 996), a car already well beyond the drawing board by then – the plan being that both cars would share as many parts with one another as possible. The idea had been hatched after consulting with Toyota.
More reviews
Car group tests
Porsche 718 Cayman/Boxster – best sports cars
Porsche 718 Boxster 2.0 – Best cars for under £400
In-depth reviews
Porsche 718 Boxster review
Road tests
New Porsche 718 Boxster 25 Years 2021 review
New Porsche Boxster GTS 4.0 PDK review
New Porsche 718 Boxster GTS 4.0 2020 review
New Porsche 718 Boxster T 2019 review
Used car tests
Used Porsche Boxster review
The cars would cost less to build and earn Porsche more of the profits it so desperately needed – as long as the world bought into the idea of there being two Porsches at different price points that shared a bunch of parts.
Fortunately, the world did, and the enduring appeal of the Boxster – which was joined by its fixed-head Cayman brother 10 years later – is testament to just how right Porsche's decision was all those years ago. The common view is that the Cayenne 'saved' Porsche from extinction in 2002, but in truth the Boxster/996 project was the one that mattered most. Without it, the Cayenne wouldn't even have been thought of five years later.
Which in a roundabout kind of way is how I find myself in a car park on the Beachy Head road, staring at a beautiful, dark blue 986S Boxster, recalling the way it was at Porsche in the mid-nineties when the Boxster first blew its way into my orbit. I remember drooling over photos of the original Boxster Concept in 1993, designed by an American, Grant Larson, under the guidance of his boss Harm Lagaay, who probably took more of the credit than he deserved. And when I went on the international launch of the first production Boxster a couple of years later in 1996, it all made perfect sense.
The car itself wasn't especially fast or dramatic. Instead it was just a lovely thing to guide from one destination to the next. It was a car to go places in, just for fun. It also rode, steered and stopped quite beautifully. Its chassis and handling were delicate and precise. It didn't have a vast amount of grip, but it had enough. It changed gear with an unusual (but gorgeous) mechanical precision. And its 2.5-litre flat-six engine was a delight: potent enough to be exciting without ever giving too much grunt.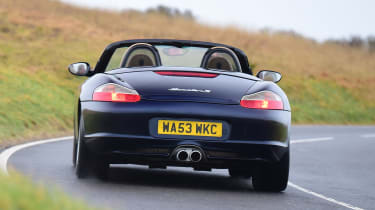 It also sounded just how a Porsche should sound – sonorous, meaningful and mechanically sophisticated. It even smelled just how a Porsche should smell – a hint of hot oil mixed with a pungent blend of leather and, as I recall, some freshly cut grass at the side of the roads that wound their way across the German countryside on that first day I encountered it.
Climbing into this immaculate 986S, all those same memories come flooding right back. The lovely arms-out, bum-down driving position, the trio of instruments you see through the steering wheel, the mechanical feel of the gearchange, the perfectly positioned pedals, the view along those two turrets that lead down to the same headlights that were used for the Boxster and 996 to begin with; they're all just as I remember.
There are foibles aplenty in here, of course. Porsche cabins were a mixed bag in those days. The bizarre and seemingly random positioning of many of the minor switches is famous, and the fact that the steering wheel doesn't adjust for height, but for reach only, remains an oddity that you just put up with.
Same goes for the strange little wand below the left-hand indicator stalk, which allows you to scroll through what in those days must have been a pretty comprehensive trip computer. Trouble is, you can interact with this wand purely by accident using your left knee. But then, only recently has Porsche learned the art of ergonomics. Today such faults seem more charming than irritating
This car rides on optional 18-inch Carrera alloys, each with a Michelin Pilot SuperSport tyre – 225/40s at the front, 265/40s at the rear. The first 986s came on smaller wheels and tyres, but the increase doesn't appear to have dented the soothing-but-taut ride quality that distinguished the Boxster from day one.
What does make a difference here is the bigger, second-generation 3.2-litre flat-six engine. In the facelifted model it develops 254bhp at 5,250rpm and 310Nm at 4,500rpm. Stick this in the middle of a car that weighs just 1,320kg and apply it to the road via a slick six-speed manual gearbox and it's enough for 0-62mph in 5.7 seconds and a top speed of 164mph. It's not rocket-ship fast by today's standards, but the 986S is still pleasantly rapid for a 20-year-old car.
This very well looked-after example feels almost as if it had rolled off the line yesterday, despite having covered some 70,000 miles. But then, it does have a full Porsche service history, and if you're in the market for a 986, beware; there are well documented issues with the IMS bearing with the 'M96' engine (see sidebar). It's a naughty one to sort, too, so do your research if you fancy a 986.
In the end, the 986 Boxster – despite its occasional issues – remains one of the great sports cars of our time. Certainly as far as remotely sensible money is concerned. It brought sophisticated mid-engined motoring to the masses when it appeared in 1996, and it's evolved into an even better car ever since.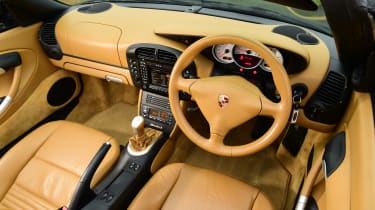 What's perhaps most remarkable of all, though, is how much of the original 986 you can still feel today in a brand-new six-cylinder 718 Boxster. All the hard points are the same now as they were then. The fundamental character of the car hasn't altered much. In some ways, its appeal was stronger then than it is now, because the recipe was simpler and easier to understand. But no less potent.
Truth is, the 986 Boxster didn't just save Porsche; it made it. And having spent decent time in this example, it's not hard to see why.
What we said then
Issue 415, September 1996
"Keep your speed up and the chassis lets you hustle through corners without fuss or drama. The optional 17-inch alloys and wide tyres on our car provided masses of grip, and the Porsche feels well balanced and engaging. Communicative steering whips the nose into bends, and even with the traction control system off, the tail refuses to slide on dry roads. Throw in a superb set of brakes and the Boxster proves it can mix it with the best of them. Don't think the Porsche is just for whizzing around on dry weekends, though. Having a boot at either end makes it a viable commuting car or ideal for cross-Channel jaunts."
Interested in buying one?
Fundamentally, the 986 is very strong, but there are issues – the Intermediate Shaft (IMS) bearing, above all. If it fails, it's effectively game over for the engine.
Despite what it says on the Internet, it's not a widespread problem. Only around 6 per cent of cars (more often second-generation 2.7s rather than the earlier 2.5s) seem to suffer. Fact is, most cars that are still going now are probably still around for a reason.
Other things to look out for include noisy water pumps, split coolant tanks (a soggy boot carpet in summer is a sign), leaky window seals that can rot the ECU, and cracked cylinder bores on abused engines (if the oil looks more like black mayonnaise, beware). Also, if the hood fails, don't expect to spend less than four figures on a new one.
But much of the car is really strong, and more fixable for less money than you might think. Do your homework, and there's no reason why you couldn't bag a decent 2.5 or 2.7 for just £5,000, or a 3.2-litre Mk1 S for £7,000. This 3.2S has done 70,000 miles, has a full Porsche service history, is immaculate for its age, drives beautifully and was bought recently for less than 10 grand. And no, it hasn't had a new IMS.
| | |
| --- | --- |
| Model: | Porsche Boxster 986S |
| Production dates: | 2000-2003 |
| Price then: | From £36,000 |
| Price now: | From £7,500 |
| Engine: | 3.2-litre flat six |
| Power: | 247/254bhp |
| Transmission:  | 6-speed manual//5-speed Tiptronic |
| 0-62mph: | 5.9sec/5.7sec |
| Top speed: | 162mph/164mph |
Source: Read Full Article