Mike Rutherford thinks the last three PMs need to follow Margaret Thatcher's lead when it comes to automotive delivery and commitment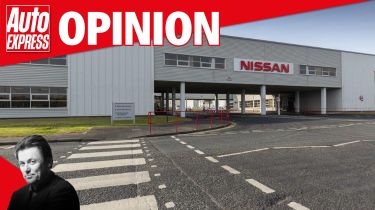 The people of the North East aren't the only ones to be disgusted and dismayed by the death of the Britishvolt gigafactory and the thousands of much-needed jobs it promised – but failed – to deliver.
There surely can't be many people in Britain who didn't want to see Blyth – once famous for mining – reinvent itself as home to the first of many clean, green, cutting-edge EV battery plants. Establishing such a facility 20-odd miles from the EV-making Nissan plant in Sunderland was a no-brainer. 
"BritishVolt's collapse is a disaster for the UK's car industry"
And the job creation was just for starters. The plan also demonstrated that Britain still has what it takes to be a major player on the world's automotive stage.
Given that we've long had plenty of huge car makers in Britain and still have five mainstream, seven major premium and 60-plus smaller specialist manufacturers, the gigafactory would have, could have, and should have been as important as many of our leading vehicle-making plants.
Trouble is, the willing but apparently unable entrepreneurs – working with politicians who've again failed the region, the nation and the EV cause – have disastrously dropped the ball. And even more worrying, it seems less likely than ever that the UK Government will now ensure that Britain gets the four gigafactories it needs by 2030 – the year when the sale of new pure-petrol and diesel cars will be outlawed by, er, the UK Government!
When, as a rookie reporter in the eighties, I interviewed, photographed and was scared to death by our then Prime Minister Margaret Thatcher at Nissan Sunderland, she was hardly my cup of tea – not least because I whispered to her that I was sceptical about the Japanese opening a factory in Britain and she barked at me that the venture was 100 per cent right. Like or loathe her, if it weren't for the Iron Lady, Nissan Sunderland – never mind Toyota, Burnaston and Honda, Swindon – would not have been built. In turn, thousands of high-quality jobs would never have been created over the decades.
Contrast Thatcher's automotive commitment, determination and delivery with the disinterest and broken promises from the last three PMs who had Blyth under their watch. They were tasked with seeing the project through. And, shamefully, none did.
The broken-hearted people in and around Blyth are entitled to feel disgusted and dismayed right now, after their hopes, dreams and employment prospects were cruelly shattered last week. And at the same time, our political leaders must accept that, on this occasion, they were all talk, no action and, ultimately, got things indecently wrong.
Time, I reckon, for car makers in the UK to rely less on others and more on themselves – by at least studying seriously the prospect of building their own gigafactories here.
Alternatively, we now know that when the UK Government incentivised Nissan to construct a car factory in Britain, it was the right and successful thing to do. An invitation to, and similar incentives for, a Korean EV battery giant such as LG Energy to build a gigafactory here (as it has done elsewhere) would be equally appropriate.
Do you agree with Mike? Let us know in the comments section…
Source: Read Full Article