Recent trademark applications suggest Volvo's small electric SUV could be called EX40 or EX30

Volvo has just revealed a new flagship all-electric SUV in the form of the new EX90. But it will be joined by a new entry-level Volvo 'EX40' electric car as soon as next year, according to a new video shown by the brand. 
Timed to coincide with the world-debut of the EX90, a short teaser clip confirms that Volvo is already looking ahead to the baby model, which could take on the EX30 or EX40 name under the brand's new model-line nomenclature, given both badges have been trademarked.
New Volvo EX90 electric SUV arrives with £96,255 price tag
The teaser shot leaves us in no doubt as to the scale of the car, which will be closely related to the new Smart #1 SUV as a result of the pair sharing the new Geely-developed SEA platform. This modular electric platform will underpin a number of new models in the future, but will make its Volvo debut under an SUV roughly 4.3 metres in length. 
We can see that the EX30/40 will use the same new taillight signature as the EX90, and will be a blocky small SUV, with a vertical tailgate and very short front and rear overhangs. But that's all for now. The teaser clip concludes that the final production car will be revealed in 2023, but it will probably go on sale in 2024. 
Volvo's current all-electric line up consists of two models – the XC40 Recharge and its C40 coupe-SUV alternative. The new EX90 will go on sale late next year. Despite this, Volvo expects 10 per cent of its sales in 2022 to be fully-electric, with the Swedish firm looking to become purely electric by 2030.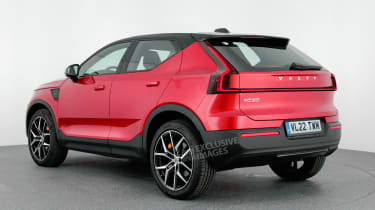 Within its electrification plan, Volvo is looking to add a new electric SUV to sit underneath the XC40 Recharge. Volvo's former CEO Hakan Samuelsson had previously said Volvo will move its nomenclature from the traditional codenames to proper names. However, under new CEO Jim Rowan, a numerical approach seems to have been readopted. 
The model is expected to play a major role in the company's ambition to increase sales from around 800,000 units per year to 1.2 million by 2025.
Volvo has said the new EV would follow the upcoming EX90, which itself will be an all-electric successor to the XC90. Samuelsson has spoken on the baby SUV's launch date, saying, "We've said the next new electric car is really the successor of our SUV flagship, after that there will be a smaller SUV, and that's what we're talking about here. It's very likely it will be made in China, yes."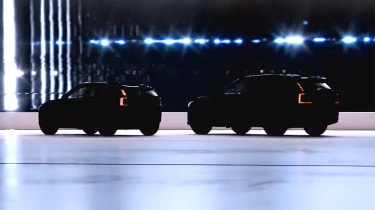 Rather than use the CMA platform currently shared between Volvo and Geely, underpinning the new Volvo SUV could be Geely's Sustainable Experience Architecture (SEA), which will also be used by Volvo's Polestar sub-brand in the future. SEA is a modular platform, meaning it can accommodate a range of vehicle sizes, from large SUVs like the EX90 and Polestar. The smallest version (SEA-E, 'E' standing for "entry"), is already used on the new Smart #1 – a car that should rival Volvo's new small SUV. 
In the Smart #1, there's a maximum range of 273 miles on a single charge and the 150kW recharge rate allows a 10 to 80 per cent top up of its 66kWh battery. The Volvo SUV is a few years off, so we could see it improve on those figures when it's released. 
Now read our list of the best electric SUVs…
Source: Read Full Article