Picking up from where the R 20 Years left off, the VW Golf R 333 dons a new hue but no more power

Volkswagen has previewed its latest limited edition Golf R, combining the uprated 328bhp engine fitted to the Golf R 20 Years model with a selection of unique styling elements. The new model is still yet to be confirmed for the UK market, but will most likely be built for a 12-month stint, filling the hole left by the R 20 Years edition. 
The bold yellow hue previewed is not a fully bespoke colour, but the 'Lime Yellow' metallic option available on standard and GTI Golf models. To this, the R 333 adds blue 'R' badging, plus some bespoke 333 decals running down the side and the larger rear wing as previously fitted to the Performance Pack and R 20 Years models. An Akrapovic exhaust, black 'Estoril' 19-inch alloy wheels and the usual blue brake calipers also appear to be fitted. 
Top 10 best hot hatchbacks to buy 2023
As a reminder, the mildly uprated 329bhp variant of the Golf R's turbocharged 2-litre four-cylinder engine, as first seen in the R 20 Years, features a variety of small, but impactful upgrades to create the most powerful Golf yet. These include new mapping for the engine, plus tweaked software that holds the throttle open when you come off the pedal to keep the turbo spinning and therefore, on boost. It helps improve response from the turbo when coming on and off the throttle in quick succession, as you would on a track or down a winding road. 
The other key part of the powertrain update is found in the DSG transmission which has recalibrated software to make shifts both faster and more aggressive. There was also an 'emotional start' function that gives the engine a kick of revs when you press the starter button – something the neighbours will no doubt appreciate.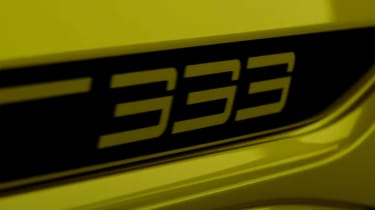 These elements will join the existing Golf R package that includes VW's 4Motion all-wheel drive system paired with a torque-vectoring rear differential. This over-speeds the outer wheel under acceleration to give the otherwise front-biased all-wheel drive system a more agile, at times oversteer-forward balance. Whether VW fits the multi-stage DCC active dampers as standard remains to be seen, but they've classically been optional on all previous models including the R 20 Years. 
We'll have to wait and see what else VW has in store for the R 333, but it'll probably match the R 20 Years' near-£50k price point if it does make it to the UK, almost certainly eclipsing that figure if the expensive titanium exhaust is fitted as standard.
Now read our review of the Volkswagen Golf R 20 Years…
Source: Read Full Article