Is the new 242bhp plug-in hybrid Volkswagen Golf GTE the pick of the range? We find out…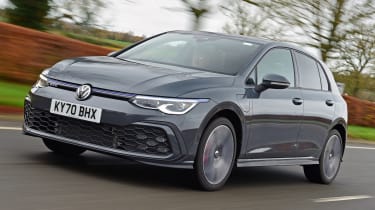 3.5 out of 5
Verdict
The new Volkswagen Golf GTE feels solid to drive and it's a straightforward plug-in hybrid hatch that those new to electrification will get along with easily. However, it's now an expensive proposition, and when Mercedes makes a plug-in A-Class that's cheaper to buy, cheaper to tax and potentially cheaper to run, the case for the Golf isn't as clean cut as we had expected.
This is the latest addition to the sprawling Mk8 Volkswagen Golf line-up – the GTE plug-in hybrid. But unlike before, VW is marketing it as a more economically and environmentally friendly alternative to the latest GTI hot hatchback.
That's because, while the previous generation GTE was tasked with setting out the idea that a plug-in family hatchback could be economical and fast, this new model is unashamedly marketed alongside the GTI as a performance-focused model. It's a move echoed elsewhere in the Volkswagen Group – the latest Cupra Leon and Skoda Octavia vRS models are also now available with plug-in power alongside their powerful petrol defaults.
Best plug-in hybrids 2020

The GTE uses a 1.4-litre turbocharged four-cylinder petrol engine, a six-speed DSG automatic gearbox and a battery and electric motor setup, for a combined total power output of 242bhp and 400Nm – that's the same amount of power but more torque than the 2.0-litre turbocharged GTI.

More reviews for Golf GTE

Car group tests

SEAT Leon vs Volkswagen Golf vs Ford Focus
BMW 1 Series vs Mercedes A-Class vs Volkswagen Golf

In-depth reviews

Volkswagen Golf review
Volkswagen Golf R review
Volkswagen Golf (2012 – 2019) review

Road tests

New Volkswagen Golf 2020 UK review
New Volkswagen Golf TDI review

VW claims 0-62mph takes 6.7 seconds and a top speed of 140mph, but also tax-busting CO2 of just 26g/km and rather fanciful 246.1mpg of claimed fuel economy. On top of that, it should also cover up to 39 miles on electric power.

From the outside, you can really see how VW has aligned the GTE with its GTI-badged sibling. It's cloaked in the same sporty bodykit with a large lower grille and flared side skirts, though the rear bumper and exhaust setup is different, and its plug-in hybrid credentials are marked out by a change of colour in the traditional GTI pinstripe and badging from red to blue.

It's the same inside, too. The quality interior is given sporty touches such as a sports steering wheel and seats covered in tartan check fabric, with a blue theme running throughout it. As standard in the UK, the GTE receives a 10-inch central touchscreen with navigation and Apple CarPlay/Android Auto connectivity, along with a 10.3-inch digital instrument panel.

Start it up and the GTE is completely silent. Running on electric power the GTE has more than enough torque from the 108bhp electric motor to satisfy the needs of town and even faster road driving, and while the 39 mile claim won't quite hold up, you could feasibly cover around 30 miles without ever needing the engine.

Prod the drive mode button placed on the centre console and the GTE's full arsenal of drive modes and battery options are unearthed. Here, you can set a reserve level for the battery if you want to keep some electric power for later on in a journey, or beckon the engine to even recharge the battery, too. It's also, alongside a kickdown on the throttle, where you can seamlessly switch the Golf GTE into its hybrid mode, introducing the 1.4-litre engine.

Even in Eco mode there's a level of power and torque on offer to get the GTE flowing on a B-road at pace, but the 1.4-litre engine isn't all that refined. Comfort is the default drive mode, and with optional electronically controlled dampers (£785 on the extras list) it combines a strong balance between electric and petrol power with acceptable ride quality.

The extra heft of the GTE's hybrid drivetrain amounts to a total vehicle weight of 1,642kg – some 176kg more than in the Golf GTI. That extra mass is noticeable in the way the GTE handles and rides. The steering is sharp and direct making it an easy car to place on the road, but there's a degree of agility missing from the fast plug-in Golf's attributes. But flicked into Sport mode there's more than enough pace for this to qualify as a hot hatch – just 0.4 seconds slower from 0-62mph than the latest GTI.

For many, though, how the GTE drives will come secondary to the numbers, namely company car tax and just how frugal it actually is. The claim of just 26g/km CO2 means that it resides in the 10 per cent benefit in kind band for company car drivers – so it's a compelling choice on the taxation front.

To get anywhere near the claim of 246.1mpg, however, you'll need to commit hard to the GTE's plug-in hybrid nature with frequent recharging – taking five hours on mains electricity and 3h 40 mins on a 3.6kW plug – and economical driving. The latter flies directly in the face of its hot-hatch bent. Drive it as such, and fuel efficiency just about eclipsing a regular petrol Golf can be expected.

While the Golf GTE feels like a solid plug-in hybrid hatchback, its biggest problem is the existence of the Mercedes A 250 e. At £35,960 the Golf has waded into expensive territory, and it eclipses the base price of the A 250 e in AMG Line trim, priced from £32,295. On a monthly PCP deal that could make the difference for private buyers, who are also presented with a broader line-up. The Merc's greater all-electric range of up to 45 miles on battery power and slimmer BiK rates – as low as six per cent – mean that fleet managers are likely to be swayed by the A-Class too.

| | |
| --- | --- |
| Model: | Volkswagen Golf GTE 1.4 TSI Plug-in Hybrid DSG |
| Price: | £35,960 |
| Engine: | 1.4-litre 4cyl turbo petrol with electric motor |
| Power/torque: | 242bhp/400Nm |
| Transmission: | Six-speed automatic, front-wheel-drive |
| 0-62mph: | 6.7 seconds |
| Top speed: | 140mph |
| Economy/CO2: | 246.1mpg/26g/km |
| On sale: | Now |

Source: Read Full Article