These fresh photographs provide a clear look at the MC20-inspired design cues of the next Maserati Gran Turismo, which will be available with V6 or pure-electric power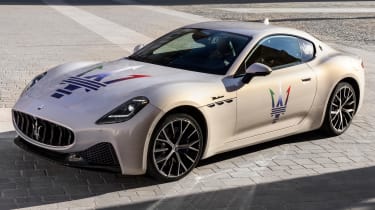 The next Maserati GranTurismo has been in the making for some time and, as its 2023 launch draws closer, the firm has released a new set of images which showcase its exterior design in full.
The GranTurismo will be powered by the Nettuno V6 engine that debuted in the MC20 supercar, although a tri-motor electric Folgore model will also be offered with around 1,200bhp. The firm details that, in V6 form, the GranTurismo will be available in either Modena or Trofeo specifications, the latter of which presumably designed for a more sporting character.
New 2023 Ferrari Purosangue SUV storms in with a 715bhp V12
The car in these pictures is a GranTurismo Modena, and exhibits similar styling traits to the previous Pininfarina-designed version from 2007 – albeit with shades of the MC20 flagship. Maserati's trident logo stands front and centre in an oval shaped grille, sitting above deep vent openings in the lower bumper. These elements have been redesigned from the electric Folgore version to feed air to the twin-turbo V6 motor.
The vertical headlights evoke Maserati's latest supercar, although the long bonnet proportions, glasshouse and triple front wing vents are similar to the previous model. There's a set of trident-design diamond cut wheels too, with the combustion-engined GranTurismo receiving a new rear bumper to incorporate quad-exit exhaust pipes. The slender LED tail lights are similar to the MC20's units, too.
Maserati has previously posted a video of the Folgore version online, showing an undisguised prototype taking to Californian roads. In the clip, the car is driven by head designer Klaus Busse with chief communications officer Maria Conti providing some technical details.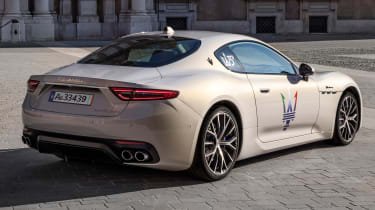 They claim the GranTurismo Folgore will offer a 0-60mph sprint time of 2.6 seconds and a top speed of over 200mph. This shouldn't be too surprising given the Folgore utilises a tri-motor, all-wheel drive setup with a power figure of around 1,200bhp.
Translated from Italian to English, Folgore means 'lightning' and this nameplate will appear on all of Maserati's future full-electric cars. The brand had previously revealed specifications for the new GranTurismo, as well as a full timeline for the roll-out of its 'Folgore' electric car range.
While the brand hasn't outlined any predicted range figures, Tonon did say that the maximum driving range from a full charge will be "satisfying for our customers."
Maserati's CEO Davide Grasso went on to detail the brand's rollout plan for its future EVs when it comes to timescales, with the Grecale and GranCabrio Folgore models also set to launch next year.
Best supercars 2022
By 2025 the Italian luxury brand will also reveal a fully electric version of its MC20 supercar, as well as all-new electric versions of its Levante SUV and Quattroporte sports saloon.
Given Maserati's commitment to the Formula E race series, it also outlined that its future sporty models – including the GT – will feature technology transfer from race track to road. The GranTurismo Folgore will benefit from Formula E inverters, with a 'bone' battery for optimal weight distribution and to keep the car's centre of gravity low.
The GranTurismo, GranCabrio and Grecale Folgore won't make use of parent company Stellantis's forthcoming STLA platforms, preserving their identity as Maseratis, according to the brand.
The GranTurismo and GranCabrio will still be sold with combustion engines and Tonon believes that there is still a market for combustion-engined luxury GT models. "Today, the market for an ICE version, especially on a car like that, is absolutely still there. What we are trying to do with Folgore is give the consumer a choice and a different kind of experience."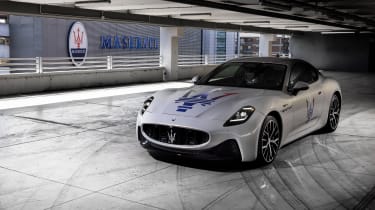 While the GranTurismo and GranCabrio will be available with Maserati's new 'Nettuno' twin-turbo V6 engine, an all-electric variant poses an issue for the soundtrack, a key Maserati characteristic.
Tonon said that in the Folgore models "you will not hear an ICE V6 fake sound, it's about being authentic. The engine is different, so we took the electric motors and we tuned this sound to be a truly raw Maserati. It's not fake. It started with the electric motor sound tuned to be iconic, unique and Maserati."
There is more potential for even more powerful and track-baised Maseratis in the future too. When asked if a spiritual successor to the brand's MC12 hypercar is possible Grasso said: "Short answer, yes. I am saying this with a smile because as we continue to drive the brand forward our customers will be very pleased to see what we have coming up. I don't want to say any more about that as there's a critical part of the plan that centres around these initiatives."
Elsewhere in the brand's current line-up, the Ghibli saloon will not be replaced with a new-generation model.
Now read more about the Ferrari Purosangue SUV…
Source: Read Full Article