The Toyota Aygo X crossover-inspired city car gets a limited-edition fashion-designer makeover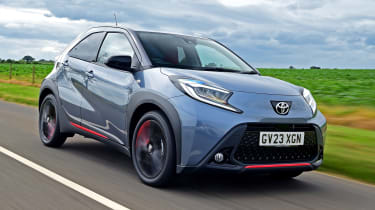 4.0 out of 5
How we review cars
Verdict
The Undercover Edition's cosmetic tweaks don't really add too much to the package, and we'd suggest going for a more modest grade (not to mention a more affordable manual model) unless you really value the exclusivity it offers. However, the changes for this special edition also don't detract from what is one of few petrol-powered city cars on sale in 2023. The Aygo X is fun to drive, has plenty of features and looks cool. It's as simple as that.
Small cars are something of a dying breed. Manufacturers are struggling to make money from these pint-sized offerings – even the Ford Fiesta is no longer in production, and when did you ever think you'd read that statement?
However, as brands depart the small-car segment, there's opportunity for companies such as Toyota to mop up sales from buyers who still want a small, efficient, nimble and relatively affordable model.
Ah yes, affordability.  At £21,215, this new Aygo X Undercover Edition with an automatic gearbox isn't exactly cheap, but then, few new cars on sale can be classed as such. Go for a base-spec manual version and you'll pay a more palatable £17,095, but the Undercover Edition is a great expression of what the Aygo X is all about.
More reviews
Car group tests
Toyota Aygo X vs Hyundai i10 vs Fiat 500: 2022 group test review

In-depth reviews

Road tests

New Toyota Aygo X Air Edition 2023 review

This pumped-up, SUV-inspired city car has been created in collaboration with Japanese fashion designer Jun Takahashi. Just 5,000 examples will be made for Europe, so the price buys you a little bit of exclusivity, too – and a unique design.

The Undercover Edition features two-tone bodywork, with black highlights over the grey main colour. There are flashes of red on the 18-inch alloy wheels, plus "Chaos" and "Balance" logos on the roof and the floor mats. There are more red flashes inside on the impressively supportive seats as well, and the high-spec Aygo X features plenty of kit.

It's based on the Exclusive trim and features full keyless entry, a nine-inch touchscreen system with wireless smartphone charging, plus Android Auto and Apple CarPlay. Climate control is included, along with front and rear parking sensors and a reversing camera, which isn't exactly necessary in a car that measures just 3,700mm long and 1,740mm wide. Heated seats are also fitted as standard, while buyers can opt for a JBL stereo at £495.

One thing we would forego is the CVT gearbox. Doing so will save you £1,105 and serve up a more fun driving experience. The gearbox is sluggish to respond and brings out the worst in the 71bhp 1.0-litre three-cylinder petrol engine. Accelerate hard and all the powertrain seems to do is send the revs soaring, producing an annoying, growling drone in the process as the CVT unit holds the engine rpm high for maximum power. But with a 14.8-second 0-62mph time, it's really not very fast.

The manual is actually one tenth of a second slower, but it's a nicer experience because refinement isn't disrupted as much. We should point out that the CVT automatic also doesn't dent the Aygo's efficiency too badly either, with Toyota claiming between 56.0 and 58.9mpg for the manual (109-110g/km of CO2 emissions), while the automatic's figures stand at 54.7-56.5mpg, with between 113 and 114g/km of CO2.

However, both cars benefit from the same handling traits. Driving the 965kg Aygo X reminds you how pleasurable a simple, small petrol car can be. There's bags of grip (for a city car), the steering is sharp enough, and with such little weight to haul around, inertia is low, so the Aygo changes direction sweetly. To sum it all up, it just feels good fun.




Despite the Toyota's relatively simple suspension set-up, and riding on 18-inch alloys (large for a city car), the Aygo X doesn't bobble from bump to bump too badly. It's upset by really rough surfaces, but there's compliance in the suspension to the point where the ride refinement is much better than the powertrain refinement. It's comfortable on the motorway, yet its more budget-focused roots are also highlighted here by noticeable wind and road noise.

The tweaks for the Undercover Edition haven't changed the Aygo X's practicality. It's a small car, but it doesn't necessarily feel it in the front, with plenty of big-car technology and the reassurance of Toyota's Safety Sense systems watching over you (a positive in a city car).

But even though it's a five-door, access to the rear is limited, with a small aperture to climb through. Legroom is particularly cramped behind the tallest of drivers or passengers, although headroom is fair. Boot space stands at 231 litres, which is also fair for a car in this class, although you have to lift bags up and over a significant lip, formed by the Aygo X's chunky rear bumper.

| | |
| --- | --- |
| Model: | Toyota Aygo X 1.0 VVT-i Auto Undercover Edition |
| Price: | £21,215 |
| Engine: | 1.0-litre 3cyl petrol |
| Power/torque: | 71bhp/93Nm |
| Transmission: | CVT automatic, front-wheel drive |
| 0-62mph: | 14.8 seconds |
| Top speed: | 94mph |
| Economy: | 56.5mpg |
| CO2: | 113g/km |
| On sale: | Now |

Source: Read Full Article