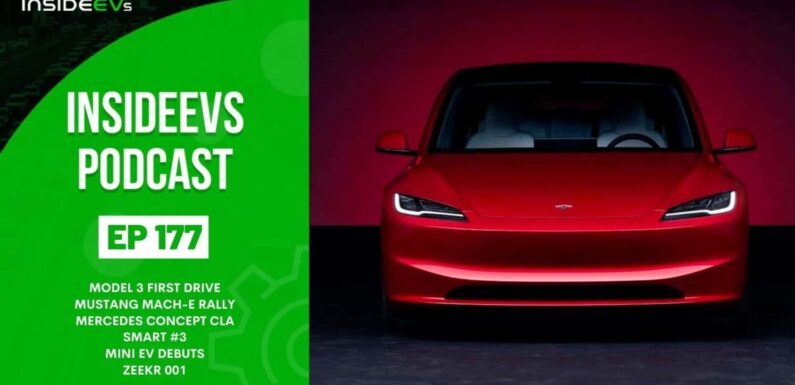 InsideEVs is proud to present the one hundred and seventy-seventh regular episode of its weekly podcast. Available on the InsideEVs YouTube channel and all major podcast platforms – Apple Podcasts, Spotify, Google Podcasts, iHeart Radio, and Tune In. We also stream the show live on Facebook, Twitch, Twitter, and YouTube on Friday at 9:30 AM EST.
Appearing on this episode are Brett Evan, Senior Editor of Motor1, Laycee "Miss GoElectric," an insightful veteran of the InsideEVs Podcast and her own media empire, and Hazel Southwell who has been doing science-y deep thinking and reporting for outlets ranging from ESPN to Ars Technica.
This week we will discuss our first drive of the new Tesla Model 3. We will also dive into several new EV debuts, including the Ford Mustang Mach-E Rally, Mercedes Concept CLA-Class, Smart #3, Mini Cooper and Countryman EVs, and even a very fast Zeekr. There's a Lotus EV debut too.
Then we will move on to some Tesla news, including some Cybertrucks updates and the announcement that the automaker will attend the Detroit Auto Show.
Subscribe to the InsideEVs YouTube channel and tap the bell icon to stay up to date with all of our new videos and podcasts.
Source: Read Full Article