The next-generation Skoda Superb will be more practical than ever and feature uprated powertrains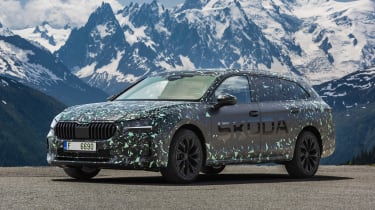 Skoda has released teaser pictures of the upcoming fourth-generation Superb in the past, but the shadowy side profile drawings gave little away. Now, this new set of images gives us our best look yet at the new 2024 Skoda Superb.
We've actually driven the new Superb in estate form where it impressed on many fronts, despite still being a prototype. The car is expected to go on sale in the UK by early 2024 after a full, official reveal this November. 
New Skoda Superb prototype review
The Superb Estate in the latest images is still clad in camouflage but we can see evidence of a more three-dimensional grille situated between thinner headlights with new-generation LED technology. Beneath, there's a new lower grille shape and isolated air intakes at the side. The classic Skoda badge indent from the bonnet to the grille remains, but the clamshell bonnet isn't as seamlessly integrated due to a more complex headlight shape.
From the side, there's a generous rear overhang on both saloon and estate. Meanwhile, a typical razor-sharp crease has appeared on the flanks and towards the rear we see a restrained bumper design. The C-shaped rear light unit is similar to that of the new Fabia, creating a more dynamic light graphic for following traffic at night. 
The new Skoda Superb sits on a revised version of the MQB evo platform and Skoda proudly states that it was tasked with the development of the chassis, which will ultimately be used for the next-generation VW Passat. There's a slight increase in length and wheelbase, unlocking even more space in the already cavernous interior. Boot space has even gone up from 660 to 690 litres in the Superb Estate.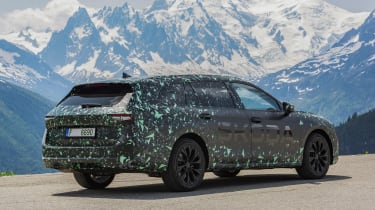 There will be no pure-electric Superb in this generation, instead, we'll see the VW Group's latest generation of combustion engines. While the popularity of diesel has waned, there's still a choice of two 2.0-litre diesel options, with either 148bhp or 192bhp. 
Petrol powered is offered in three forms. For the first time there's a mild-hybird option – a 1.5-litre TSI with 148bhp. A 2.0-litre turbocharged unit comes with either 204bhp or 265bhp and there's a 1.5-litre TSI petrol mated to a 25.7kWh battery in the plug-in hybrid version. Skoda says the extra battery size will enable a pure-electric range of over 62 miles, increasing from the old PHEV's 44-mile maximum. 
The new Superb's interior will feature a complete overhaul, drawing a much closer parallel with Skoda's all-electric models. This has been a controversial area within the VW Group, thanks to a mixed response for the interface within the eighth-gen Golf.
Skoda may avoid some of these problems through better use of its infotainment screens. We previously spoke to former Skoda CEO Thomas Schäfer (now CEO of VW), who said that more fundamental revisions will arrive with the Superb. "The car's interior is a huge step forward," he told us. "It will carry our new user language, which extends to what you touch and feel. Superb will get it first, and then [the second-generation] Kodiaq after.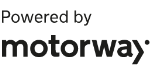 "We'll see some elements from Enyaq iV, but we think we need to do more of the traditional controls, not only playing with the biggest display in the industry (a hint that the Superb could feature the Enyaq's 13-inch screen) but also having elements that make sense for our brand. If there's one brand that should be functional, clear and easy to use, it's us." Auto Express understands this could mean multiple functions for single physical dials and switches.
Click here for our list of the best family cars currently on sale…
Source: Read Full Article