SEAT branches out into the world of electric scooters with the new Mo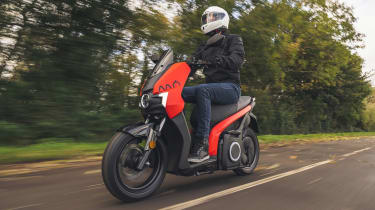 3.0 out of 5
Verdict
The SEAT Mo is an interesting departure for the Spanish firm that maintains its zero-emissions credentials. It's not going to be for everyone, but if you're looking to save costs – not to mention travel time – by switching to two wheels from the car or public transport, then the Mo could fit that requirement. The clever removable battery means that charging should be easier than it is for most other urban electric vehicles, too, while making the scooter completely immobilised.
Anybody wanting a zero-emissions electric vehicle with some Spanish flair is a bit limited for choice. At one end of the spectrum, you have the sporty Cupra Born hatch, while until recently the SEAT Mii Electric catered for urban users. But since that model is no longer available, the Spanish firm's sole zero-emissions vehicle is this, the SEAT Mo 125 electric scooter.
But why has SEAT gone down the electric scooter route? Well, it's an easy way for SEAT to maintain a presence in the zero-emissions urban transport field after the disappearance of the Mii Electric. The reality is that the SEAT Mo is a re-badged model from fellow Spanish electric scooter maker Silence. All SEAT has done is taken its Silence S01 flagship and swapped that model's bright-green bodywork and Silence branding for a matt-red finish (grey and white versions are also available) as well as adding SEAT's familiar 'S' badges.
Commuter Cup: Citroen Ami vs Silence Scooter vs Volkswagen up!

This isn't a bad thing, because our experience with the Silence S01 has been positive, and its plus points are carried over to the SEAT Mo. The Mo is a decent size, with room for a rider and pillion on the seat and space for two crash helmets below it, while the 12bhp in-wheel electric motor also has 240Nm of torque, so while the Mo only has a top speed of 59mph, it gets to its maximum surprisingly quickly, and will surprise a few other road users away from the lights.

One thing that can't be avoided is the weight of the electric running gear. The SEAT Mo weighs about 150kg, which is around 20kg more than an equivalent petrol twist & go scooter. That means it's a bit harder to wheel around when the power is off, but the torque of the electric motor overcomes the extra weight when you're on the move. The bike's battery is mounted low and centrally in the frame, too, so this scooter is stable and sure-footed when negotiating tight and twisty urban streets.

When it comes to charging, you can either plug the SEAT Mo into the mains, or the battery slides out so that you can take it with you to charge at a more accessible point. This is done by unlatching the battery from within the under-seat compartment, then lifting the pop-up handle and pulling the battery out. Little trolley wheels lower, and you can then cart the battery away like a suitcase. It's pretty heavy, though, weighing 41kg, so will be a struggle for some to lift up steps or kerbs, but it does mean that the SEAT Mo is immobilised when it's removed.

You can only charge the battery via a three-pin plug, with charge times taking a maximum of eight hours, and the big, red LED ring on the side of the pack illuminates while charging, and shows charge capacity, too. A fully charged pack gives the SEAT Mo a range of 85 miles, which should be plenty for the type of urban commuting that the scooter is designed for.

SEAT provides a smartphone app that allows you to monitor the Mo's vital signs, as well as check on where it's parked, while different drive modes deliver more performance or greater efficiency, depending on setting. Eco mode limits power and throttle response to maximise range, while energy recovery is boosted, too. This extra braking is also offered in Sport mode, which also has a sharper throttle response. All of this is controlled via the large digital dashboard, which also shows range and battery capacity.

As well as energy recovery, the SEAT Mo's braking system features a combined system in lieu of ABS. The right-hand lever operates the front disc, but grabbing the left-hand lever operates front and rear-wheel braking, offering quick and stable stopping power.

One gripe we have with the Mo is its stiff suspension. The set-up is beefy to cope with the weight of the battery and motor, but this means the scooter crashes over potholes and bumps, making for an uncomfortable ride. This isn't too much of an issue because the scooter changes direction fast enough for you to dodge most hazards, but it's still jarring over unavoidable bumps.

The SEAT Mo runs very quietly, too. There's no obligation for a scooter such as this to come with a sound generator, so you might take other road users by surprise as you approach silently – it's well worth keeping your wits about your surroundings to ensure that doesn't happen.

| | |
| --- | --- |
| Model: | SEAT Mo 125 |
| Price: | £4,999 (incl OZEV grant) |
| Powertrain: | In-wheel e-motor, 5.6kWh battery |
| Power/torque: | 12bhp/240Nm |
| Transmission: | Single-speed automatic |
| 0-31mph: | 3.9 seconds |
| Top speed: | 59mph |
| Range: | 85 miles |
| On sale: | Now |

Source: Read Full Article