The Porsche Panamera GTS has been updated for 2020, we find out if it deliver a more focused drive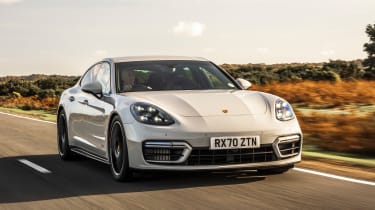 4.5 out of 5
Verdict
A subtle but strong range of revisions to the Panamera GTS have made it more capable than ever, more engaging to travel in and just better to drive, full stop. It's expensive at over £107,000, but the combination of pace, space and grace it provides is as hard to find fault with as it is easy to appreciate, especially now that it looks more attractive as well.
In many ways that the Porsche Panamera GTS is an anomaly, a misfit within a world of cars whose purpose is hard to get your head around. In logical terms, it would appear to make not a great deal of sense given that it's a sports car pretending to be a limousine.
Yet in reality, and in this revised form especially, the Panamera GTS has become the car that can do almost everything. So while it is eye-wateringly expensive at £107,180 before options (the car you see here costs over £120k) the Panamera GTS' pure range of ability is, on closer examination, pretty incredible.
Audi RS 6 Avant vs Porsche Panamera Sport Turismo

For starters it is very simply a great car just to climb into and drive. With a revised twin-turbo 4.0-litre V8 engine that produces 473bhp and 620Nm across an entirely flat peak between 1800-4500rpm, it is fast with a great big capital F. Think 0-62mph in 3.7 seconds and a top speed the far side of 185mph. Not bad given that the fuel economy has improved slightly to 23.3mpg while the emissions have fallen a touch to 275g/km.

More reviews for Panamera Saloon

Car group tests

Audi RS 6 Avant vs Porsche Panamera Sport Turismo

In-depth reviews

Porsche Panamera review
Porsche Panamera Sport Turismo review

Road tests

New Porsche Panamera Turbo S 2020 review
New Porsche Panamera 4S E-Hybrid 2020 review
New Porsche Mission E Cross Turismo concept review

Used car tests

Used Porsche Panamera review

But then you don't buy a 473bhp twin-turbo Panamera GTS for its economy. You buy it for the way it drives. As such its revised eight-speed dual clutch automatic gearbox also performs quite brilliantly on the move. Result? A constant flow of smooth, near-titanic acceleration that's available from just above idle, all the way up to the red line, all of which is accompanied by a more menacing V8 growl, particularly if you engage Sport or Sport Plus within the drive mode.

It handles, rides, steers and stops rather wonderfully, too, with an agility to its four-wheel drive, four-wheel steer chassis that borders on the spooky given how big this car is, and how much it weighs. The steering is arguably the standout dynamic feature, providing a level of feel and precision that is genuinely hard to associate with a machine so vast. But the brakes aren't too far behind, again providing a degree of feel and power that is entirely at odds with the sight that greets you before you climb behind the wheel. This, as with all Porsche's GTS models, is covered in a strip of Alcantara suede that, in this case, is heated and feels quite delicious to the touch.

So the GTS drives every inch like a Porsche in other words, and a very capable and engaging one at that. But you do wonder how many customers will buy this car purely for its dynamic capabilities alone. Surely most Panamera owners will care more about the space and refinement on offer than they will about the turn-in response, or the near-balletic level of poise near the limit?

Yes and no, because the letters GTS have become synonymous with a unique set of qualities at Porsche, and when they're attached to the Panamera they actually make very good sense. Because they really do stand for "all-rounder" at Stuttgart nowadays. So while the dynamics are extremely tidy, so are the levels of luxury and refinement, be that in any of the four seats (the 4+1 layout of the test car costs an additional £626 and is well worth it for the extra, albeit occasional hit of practicality it brings).

In the front seats, there haven't been many significant alterations to the fundamental layout or design, but then not many were needed, and the ones Porsche has made are all welcome. There's a giant TFT control screen in the centre of the dash with superbly clear instruments dead ahead, plus a much simplified collection of touch buttons surrounding the gear lever. These were there before but seem even more intuitive in use this time round.

In the rear seats, there is a borderline luxuriant amount of space available in all directions, as is there in the boot, which split folds 60:40 with a big central armrest between the rear chairs. Despite this the GTS still feels sports car-intimate in the rear seats, with black brushed aluminium being the standard level of finish to which numerous upgrade options can be specified.

It's a thoroughly impressive package, the latest Panamera GTS. The vast combination of abilities it provides makes it unique within its class, even if its benefit-in-kind tax is equally eye-watering at 37 per cent.

Putting this aspect to one side however – because all cars at this level are always going to be heinously expensive to run – no other car we can think of gives this much feel and engagement to a driver while at the same time providing their passengers with so much space, grace or refinement in which to revel.

| | |
| --- | --- |
| Price: | £107,180 |
| Engine: | 4.0-litre V8, twin-turbo, petrol |
| Transmission: | Eight-speed manual, four-wheel drive |
| Power/torque: | 473bhp/620Nm |
| 0-62mph: | 3.7sec |
| Top speed: | 186mph |
| Economy: | 23.3mpg |
| CO2: | 275g/km |
| On sale: | Now |

Source: Read Full Article