The limited edition Porsche Boxster 25 Years is powered by a 395bhp 4.0-litre flat-six and features a range of unique styling tweaks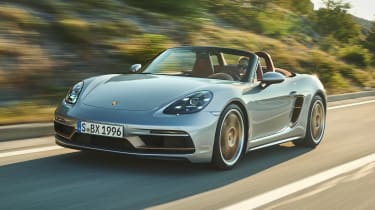 Porsche has launched a new special edition version of the Boxster to celebrate the roadster's silver anniversary. It's called, rather unsurprisingly, the Boxster 25 Years – production is limited to just 1,250 units worldwide, with first deliveries expected to arrive in the spring. Prices will start from around £72,000.
It's powered by the same 4.0-litre flat-six engine found in the flagship Porsche Boxster GTS. The unit has an output of 395bhp and 400Nm of torque, which is enough for a 0–62mph time of four seconds and a top speed of 182mph. The engine is mated to a six-speed manual gearbox as standard, although a seven-speed automatic is optionally available.
Best performance cars 2021
The special edition Boxster also features Porsche's Active Suspension Management system, which drops the car's ride-height by 10mm and adds adaptive dampers. Buyers also get a mechanical limited-slip differential, a torque vectoring system and Porsche's Sport Chrono package, which thanks to a launch control system, shaves a few tenths off the automatic model's 0–62mph time.
Cosmetic tweaks over the standard roadster include an aluminium-look fuel filler cap, high-gloss tailpipes and a choice of three paint finishes – Silver Metallic, Deep Black Metallic and Carrara White Metallic. Like the original Boxster, this special edition model also features a Bordeaux red fabric roof, albeit embossed with "Boxster 25" lettering to mark the anniversary.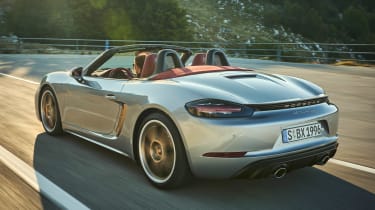 Porsche has also reproduced the copper-like Neodyme finish, which was originally used as the contrasting colour on the 1993 Detroit Motor Show concept's livery. On this commemorative model, the unique hue is used to pick out details on the Boxster's front splitter, engine intakes and 20-inch alloy wheels.
In another nostalgic design nod to the original sports car, Porsche has fitted the Boxster 25 Years with a pair of Bordeaux leather sports seats that match the hood. Buyers also get aluminium trim, a leather sports steering wheel and specially designed treadplates, scribed with the "Boxster 25" logo.
Porsche Boxster: a history
When it was launched, the Boxster re-invented the Porsche brand. It was designed to share a lot of its parts with 996-generation 911, and its styling attracted a much younger audience – both of which worked to net the company profits throughout the financially troubled 1990s.
Once the concept model was unveiled in January 1993, the scale of positive feedback from the public was so overwhelming that Porsche's Executive Board stepped in and told the engineering team to build the production model exactly like the show car.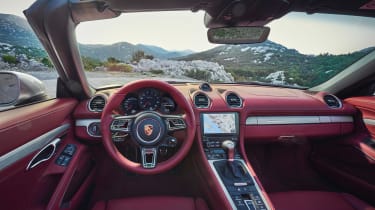 The production model arrived on showroom forecourts in August 1996 with a look that remained faithful to the concept car. Its front end started a family look that would also feature on the soon-to-be-released 996 generation 911, and it was powered by a 201bhp 2.5-litre flat-six, mounted mid-ship. The engine was water-cooled which, along with a new variable intake timing system, allowed it to meet stricter emissions regulations.
A more powerful version of the Boxster arrived in 1999, with a 2.7-litre flat-six engine. The unit debuted with 217bhp, but this soon crept up to 225bhp. The flagship Boxster S was launched in the same year, with a 249bhp 3.2-litre flat-six – although that engine's output also soon increased to 256bhp.
Porsche launched the second-generation Boxster in 2004. Its design didn't stray too far away from its predecessor's, sharing similar styling and the same 2.7-litre flat-six engine, albeit with an extra 12bhp. The 3.2-litre model also got a shot in the arm, with 20bhp more than before.
By the end of Type 987's production in 2012, the entry-level engine had grown in capacity to 2.9-litres, while the flagship Boxster S's unit expanded to 3.4-litres, with power increasing to 251bhp and 306bhp respectively. Porsche also steadily introduced features such as carbon ceramic brakes and its famous Sport Chrono package.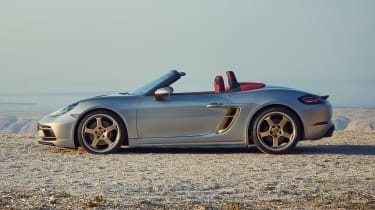 The Porsche Boxster received an extensive redesign for its third generation, with sharper styling, a lighter body and a thoroughly redesigned chassis, which helped make the Boxster faster than ever before. Naturally, the roadster's engines also increased in performance across the board, with the most powerful option being the 370bhp 3.8-litre flat-six fitted to the track-focussed Boxster Spyder.
Porsche introduced the current Boxster in January 2016 and, while its styling was only an evolutionary step away from its predecessor, its engineering forged a different path. For the first time in the car's history, Porsche cut back on the cylinder count, offering a pair of four-cylinder boxer engines in place of the traditional flat-six.
The engines were also turbocharged. While some purists felt this detracted from the car's character, there was little to argue about when it came to performance: the new entry-level 2.0-litre engine produced 35bhp more than the old car's naturally aspirated flat-six.
Flat-six power made a comeback in mid-2018, with the new-generation Boxster Spyder. It featured a 414bhp 4.0-litre unit – and it's a detuned version of this unit that's found in this latest special edition Boxster 25 variant.
What do you make of the new Porsche Boxster 25 Years? Let us know in the comments section below
Source: Read Full Article