Can the £139k Polestar 1 coupe offer an alternative to the Bentley Continental GT and BMW M8?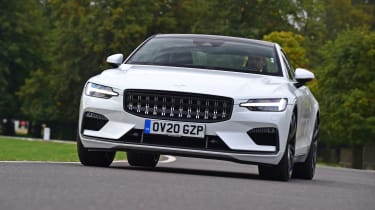 4.0 out of 5
Verdict 
If you had to use one word to describe the Polestar 1, it'd be 'special'. It feels special to drive, special to look at and, even using recognisable Volvo parts it feels special to sit in, too. The powertrain is the defining feature though, offering market-leading low emissions and company car tax, with enough torque to pull the skin from your cheeks should you ask it to. Polestar's future might be pure-electric, but its plug-in hybrid present is equally exciting.
It perhaps seems a little odd to be reviewing the Polestar 1 after the Polestar 2, when the former was introduced long before the latter. But only recently were we given the opportunity to sample the sleek plug-in hybrid Mercedes S-Class Coupe rival on UK roads.
The Polestar 1 boasts a number of unique features – not least the fact it's the only hybrid the brand will ever build. Polestar's future is fully-electric from this point onwards, and parent company Volvo is already promising half of its vehicles will be EVs by 2025.
New Polestar 2 2020 review

Most plug-ins these days offer a range of between 20 and 30 miles, but the Polestar 1 boasts up to 77 miles on electric power alone – that's nearly as much as in small EVs like the Smart ForTwo EQ. It uses a 34kWh battery; bigger than the one you'll find in a MINI Electric, no less – and the Polestar has a 2.0-litre twin-charged petrol engine for back up.

The result is 601bhp and 1,000Nm of torque. But at 2.3 tonnes, it's arguably not as fast as you might expect; 0-62mph takes 4.2 seconds – some way shy of similarly-priced rivals like the Bentley Continental GT or Aston Martin Vantage.

And yet the Polestar 1 is still an incredibly rewarding car to drive. That prodigious torque figure and instant boot from the electric motor sends you hurtling towards the horizon in complete silence if you've enough juice left in the batteries. The wide track and low centre of gravity give it a planted stance that works wonderfully with the reactive steering, too.

Despite appearances, the Polestar feels more like a sports car than it does a cross-continent GT. Every car comes with a set of Ohlins adjustable dampers, and although we didn't get a chance to play with these, it's likely most owners will find a setting that suits and leave them well alone. In theory, however, you could have a car geared for comfort during the week, with a stiffer, sportier set-up for high days and holidays.

In their factory configuration the ride is firm, but not unbearable, and only really rough roads upset the composure. In fact, the faster you go, the more fluid the car feels, and even on 21-inch wheels it's an accomplished cruiser.

There's no denying the Polestar 1 cuts a pretty stunning shape in the metal. Quite obviously related to its Volvo siblings, the maker could perhaps have been a bit more adventurous with the styling, but as we've seen with the Polestar 2, all models will share its parent company's 'Thor's Hammer' headlights and defining front end design.

But while the exterior looks and feels the part, some potential buyers may be disappointed to learn that the dashboard has been lifted near enough unchanged from a Volvo XC40. The infotainment screen is identical, and while it's slick and functional enough, it is starting to show its age. 

It's all high quality in feel and a nice place to sit, but familiar if you've driven any modern Volvos.

Quality, fit and finish is excellent. Details like the yellow seatbelts, Bowers & Wilkins stereo, and leather-lined dashboard lift the mood and distract from the overwhelmingly Volvo-styled cabin. The seats hug in all the right places, and the huge panoramic roof makes the interior feel light, airy and spacious – up front at least.

Practicality could be better, pushing the Polestar further away from true GT rivals. The rear seats are impossibly cramped and better used for additional storage – or as a back-up for that miserly 143-litre boot. Admittedly, the display cabinet showcasing some of the car's electrical systems is quite cool, and takes the edge off what is a disappointingly small load area.

Of course, you pay for the privilege. But with that comes undisputable exclusivity; just 500 will be built each year and every one will be left-hand drive. 

Plug in regularly, however, and you'll offset at least part of that hefty price tag. And if you can justify running one as a company car, you'll benefit from huge (circa £18k per year) tax savings versus something like a BMW M8 Competition.

| | |
| --- | --- |
| Model: | Polestar 1 |
| Price: | £139,000 |
| Engine: | 2.0-litre 4cyl turbo/supercharged petrol, plus electric motor |
| Power/torque: | 601bhp/1,000Nm |
| Transmission:  | Eight-speed auto, Four-wheel drive |
| 0-62mph:  | 4.2 seconds |
| Top speed: | 155mph |
| Economy: | 77 miles |
| CO2: | 470.8mpg/13g/km |
| On sale:  | Now |

Source: Read Full Article