Nissan has revealed specs of the next-gen Qashqai's e-Power electrified powertrains ahead of the car's full reveal early this year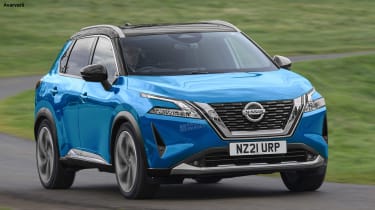 The next Nissan Qashqai is set to gain an efficiency boost from a range of hybrid powertrains – and the Japanese brand has opened up on the specs before the car's official release. 
A new hybrid engine option will be offered with e-Power branding. When it joins the range in 2022, it will combine a 1.5-litre petrol engine with an electric motor though in a different way to many other hybrids on the market. Here, the 155bhp petrol engine doesn't ever drive the wheels directly – instead it charges the battery which supplies an electric motor producing 188bhp and 330Nm of torque.
Best mid-size SUVs on sale 2021
Nissan says this configuration brings several advantages. With the electric motor driving the wheels alone, the Qashqai will benefit from the instant throttle response of an EV, as opposed to the laggy response of many other combustion-led hybrid alternatives. This also means that Nissan has been able to tune the 1.5 petrol unit to operate at its most efficient when topping up the battery, meaning that it has the potential to deliver even better fuel economy.
A feature taken from the Nissan Leaf is the e-Pedal system. This will allow Qashqai e-Power drivers to make use of one pedal driving; when releasing the accelerator pedal can provide up to 0.2G of regenerative deceleration without any need to touch the brake.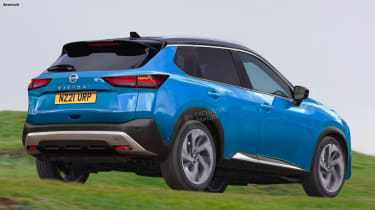 Other engines in the next Qashqai will gain mild hybrid technology. The 1.3-litre turbocharged petrol is related to that of the current car (albeit with its own internal improvements to reduce fuel consumption), but is now mated to an uprated 12-volt electrical system, known as Advanced Lithium-ion battery System. 
ALiS weighs just 22kg, and recuperates energy otherwise lost under braking. This saved energy can then be deployed in the form of a modest 6Nm torque boost under acceleration for up to 20 seconds at a time. Combined with a stop/start system that cuts the engine from 11mph when coasting to a halt, the system has helped to reduce CO2 emissions by 4g/km. 
The revised 1.3 turbo is available with a choice of 138bhp and 156bhp. Both models will come with front-wheel drive and a six-speed manual gearbox as standard, while the higher powered unit is also available with a CVT automatic gearbox and four-wheel drive.
As Nissan has previously confirmed, diesel will no longer feature in the Qashqai's engine family. A plug-in hybrid version of the Qashqai won't be coming, either, with Nissan instead prioritising e-Power tech and all-electric vehicles such as the new Ariya, the Qashqai's slightly larger electric sibling.
New Nissan Qashqai: dimensions and interior design
The detailed engine specs follow an earlier teaser, when Nissan granted us an in-depth look at the new Qashqai's interior. The Japanese brand says the new model will offer more practicality, better packaging and improved technology – all within a body shell that's only marginally larger than the previous car.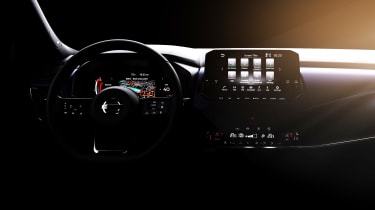 The third-generation Nissan Qashqai is 35mm longer and 30mm wider than its predecessor which, thanks to some clever organisation, has provided 22mm-worth of extra knee room for rear seat passengers and 28mm more shoulder room for those up front. Front and rear headroom has also improved by around 15mm, thanks to the redesign.
The cabin is littered with a range of incremental improvements. The cupholders are now mounted lower down in the centre console, so the driver doesn't clout their elbow on their drink when they change gear, and there's a new smartphone charging pad in the centre console which was designed to fit the largest phones on the market.
New Nissan Qashqai: equipment and technology
Technology gets a boost, too. Nissan has fitted a new nine-inch infotainment system, which comes pre-loaded with a host of connected services, such as fuel price comparison, live traffic information and a speed camera location service, provided by TomTom.
It's joined by a customisable 12.3-inch digital instrument cluster and a 10.8-inch head-up display, which can provide information on speed, navigation and driver assistance systems. Nissan even drafted in the Japanese game developer, Bandai Namco, to design the Qashqai's various warning sounds, such as its seat belt reminder.
Massaging seats are also now available for front seat passengers, which Nissan says is a first for the Qashqai's segment. The brand hopes that all of these technology improvements will help it capture buyers who are downsizing from larger vehicles, by offering a similar level of comfort from the class above.
New Nissan Qashqai: boot space
Nissan has also improved the old Qashqai's boot, as the previous model lagged behind its competitors. The slightly larger body means there's now 504 litres of space on offer, which is an increase of 74 litres over the Mk2 Qashqai – and enough of a gain to bring the SUV's boot into contention with what's offered by the SEAT Ateca.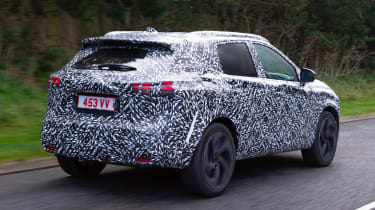 The old Qashqai's versatile luggage boards have also been retained across the generation change – but now they're reversible. So, one side is trimmed to match the carpet in the SUV's boot, while the other features a wipe-down plastic coating, which Nissan says will make the boot floor easier to clean.
New Nissan Qashqai: platform
All of the Qashqai's improvements are helped along by the shift to a new platform, as the latest model will move onto the Renault-Nissan-Mitsubishi Alliance's CMF-C platform. It's an updated version of the current vehicle's underpinnings, which uses more ultra-high-strength steel before, while also being lighter, better at absorbing impacts and 41 per cent stiffer.
Nissan says that drivers will feel these changes behind the wheel because, alongside the improvements to comfort, safety and technology, the brand's engineers are working on ways to make the next Qashqai better to drive than its predecessor.
So, it'll feature new MacPherson struts front and rear – both of which will have reprofiled dampers that are designed to offer a good compromise between handling and comfort. All-wheel-drive versions will feature multi-link rear suspension in place of a torsion beam and Nissan has worked on the car's steering system, claiming improved responsiveness.
Few cars have made such an impact on a brand's fortunes as the Qashqai has for Nissan. Since its launch in 2007 the firm has sold more than three million across Europe, and last year the Mk2 model still accounted for 235,000 units across the continent.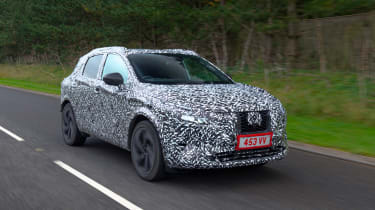 The new Qashqai will also be a hugely important car for the UK automotive industry. Since its introduction, the SUV has been at Nissan's Sunderland plant – and the car's production volumes outweigh any other car currently made in Britain. This Mk3 version will be built there, too, as part of a £400 million investment in the factory.
Q&A: Marco Fioravanti
VP product planning, Nissan Europe
Described as the man responsible for "driving the future line-up" for Nissan's European operations, Fioravanti's job is to determine what cars the manufacturer sells.
Q: Why have you decided to drop diesel power for the next-generation Qashqai?
A: "In the region we have already communicated our intention to progressively discontinue the diesel offering in line with the renewal of our models. With e-Power, we are overly confident that our customers will be much more seduced by this offer. We can definitely convert with this offer."
Q: Why did you decide against introducing a plug-in hybrid version of the new Qashqai for European buyers?
A: "We have within the Alliance the technology, but we are very confident that e-Power technology is going to differentiate us from the rest of the competition."
Q: Could you be tempted to expand the Qashqai's horizons into new derivatives, such as coupé-SUVs?
A: "At the moment we don't see the need. We are very focused on this current concept. The Qashqai is functional and practical, but dynamic. The customer base is already wide."
Q: Do you intend to introduce a performance version of the latest Qashqai? Could you use the Nismo brand?
A: "I cannot confirm anything to you, but the Qashqai is our key model in Europe and we are not closing any doors. The life cycle is going to be long and we have a lot of good intention and ability within Nissan; we are enthusiastic because this is not the end of the story. I'm pretty sure we are going to surprise you in the future."
Keen to find out more about electrification? Get the latest electric car news and reviews on our sister site, DrivingElectric.com…
Source: Read Full Article