The new hardcore Mercedes-AMG GT Black Series is the most extreme GT yet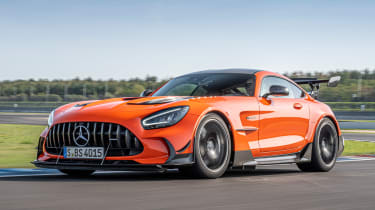 4.5 out of 5
Verdict
Mercedes-AMG set out to produce the most extreme GT, and it's hard to argue with the result. That its engine is savage and the grip is stunning should be no surprise, so the feel, balance and delicacy in the chassis impress the most. We must reserve judgment on the ride quality until we sample one on public roads, but our encounter left us in no doubt that this is an incredible machine.
This is the Mercedes-AMG GT Black Series. Among its sublime yet ridiculous stats, it takes the title of both the most powerful V8 production AMG – with a not insignificant 720bhp – and the most expensive Black Series model, at £335,000. And definitely the most orange.
The AMG GT is the sixth Mercedes to receive the Black Series treatment. From the first SLK 55 Black Series to the present day, the formula is much the same: take a fire-breathing V8-powered muscle car and make it more powerful, more hardcore and more track-focused than before.
Best track day cars 2020

The mad fins, wings and vents are all functional, designed to deliver the best possible compromise between huge downforce and low drag. The front splitter is one of two active aero elements; it can be deployed into its most extreme setting to coerce the air hitting its leading edge into squeezing the car onto the track, and flexes at higher speeds to increase its effect.

And then there's the rear wing. Wings, to be precise: the dual-plane layout features motors in the wider, upper element that flex it upwards during hard braking and cornering to increase rear downforce. The overall result is that, at 155mph, the Black Series produces 400kg of downforce.

The 4.0-litre V8 gets numerous modifications to achieve that headline 720bhp figure: new camshafts and exhaust manifolds, redesigned turbos and a bigger intercooler all feature. The most significant change is the adoption of a flat-plane crank. Moving away from the usual cross-plane design might sacrifice a bit of low-down torque, but it counters with higher top-end power and a sharper throttle response.

We drove the car at the Eurospeedway Lausitz in Germany, and even before we pulled back on the gear selector and trundled down the pitlane at 30mph, that crank gave the V8 a distinct character.

It's as if the engine note has lifted an entire octave from its typical bassy tone. The gargles and snarls remain, but it sounds more on-edge – even angrier – than usual. It feels it too; Merc says 0-62mph takes just 3.2 seconds. Flat out, it will hit 202mph.

While the flat-plane configuration supposedly delivers less torque, you'd be hard-pressed to notice. A plateau of 800Nm is delivered from 2,000rpm right through to 6,000rpm; as a result, it's possible to hold third in tighter hairpins and use the V8's huge grunt to launch you out the other side.

Fortunately the carbon-ceramic brakes are more than up to the task of slashing the speed. They offer enormous stopping power and didn't even hint at fade after repeated hard use throughout the day.

They're no doubt helped by the huge cornering forces that the Black Series can generate. The mix of those extreme aerodynamic additions and the Michelin Pilot Cup 2 tyres conspires to deliver staggering levels of grip. The fact that only clumsy throttle applications break traction – despite the power on tap – is remarkable.

More impressive even than all of that noise, drama and grip is the Black Series' handling. When the car is pushed hard through lower-speed corners, the balance can be adjusted with little tweaks of the throttle; the nose can be pulled towards the apex with a little lift, or pushed there by inducing a hint of slip to the rear wheels.

The steering provides not only precision, but feedback too. With the front tyres overheating through the fast right-hander on the track's infield section, subtle signals through the steering wheel hinted at the understeer that was just starting to creep in.

| | |
| --- | --- |
| Model: | Mercedes-AMG GT Black Series |
| Price: | £335,000 |
| Engine: | 4.0-litre V8 twin-turbo |
| Power/torque: | 720bhp/800Nm |
| Transmission: | Seven-speed automatic, rear-wheel drive |
| 0-62mph: | 3.2 seconds |
| Top speed: | 202mph |
| Economy: | 22.1mpg |
| CO2: | 292g/km |
| On sale: | Now |

Source: Read Full Article