Teaser images released of Porsche Macan-rivalling Maserati Grecale SUV. It's due on sale in 2022 with V6, hybrid and all-electric power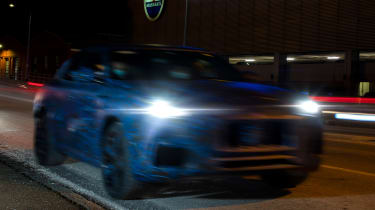 This is our first official look at the new Maserati Grecale SUV – a smaller sibling for the Levante. The firm's new mid-size crossover will be officially revealed at the end of the year, rivaling the likes of the Porsche Macan and BMW X3.
On sale in 2022, these new teaser images show that the Grecale won't introduce a new design language and will rely on established Maserati styling cues. The SUV's rear end looks like a shrunken version of the Levante's, sporting a similar tailgate, diffuser and quad-exit exhaust system. Previous teasers also suggest the SUV will adopt Maserati's trademark vented wings.
Best luxury SUVs 2021
The Grecale is expected to be based on the same underpinnings as the Alfa Romeo Stelvio, but powered by the same twin-turbocharged 3.0-litre V6 engine as the new MC20 supercar. Performance figures for the SUV are yet to be confirmed, but Maserati's Nettuno engine is capable of producing 622bhp and 730Nm of torque. However, it will be detuned for use in the Grecale. 
Maserati will also offer the Grecale with a pure-electric powertrain. Power and torque figures for the electric model are yet to be confirmed, but Maserati has suggested that the architecture will feature the 800-volt battery technology (like the Porsche Taycan) and support up to 300kW rapid-charging.
The Grecale will also introduce a new badging structure for Maserati. From 2022, all of the company's pure-electric models will carry the "Folgore" suffix which, rather fittingly, translates from Italian into English as "lightning."
To bridge the gap between the two extremes, Maserati will also offer a range of electrified powertrains. Again, specifications are unconfirmed, but one option available to Maserati is the 325bhp 2.0-litre mild-hybrid petrol engine from the Ghibli, whose mounting points are compatible with the Stelvio's platform.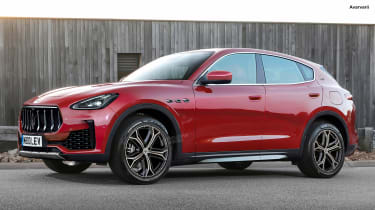 Maserati has set a number of targets for the Grecale. The company claims it will have the greatest top speed of any SUV in its class, while also being the fastest accelerating, best handling and most spacious. Ambitiously, Maserati also plans to go up against the Germans in terms of technology, claiming the Grecale will offer the best in class sound system.
Maserati recently made a broad announcement revealing its product strategy for the coming years. The brand says it will introduce 13 new cars over the next three years – seven of which will be unveiled before the end of 2022. Maserati's revamped range will also include a host of new hybrid models and a replacement for the Gran Turismo.
The Grecale will be built at Maserati's Cassino plant in Italy, with the firm planning an €800 million (around £690 million) investment to set up the facility for the car's production. 
Find out what happened when we pitched the BMW X3 against the Mercedes GLC…
Source: Read Full Article