A new look Lotus line-up is teased with heavy influence from Evija hypercar expected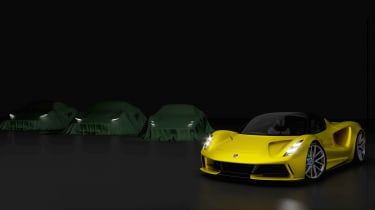 Lotus will commence production of the new 'Type 131' sports car this year at its newly refurbished £100m Hethel headquarters. The firm has also confirmed that its three current sports car models – the Elise, Exige and Evora – will all go out of production in 2021. 
Two more new models will join the Type 131 in the new look Lotus line up, it has been revealed, and a teaser image previews the new four-strong family lining up alongside the all-electric Evija hypercar. 
Lotus Evjia makes an appearance at Goodwood SpeedWeek
Though unconfirmed, Auto Express understands that the new Type 131 will be a sports car model combining the traits of the Evora with more aggressive influence from the Exige. Lotus has not revealed anything about the other two new cars, but all three will be underpinned by a brand new lightweight platform. 
All the new Lotus models feature distinctive headlight signatures, while beneath the sheets we can see all take inspiration from the Evija with low, sharp edged front fascias featuring large, open-mouth style ventilation. All three cars also feature upwardly protruding wheel-arches at the front, bubbling into the bonnet design, and prominent side ventilation for their mid-mounted engines, too. 
Lotus has also confirmed that it will be hiring a further 250 staff as part of its business restructuring, with the relocation of its two sub-assembly facilities into one new location in Norwich. 
Phil Popham, CEO, Lotus Cars, said: "This year will be hugely significant for Lotus with new facilities coming on stream, a new sports car entering production and new levels of efficiency and quality that only a new car design and factory can deliver. 
"In 2021, however, we will be reflecting on the legacy of our current range, starting with the Elise."
The Elise, Exige and Evora trio have sold a combined total of 55,000 units since their respective introductions. The Elise, the eldest of the brand's current line-up, is three-generations old and has been in production since 1996. 
What does the new Lotus Type 131 have to beat? Check out our list of the best sports cars on sale now…
Source: Read Full Article